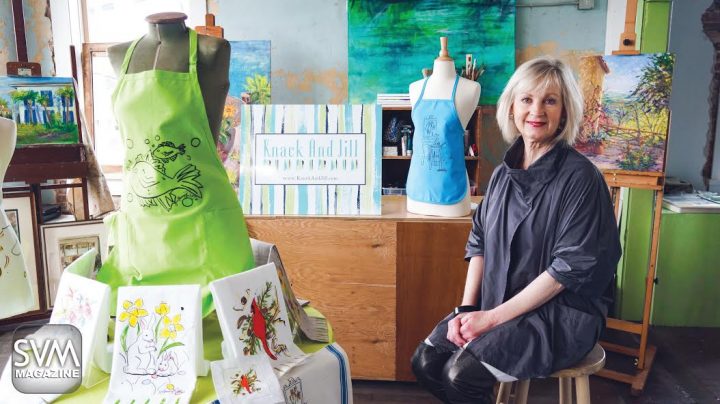 Jill Chancey Philips originally featured in Southern Views Magazine
By: Stephanie Reeves
As a child, Jill Chancey Philips began painting, ever since then art has been the main staple of her life. From sharing her talents with students as an art teacher to currently starting up her new business Knack and Jill, Jill shares her inspirations, her new ventures in the art world and her advice to those artists just starting out with SVM.
Painting has always been a passion for Jill Chancey Philips. Jill sat down with SVM to talk about her start in the arts. She talks about inspiration in everyday life, and what her personal style is in her work. She also shares with us the latest project she is working on, her new business "Knack and Jill".
How did you begin your career with art and teaching art?
Santa brought me an oil painting set, canvas and easel in 1966. That was the beginning!  I had formal Art training in High School, attended Queens College in Charlotte, NC and graduated with a BFA in Art Education from the University of Georgia in 1978. My first teaching position was at Idlewood Elementary, K–7, in Dekalb County, (Atlanta).  I was fortunate enough to be one of 80 fulltime Art Instructors. We were the "Fortune 80" that did not have to travel from school to school!  When I moved to Columbus in 1981 I was hired by Brookstone School to teach K – 7.  Once my daughter Chancey was born, I began teaching privately and through the Columbus Museum.  Brookstone School and Columbus High have asked me to mentor Seniors and I am currently teaching watercolor painting to a CHS senior.  I am preparing now to teach a Master class at the Museum in March.
How would you describe your personal style of art? And how important is it for artists, especially young and starting out, not to be afraid to develop their own style?
My personal style reflects Impressionism for sure.  I have always loved the works of Monet, Sargent and Homer, however I am true to myself, my own beat and the gifts God has given to me. It is extremely important to study Master artists, their works and all of which enhances a broader spectrum, but too often you see artists trying to emulate other artisans. My advice is to build self-confidence early on and to trust in the journey. It is a LONG, COMPETITIVE road in this field and the true survivors, in my opinion, have held true to their passion, believed in themselves, are persistent, kind, generous with their time and talent and above all, for myself, I trust in the Lord and His plan for my life. One day at a time!
What inspires you most in your work and everyday life?
My surroundings inspire me.  Nature, interiors, color, flowers, people and animals, I love it all!! I'm also an enthusiastic traveler. New scenery equals new paintings… if you've been a travel companion you know the paints and paper are packed!
You recently got into another art design venture, interior design. Do you find parallels in the interior design for a room versus creating a painting on a canvas?
Yes indeed there are parallels… it is all composition and problem solving.  A floor plan, canvas or whatever the format, it is a new set of problems to solve creatively.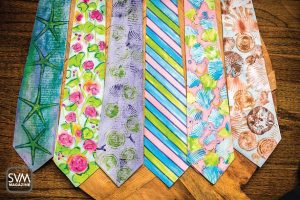 What are your favorite mediums and techniques to use when painting?
I'm asked this question all the time and it is truly the hardest one to answer. I know that must sound weird, but I have a connection with different mediums. I'm probably the most fluid with watercolor and fabric paint. My paintings contain a lot of gesturing and movement, which definitely reflects my spirit.  My signature techniques are pen and ink with my watercolors and I use a palette knife with my oils.
Are there any special projects or showcases you are working on currently?
YES!! Knack And Jill, my new business. KAJ was launched March 1, 2015. Knack And Jill, Linens for Life, are silk-screened, hand painted, hand towels, aprons and cocktail napkins. I have painted textiles for over 20 years and the time seemed right to take the next step, which for me was to go full steam ahead with this new business and to find someone to reproduce my designs.
Ten months later, Knack And Jill linens are being sold in over 49 retail stores, through the website and at the Knack Nest, which is located on 2nd Avenue in Bibb City.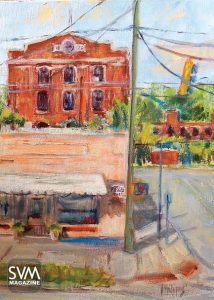 KAJ will exhibit for the fourth time at the AmericasMart Atlanta in January and July 2016. Knack And Jill has been invited to exhibit in the New York Now Market as well. Dallas and High Point are definitely on the horizon in 2016.
Amazon just launched Handmade at Amazon, a new store for invited artisans to sell their one-of-a-kind pieces. I was invited in December of 2015 and will be selling only my original, hand painted linens. My selling name is, Knack And Jill, here.
It's an exciting time for artisans and I'm excited to see what happens in 2016!