The huge trend of growing/buying local food is hopefully here to stay and Jenny Jack Sun Farms is one of the farms succeeding at it.
"Located in beautiful Pine Mountain, Georgia, Jenny and Chris Jackson, along with two apprentices, grow a generous variety of fruits, vegetables, herbs, and flowers on 4 acres.
Recently, a rare heritage breed of pigs have been added to the mix. These happy hogs get to roam in the pastures and forest surrounding our vegetable fields. There's also a flock of laying hens that move about the farm as well. We supplement the foraged diet of both the chickens and the pigs with a GMO free/ Soy free grain.
In order to protect the life of our soil, as well as the health of our customers, we use no chemical fertilizers or pesticides to grow our produce.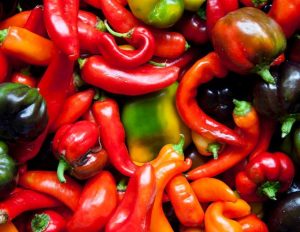 We farm to provide meaningful work for ourselves and to provide our customers with quality, naturally grown food.
We are very fortunate to be able to sell all the the food we produce within 30 miles of the farm. The majority is grown for our CSA, which consists of 125 families (about 350 individuals).
The rest is sold at our On Farm market, the FDR market in Pine Mountain, and the Uptown Market in Columbus, as well as a couple of restaurants.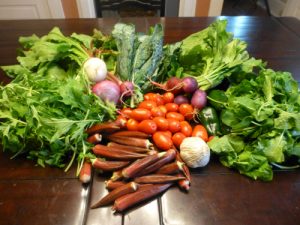 Everyone asks, "What's the deal with the name of the farm?" A "Jenny" is the term for a female mule, while a male is referred to as a "Jack." Mules are known for being strong, stubborn animals.  Those are two characteristics that we feel are imperative for farmers to possess as well!  And of course, we rely on the sun to grow our plants, so we couldn't resist the pun!"
Jenny and Chris will host Dinner on the Farm tomorrow, Saturday May 9th, but it is SOLD OUT!
The night includes: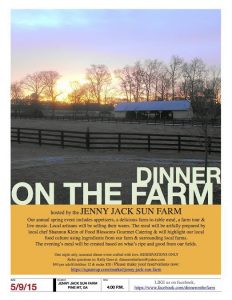 They will host another dinner around this time next year, don't miss out and grab your tickets early! Here is a clip from a past farm dinner that's featured in the documentary GROW.
Their farm's direct marketing model is based on transparency. They love for their customers to see where their food is coming from, so book a tour or a consulting time with them here.
We applaud the progress of these beautiful farmers and hope our community will continue supporting all their efforts.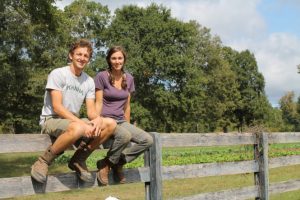 *Content provided by Jenny Jack Sun Farms.