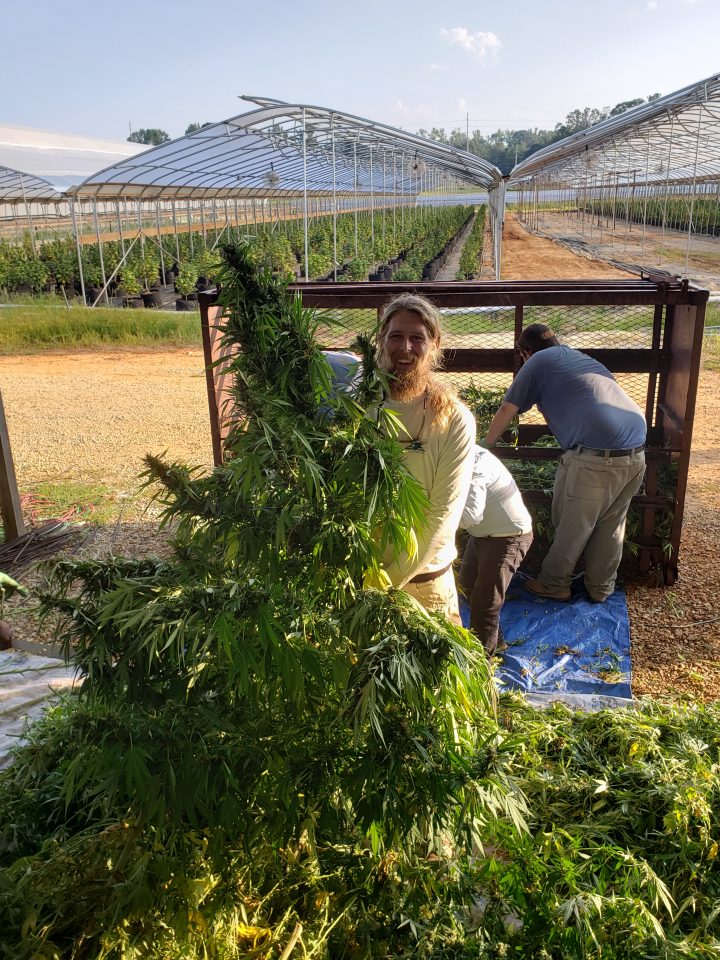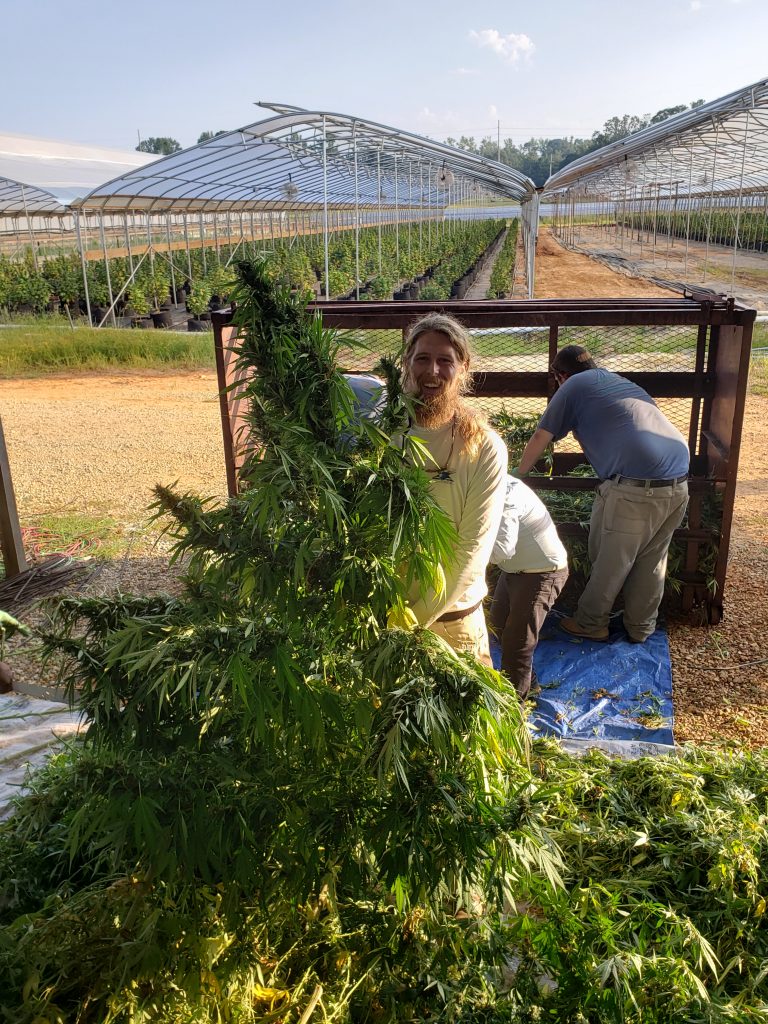 Written by Jennifer A. Sheffield / Edited by Jacy Jenkins
It is no secret that CBD is coming out of the closet.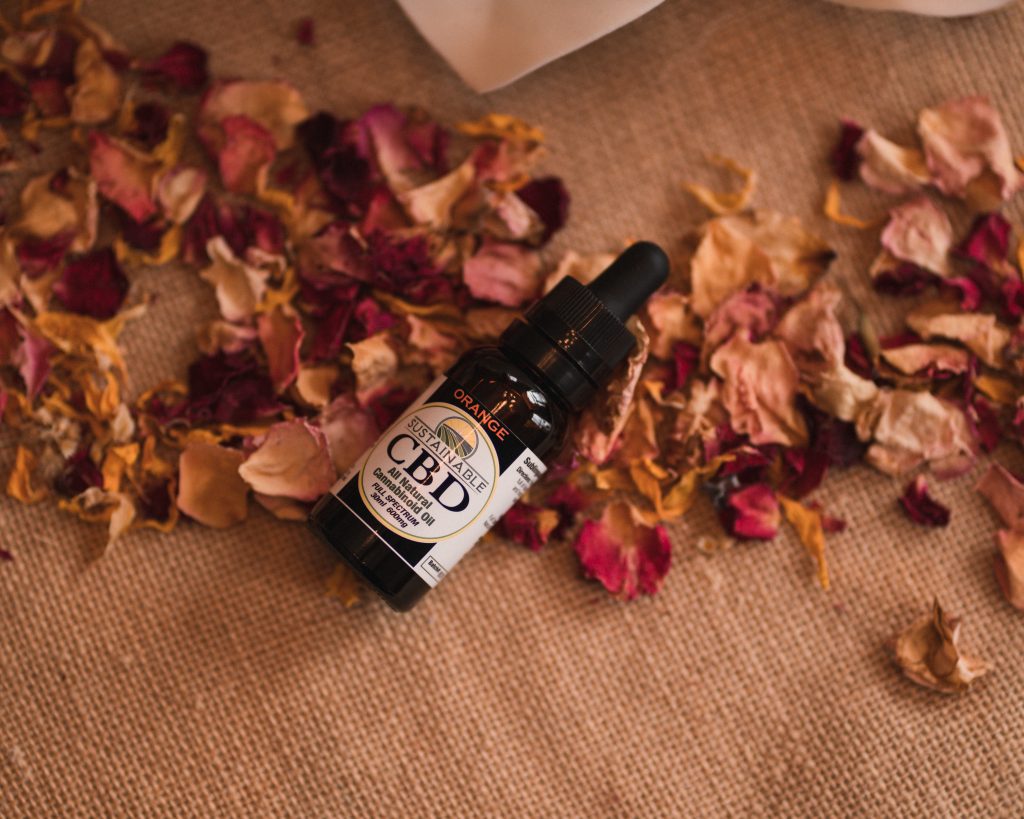 Thanks to this, the first company to produce commercially legal CBD oil in Alabama, Sustainable CBD, is gaining ground and leading the local scene with its wholesale production of high quality palatable and locally produced options for retail shops, and online shoppers.
Sustainable CBD powers five acres of greenhouses, geothermal heating and cooling systems, plus a CBD processing facility, on a 100-acre farm, powered completely by solar energy. Furthermore, Sustainable CBD manufactures its own soil that its industrial hemp and organic, medicinal herbs grow in.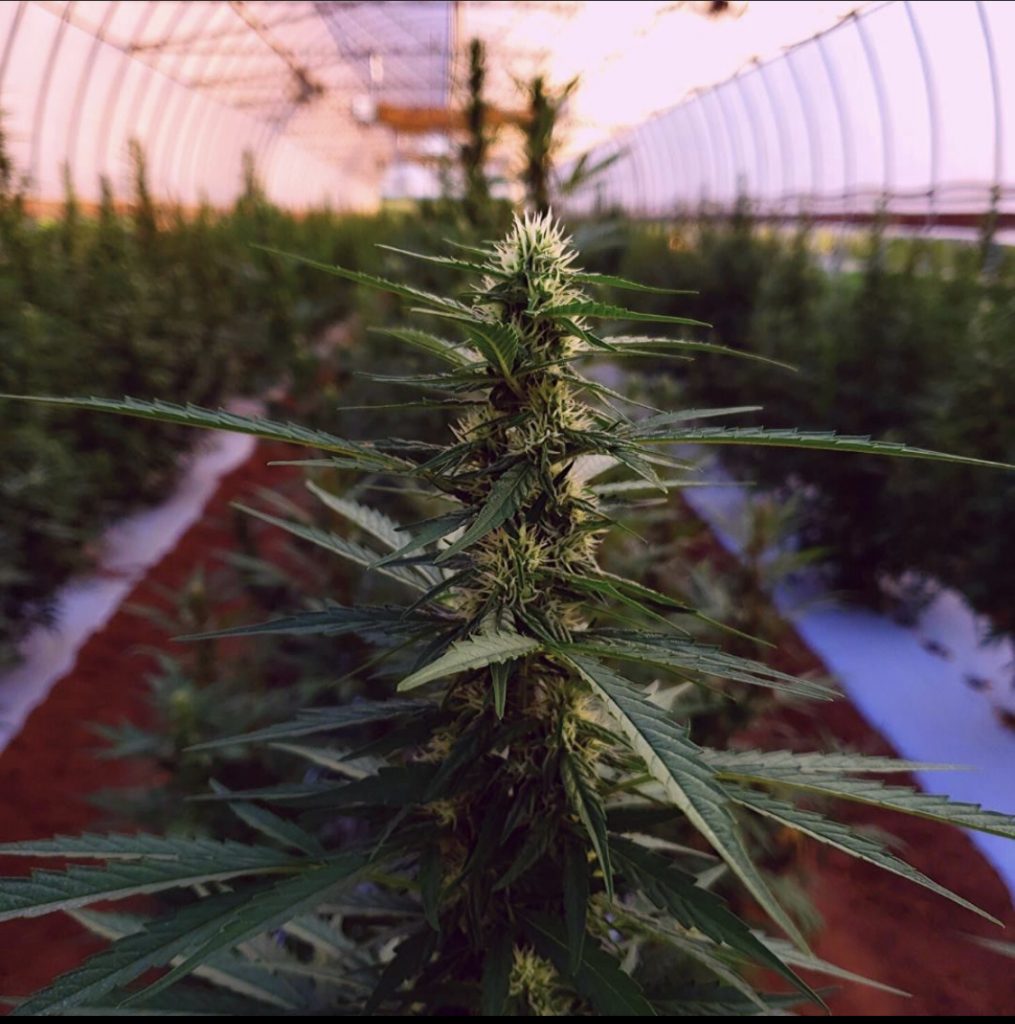 Sustainable CBD, LLC products are taking off online and at The Well in Uptown Columbus, where staff educates consumers of all ages and aliments about CBD's health benefits.
"We pursued a partnership with Sustainable CBD because they make an appropriate product for the fit and feel of our store."

Debbie Spear, Owner of The Well
Spear explained that customers can sample Sustainable's THC-free sublingual oils and use its refilling bar to take advantage of discounts, and do their part to save a bottle from the landfill. In addition, The Well stocks topical lotions and anti-inflammatory relief salves infused with turmeric and ginger. "We want people to have choices," she said, "so that they can develop the best course of action to invest in."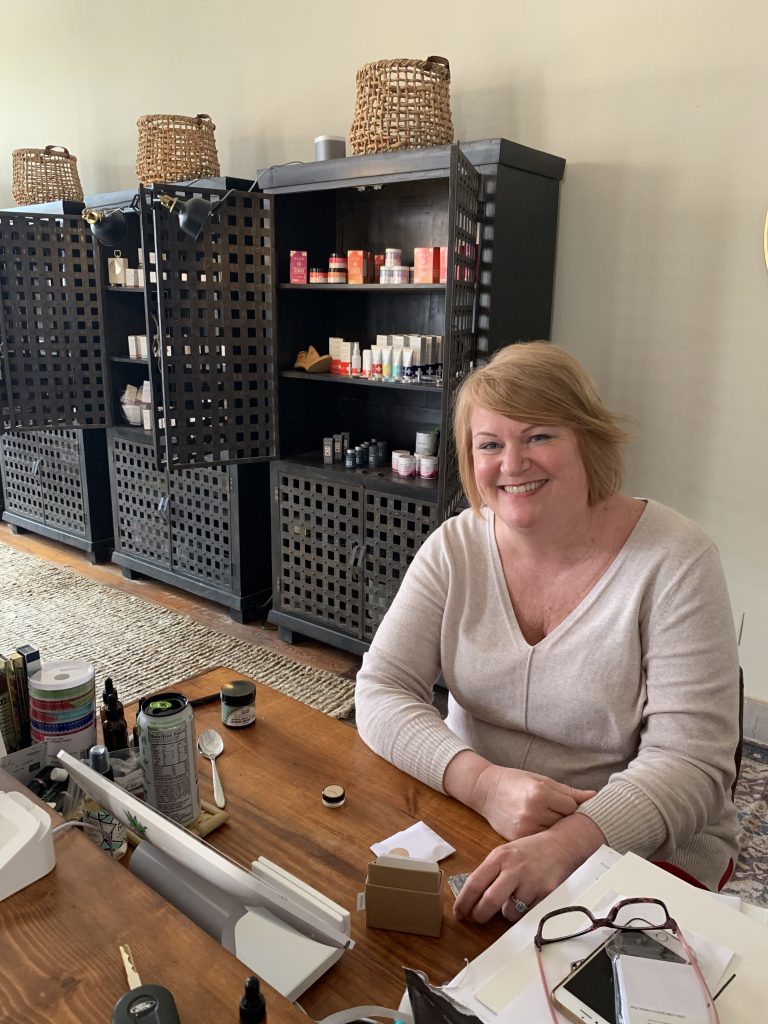 "The energy felt good about it," said Ricky Brown of Atlanta, who visited The Well to check out CBD for his grandmother and thinks it will be helpful for older people. "There are many people addicted," he said, of opioid drugs. "If you can come up with an alternative, why wouldn't you?"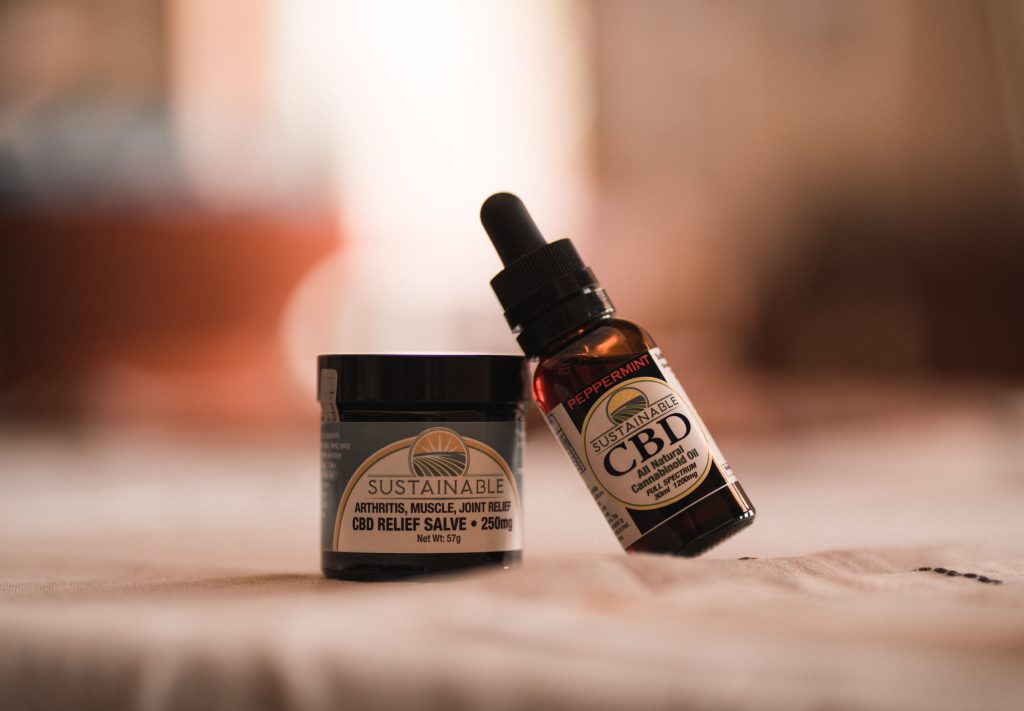 There are a lot of folks in pain that are finding relief with this product. For instance,
"I started using Sustainable CBD about a month ago. The results have been astounding! The little aches and pains that I had learned to live with as a part of getting old have basically disappeared. I was very skeptical when I first was told about the product, but was in such pain I thought why not give it a try. I have tried several things that have claimed to help pain and all have been a complete failure. I have never found a product to work for me like this product has. The first week I felt a little better, but the second week I could not believe the difference I felt."

Jon, an online shopper from Florida, pictured below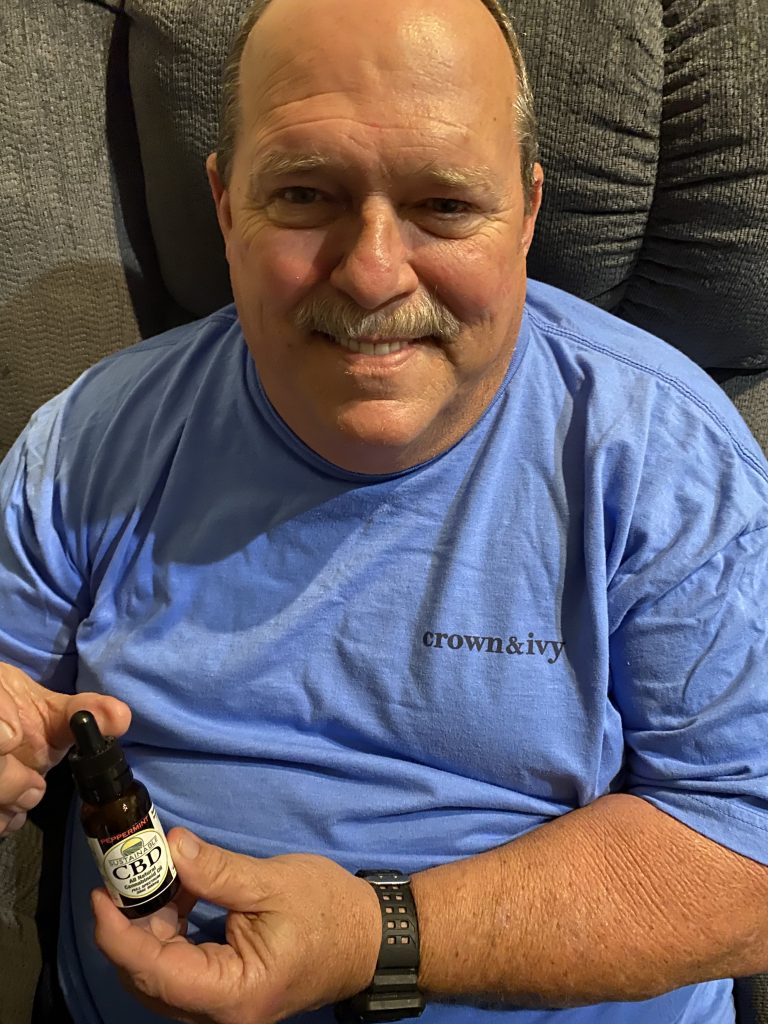 Spear said it was also beneficial for the business to have farmer Ben Bramlett, who obtained his horticultural degree from Auburn University and is the Operations Manager at Sustainable, available for the public to talk to at its launch event.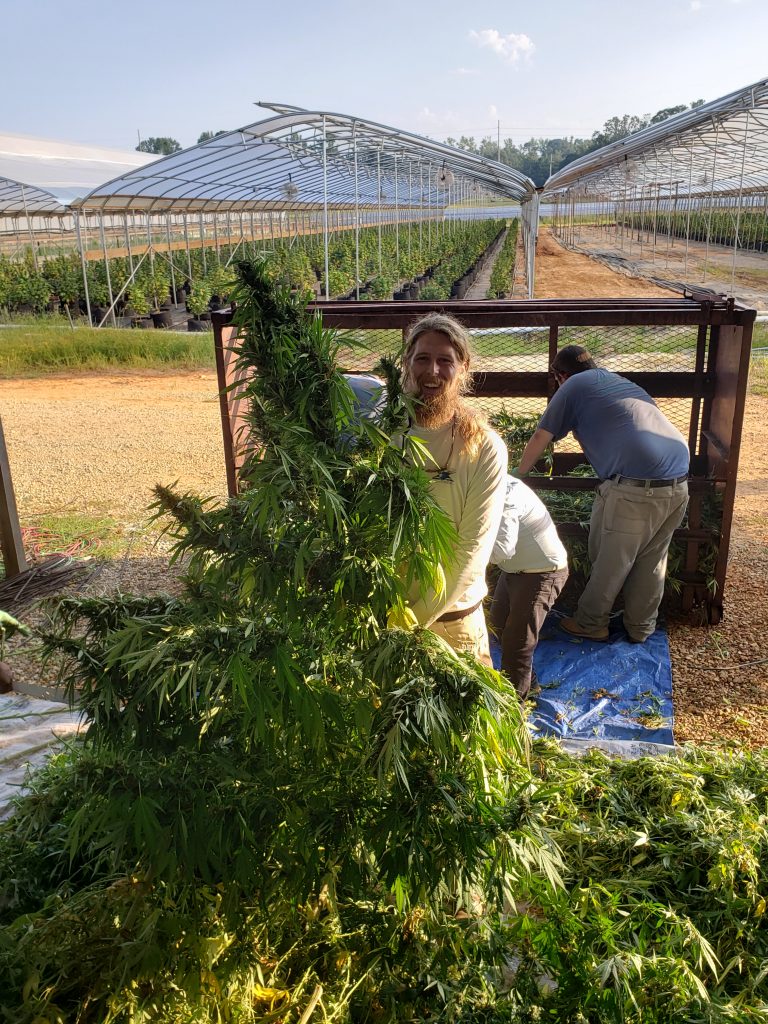 "When we opened, we researched companies to find out what their business and farming practice was and the cool thing about Sustainable is it's a full spectrum oil, which typically means there is trace THC in it but they extract that, and put in other parts of flower."

Debbie Spears
CBD (cannabidiol) is just one of 100+ cannabinoids that are present in the hemp plant. Full-spectrum CBD oil includes these compounds to produce the most effective results.
Production of safe CBD has been a hard road to hoe, and although still largely unregulated, Sustainable uses modified food-grade standards to make and test its compound.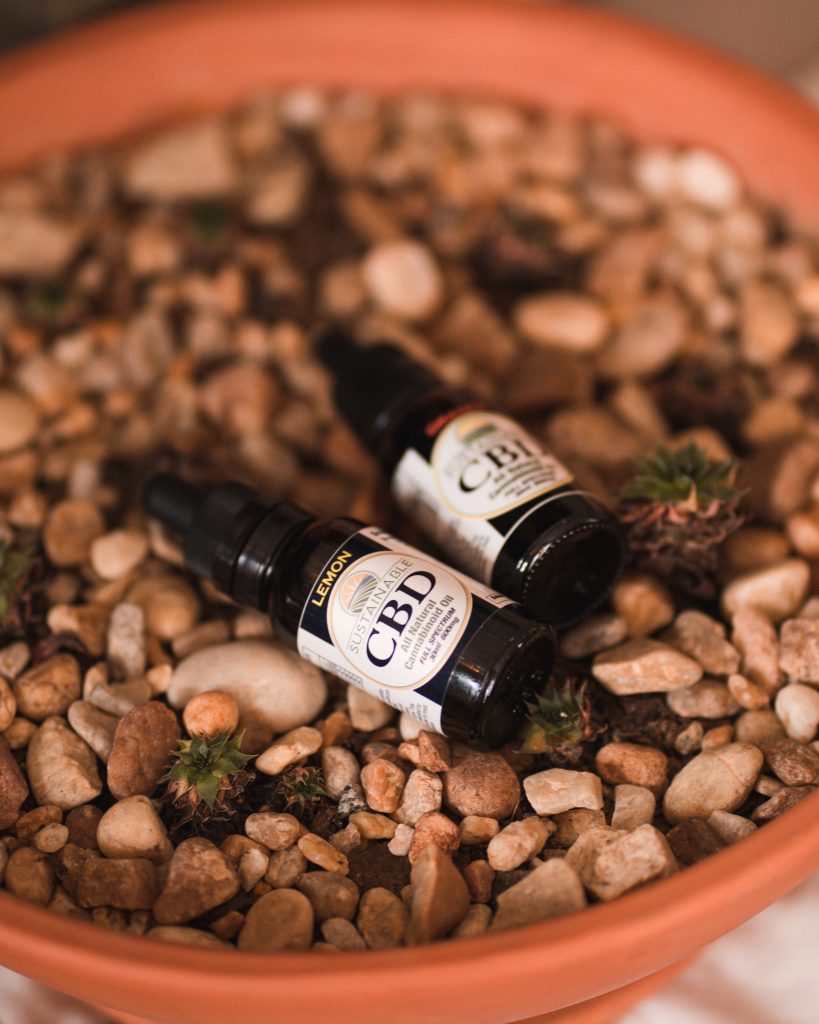 It was only recently in 2018 the United States Department of Agriculture (USDA) removed CBD from the List of Prohibited Substances and Methods by the World Anti-Doping Agency, making it federally legal. In 2019 Alabama and 46 other states followed suit, legalizing CBD products.
However, as Georgia and other states in the Southeast start to make growing industrial hemp legal in 2020, Sustainable CBD stays true to its earth-friendly procedures.
"Our environment helps us control issues like pest pressure and mold. Transitioning a vegetable farm into a hemp crop was an easy move. Our goal is to be self-sustainable as a part of our plan. We're not in the business of battling nature; we work with it."

Ben Bramlett
Managing Member at Sustainable CBD, Clint Thompson, said the greenhouses help combat the tough clay in the southeast, as well as providing the opportunity to create biodiversity. "In addition to using our own soil, we use reservoirs for heat and cooling, exchangers that regulate temperature and irrigate at the root level," he explained.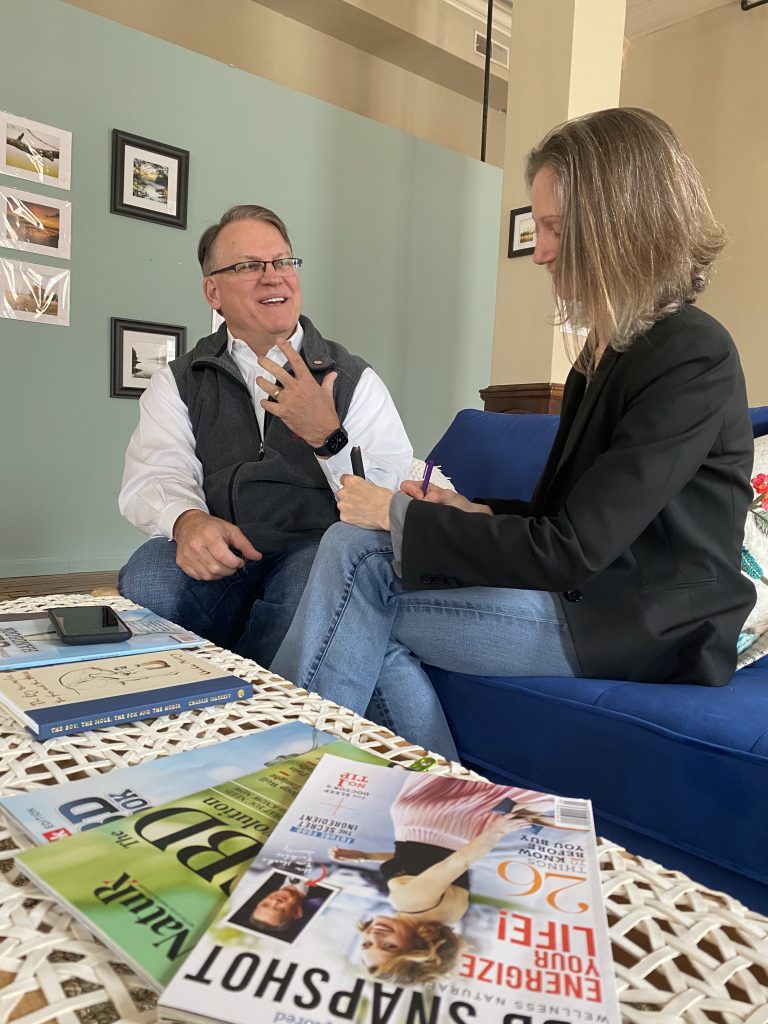 "The thing about these plants, is that if you stress them out the THC level will get too high, and if that happens you have to destroy that crop. To put that in terms of quality, we can't use any pesticides but we test all of our biomass before it goes to the processing facility for a full microbial and cannabinoid profile. It costs us $2,000 per kilo to remediate the THC, but it is worth it to provide a higher quality product that customers with routine drug tests can use with peace of mind." Thompson further explained, "Industrial hemp must have THC levels below .3% to be considered legal, but we take it one step further by lowering it to non-detectable levels." Thompson added, "We also use a CO2 extraction system to pull the CBD oil out of the plant, so we don't add chemicals; but rather CO2 gas; which can precisely preserve terpenes, which have high medicinal value and results in the highest quality CBD you can make."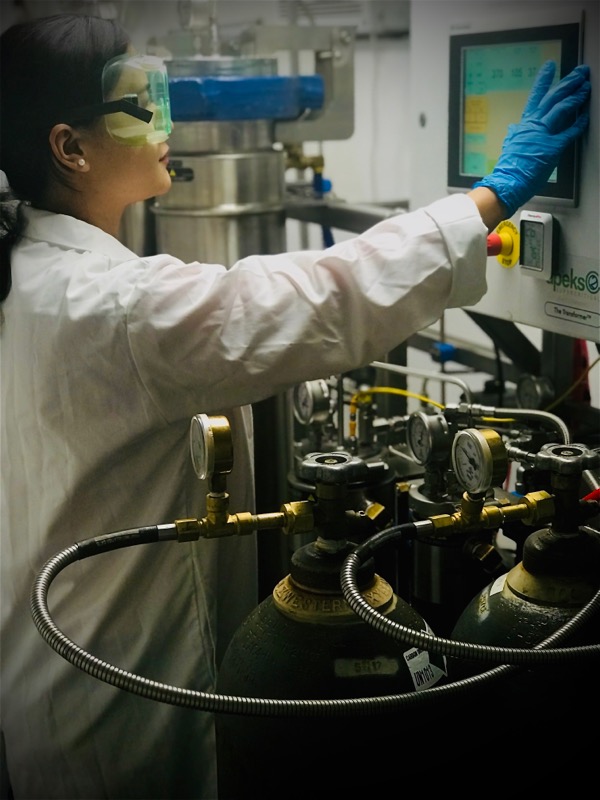 The Well keeps its oils in five-liter stainless steel containers.
Thompson compared it to a craft beer. "Like an IPA," he said, "a full-spectrum oil has bite and you have to enjoy that – otherwise, you'd rather have it distilled, but it's the entourage effect that gives you the benefit." The entourage effect occurs when a user takes a full-spectrum CBD oil and the combination of compounds produces a stronger influence than any individual one. In simpler terms, a full-spectrum CBD oil helps maximize therapeutic benefits. Sustainable CBD also offers full spectrum products in lemon, spearmint, orange citrus, and peppermint flavors.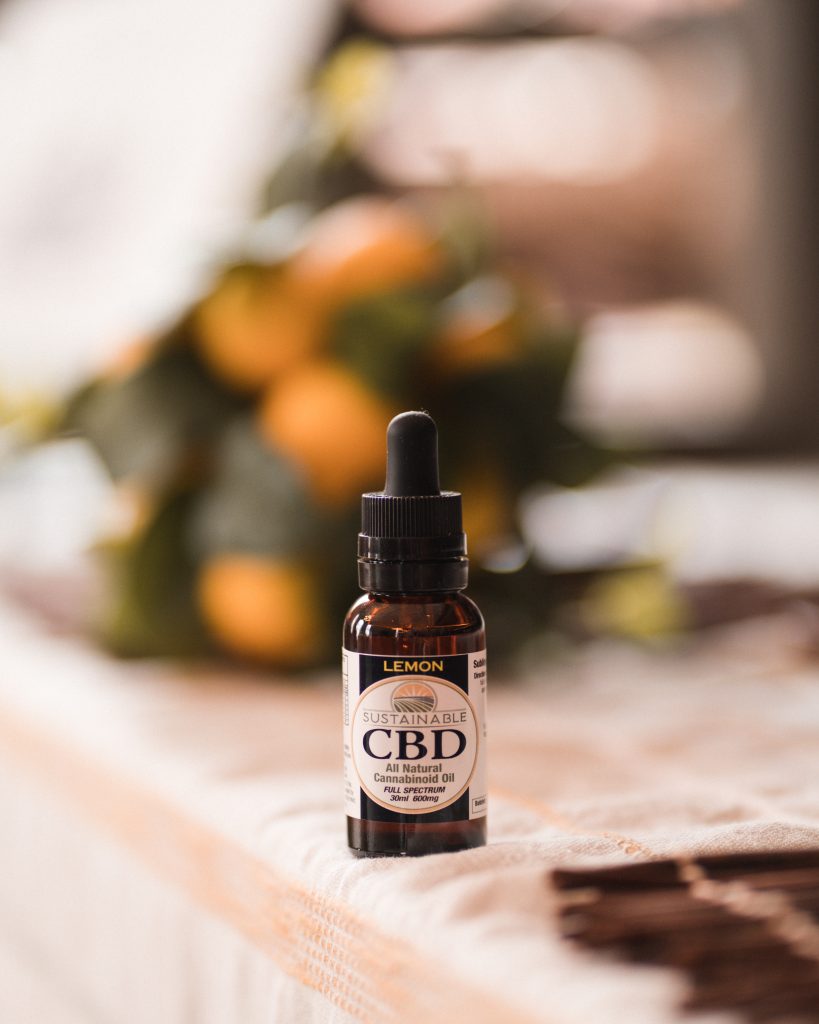 "Our spiritual view," Thompson added, "is that if your mind is sharp and your body is healthy then you will serve your God well, your family well, your community well."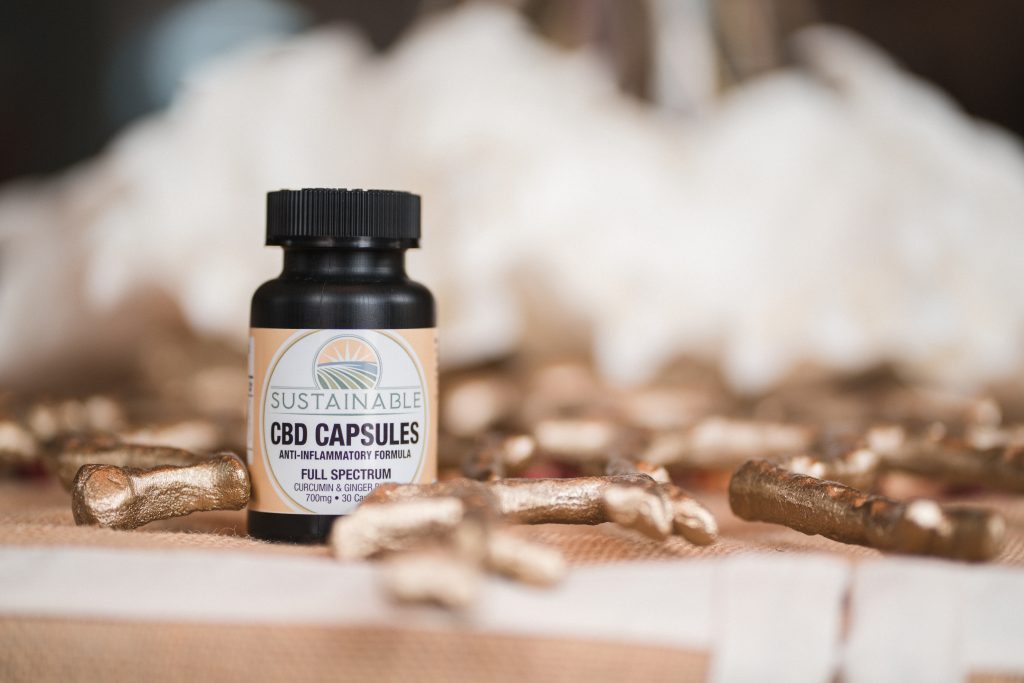 Another online shopper, Dave from Florida, shares this sentiment and is grateful his only option isn't an opioid- so he can play golf.
"I've been active my whole life and spinal stenosis changed everything for me. I went from playing golf on a weekly basis to selling my clubs and retiring my shoes. Sustainable CBD has enabled me to get back out on the course and has worked wonderfully for me."

Dave, pictured below in the middle, from Florida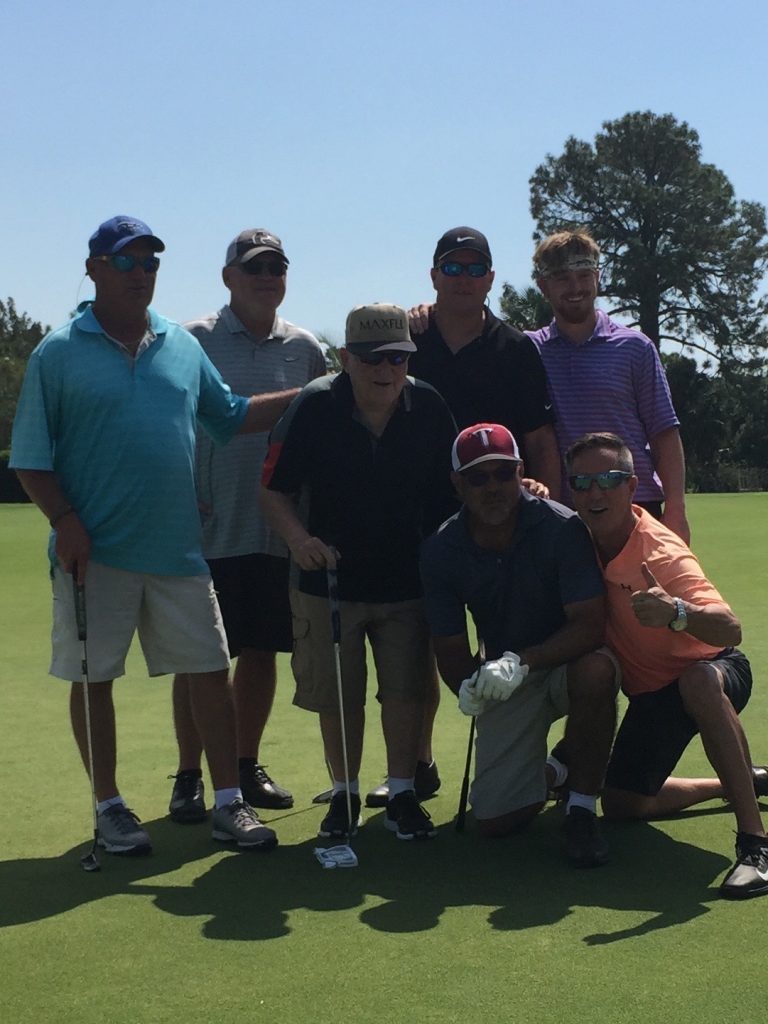 The Well helps to spread the good word on holistic alternatives, "I joke when I leave my day job that I'm going to sell my drugs on the corner, but we're not a pot shop," said Spear. "People know I'm promoting wellness in a boutique setting."
Due to the ongoing situation with Coronavirus, the Well currently offers curbside service as well as free delivery to homes and businesses so consumers do not have to interrupt their normal dosing schedules. Visit The Well at 1205 First Avenue or contact them at 706-366-5208. First-time bottle oils are $66.00; refills $55.00. Flavors include peppermint, spearmint, lemon, orange, and natural which provides no flavor and has a unique taste of its own.
You can also shop from the comfort of your home at https://www.sustainablecbdllc.com/shop-online. Sustainable CBD is offering 25% off on all online purchases to Electric City Life readers with code ECL25 so people can have easier access to products during this time of increased stress and unease.