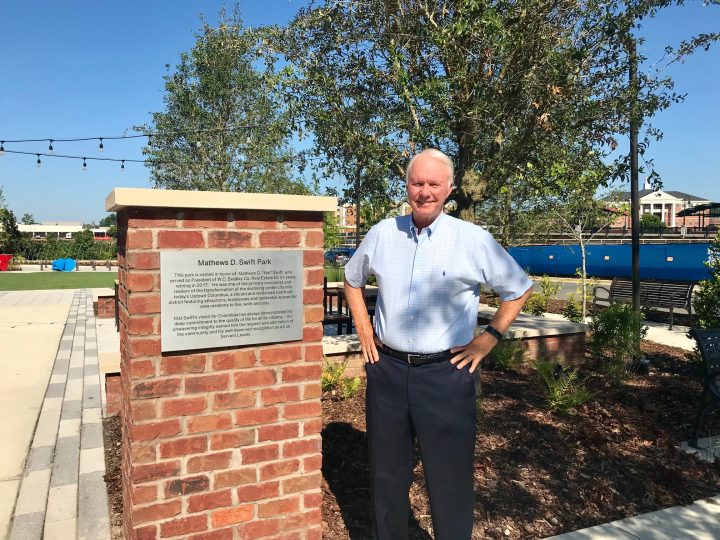 Retired President & CEO, W..C. Bradley Co. Real Estate; Pioneer of Uptown's Urban Renewal
Looking around us, is the Columbus riverfront today living proof of that old city slogan—'What Progress Has Preserved'?
"Yeah, I think so.

The re-adaptive use of these old mills just south of here set the stage for the modern style here at the Rapids, which also incorporates aspects of the textile industry that existed here for 100-plus years. It shows progress in that we're designing these state-of-the-art apartments for modern-day tastes but, at the same time, it shows a sense of Uptown's industrial and cultural heritage with elements that infiltrate throughout all its  design and decor.
I think the Rapids is the right project at the right time. We're leasing faster than we expected. We're leasing to all segments of the community. Millennials. Retirees. Active-duty Army."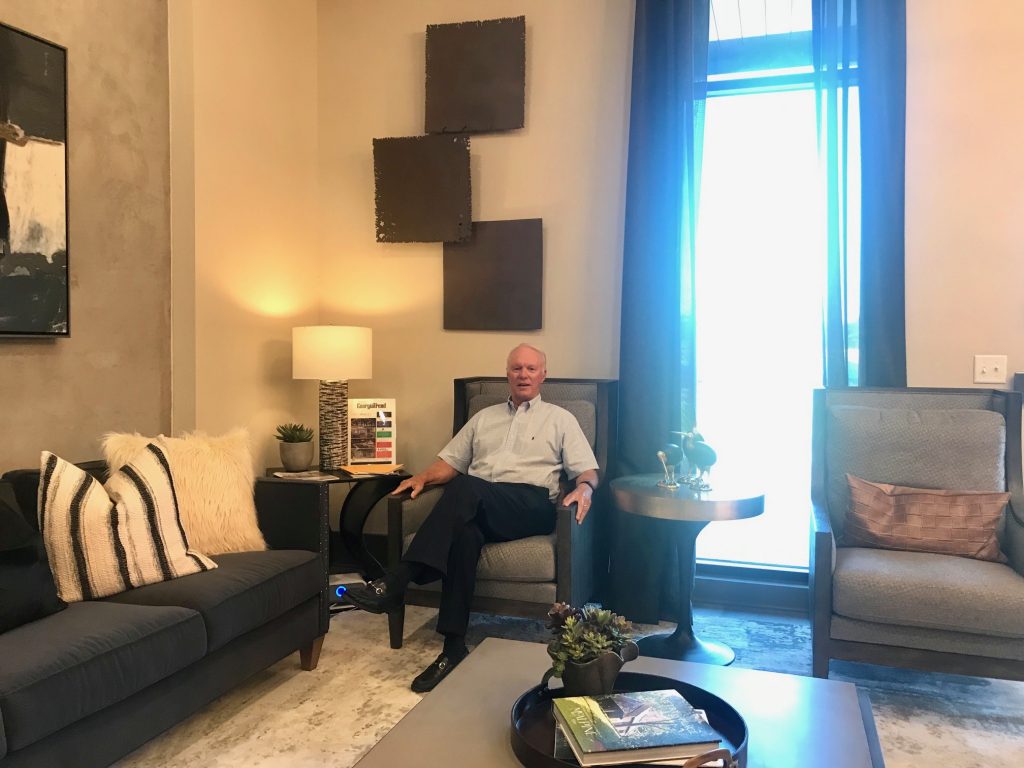 You were hired at the Bradley Co. in 1986. What was the conventional wisdom about the potential for the city's riverfront at that point in time?
"When I was hired, initially we did projects all over the city and county, such as the Maple Ridge. golf-course community. It was only about 20 years ago that we began to focus primarily on downtown. The idea there was that we had a real jewel in our downtown, so we began to focus on it day in, day out, 24/7.
We then started to take all these great bones that we had and maneuver them in such a way to foster a fun, eclectic downtown perfectly suited for living and working. That was the goal. That's what gave downtown more emphasis from Bradley Co.'s standpoint.
The Bradley Co. has always owned a lot of property downtown but it didn't have any master plan for its redevelopment. We hired a lot of land-planning firms and engineers and did a lot of studying of how we could take these old buildings and make them part of something bigger. 
This required us to totally shift our thinking. Take the Eagle & Phenix Mill, for example. Initially, I didn't want anything to do with it. It was a 1-million square-foot facility in terrible condition. Pillowtex owned it but was shut down in bankruptcy. We came to the conclusion that, in order to maximize the potential for downtown, we would have to purchase it. We bought it in 2004 and very methodically started to develop it through adaptive re-use."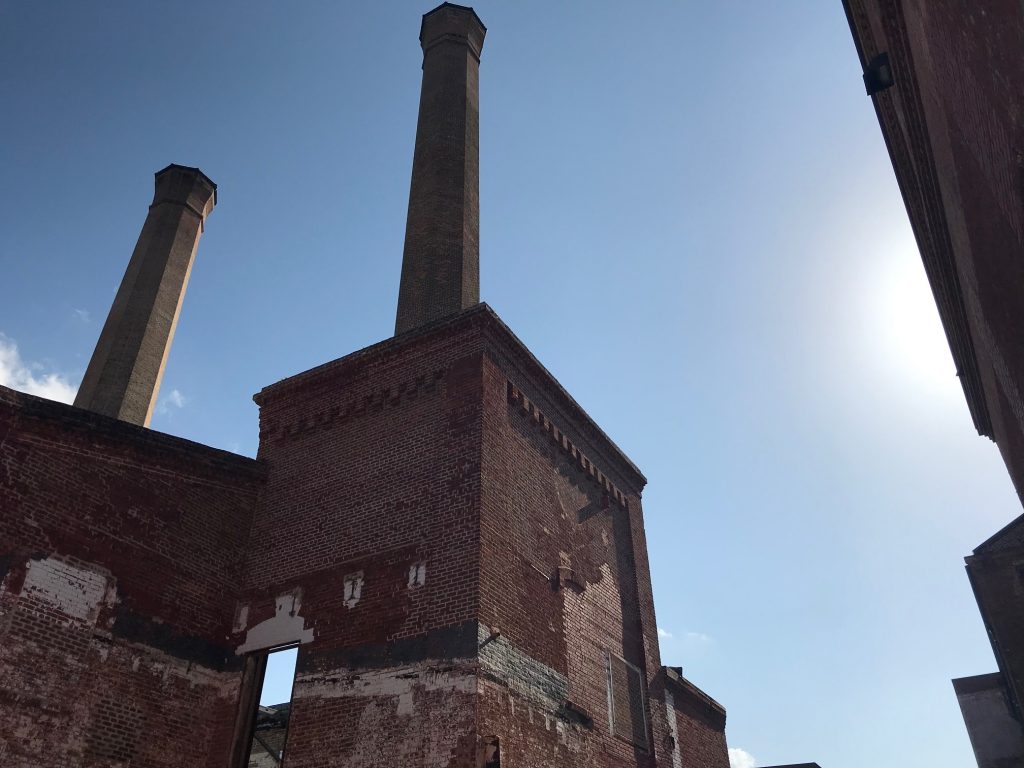 Back in 2006 when I was a writer for Columbus Community News, [retired CSU history professor] John Lupold scolded me for using the phrase adaptive re-use.
"Let me tell you something about John Lupod: he is the unsung hero of Uptown's transformation. The industrial history is such an important part of telling the story of Uptown. He was the one who gave authenticity as well as correctness to its history as we told the story about all these old buildings. John Lupold put it all together to tell that story and show how that story is a huge part of the city's culture. I give him a lot of credit."
Who stands out to you in the city's tradition of servant leadership?
Well, of course Bill Turner is the chief figure among local servant leaders. But I want to emphasize it was not just him but also Steve Butler, Brad Turner, John Turner, Elizabeth Ogie, and a lot of other family members who all, each in their own distinct way, were servant leaders. The best thing about all of them is they had great vision. 
They realized they could use philanthropic money to count as private donations for seed money on projects that would in turn help the public sector—the city of Columbus, the city of Phenix City, the state of Georgia, even the federal government in certain projects—to come forward with money. The result was that you had something done sooner, something done better, and something done with more authenticity. And something that was world-class like the RiverCenter."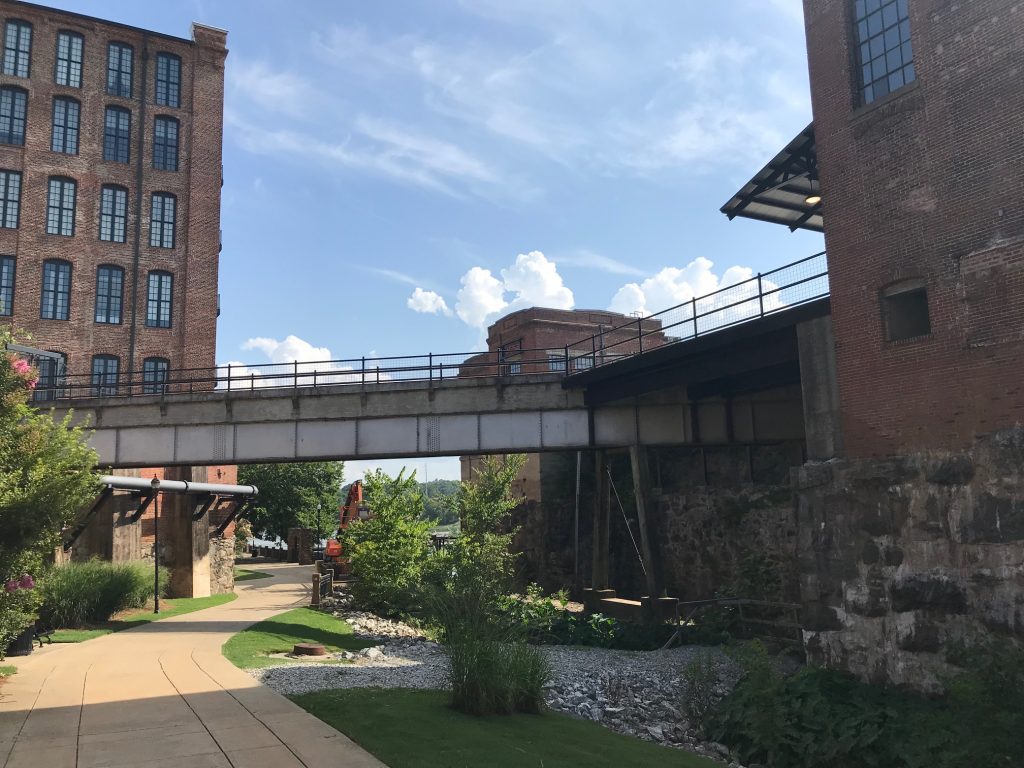 Which public-private partnership project do you think has been the most impactful for the community?
"Prior to the Riverwalk [opened in 1995, completed in 2019], there was nothing in the downtown that people from across the entire region felt like they owned. Some of the Bradley family donations were used, but it was the SPLOST that funded it. The fact that the Riverwalk was paid for by sales-tax proceeds, it made people in Columbus feel like they owned it.  So for people all over the Chattahoochee Valley, this was something where everyone could say, 'This is mine.' When Aunt Susie would come down from Minnesota to visit, they would take her to the Riverwalk to show her, 'Look at what we did.' 
This instilled pride in our community. It was that pride and that community buy-in which would lead to many more public-private partnerships. The transformation of Uptown is a case study of what can happen when you have that full spectrum of support that otherwise could never happen.
We're now starting to see this sort of change along 2nd Ave. in the Mill District. People have started to pull all those things together that happened in the early years of Uptown, apply the lessons learned in developing Uptown, and it's evident all the way from Eagle & Phenix into Bibb City."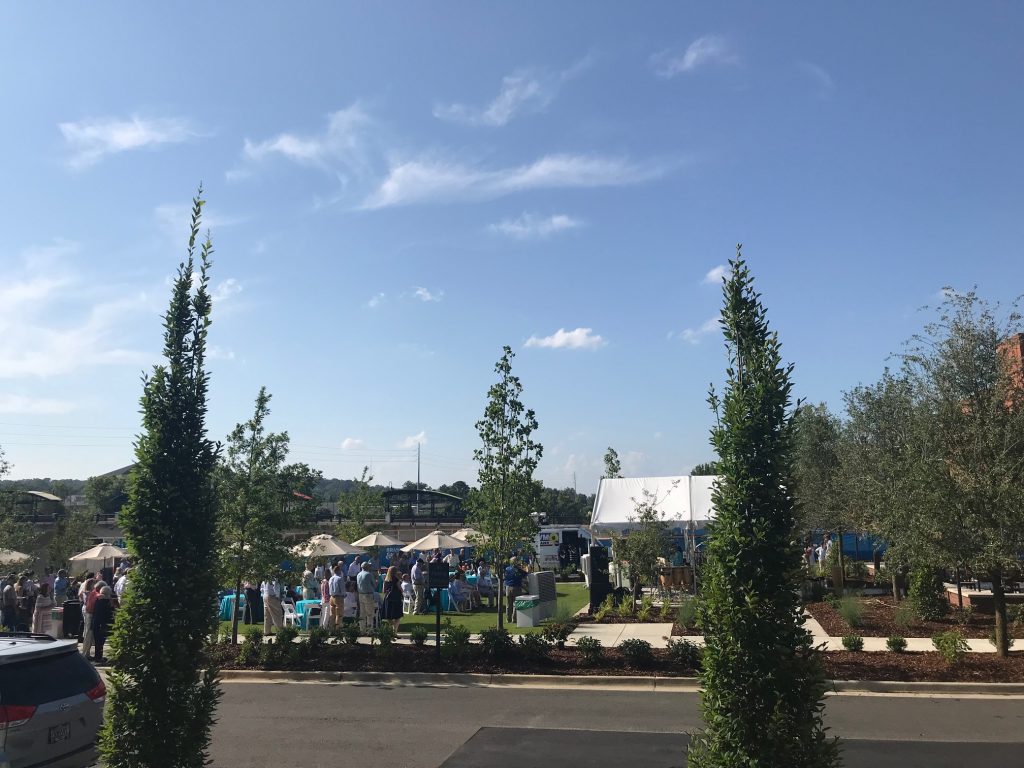 CSU percussionists perform from balconies at the Rapids for Mathew D. Swift Park dedication ceremony. 6.21.2019
What's one thing holding Columbus back?
"Even though we have a good inflow of young people, our town has not had the kind of growth that I feel like we need.
It's a combination of a lot of different things. At one time, Columbus was a military and textile town. Look at the impact of how they rearranged a lot of the military, plus the elimination of the mills, and it's a wonder we haven't suffered more than we have.
We have diversified our economy since that time with the growth of Aflac, TSYS, and Synovus. The Mercer Medical School will bring in new people. The film industry will help. But we have to continue to offer new opportunities and continue to diversify our economy so we're well positioned in good times as well as bad times."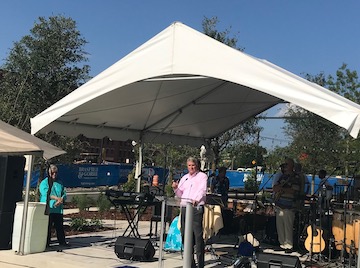 Looking forward, are you bullish on Columbus?
"Like a lot of mid-tier cities, we have to have diversity. We have to be adaptive in our ability to attract industry as well as talent.
In the old days, it was all about attracting industry, recruiting a big employer. Today, the issue is attracting talent. Young millennials demand a high quality of life. In that regard, I think we've done well, especially in the Uptown area. Not many towns can offer whitewater recreation, a Civic Center with professional hockey and football, places like the Springer, the RiverCenter. With all that, I think we're well positioned to continue to attract industry as well as talent.
There's no silver bullet for any community's issues. You got to have art, you have to have affordable housing, you have to have diversity, to make a community vibrant. Most importantly—this is a lesson I learned from Bill Turner—is that this is a journey without an end. As soon as you have success, you can't rest on your laurels. You have to turn around the very next day and pursue the next success. 
The whole point is it's not any one single thing. Good land planning. Good restaurants. Good retail. State-of-the-art living accommodations. It's a combination of all those things that give you a vibrant community."
Age: 72
Education: Episcopal High School (Alexandria, Virginia); University of Georgia; Mercer Law School.
Family: "I'm blessed to have my wife of 46 years, Mary Lou. Three daughters—Lindsay, Cile, and Cam—and three sons-in-law. I have 10 wonderful grandchildren and I love being with them."
Favorite thing about retirement: "You don't have the same sense of urgency. So at the end of the day, I'm not as stressed out as when I was working."
Least favorite thing about retirement: "I thought I was going to have more free time to do the things I've always wanted to do. I'm still working just as hard—just not getting the pay."
Georgia Bulldawg Football 2019 season record prediction: 11-1