Calling all burger connoisseurs, Uptown Columbus and Budweiser are partnering to host the inaugural Budweiser + Burgers Cook-Off, Saturday, June 6, 4-10pm at The Park at 11th & Bay, and admission is FREE!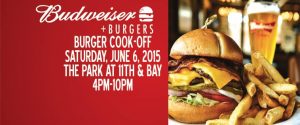 Burger lovers kick off the evening with the Maneuver Center of Excellence Band "Jazz Ops", playing a variety of big band classics 4:00-5:30pm, sip on cold Budweiser beer products and munch on juicy burgers!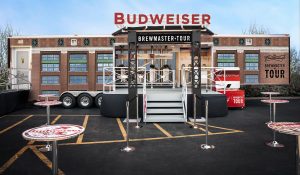 Budweiser Brewmaster Mobile Tour is also making a stop at Budweiser + Burgers Cook-Off! Smell and feel the hops, barley, yeast and rice, used to produce Budweiser, and peer into brewing tanks showing the actual brewing process. Final stop, enjoy a sample of a fresh brewed Budweiser:
2014 Bud Brewmaster Tour by Switch from Switch: Liberate Your Brand on Vimeo.
The delectable burgers will be created by grill masters from local restaurants and backyard burger artists, with any type of grilling permitted. Each vendor will sell samples of their delicious burgers, while competitors grill it out for the coveted "King of Burgers" title, and bragging rights for the year.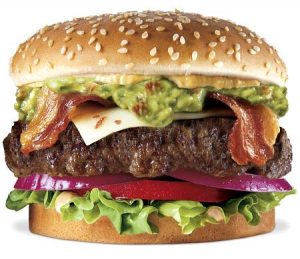 Celebrity blind judging will be based on flavor and presentation of burger.
Payout: 3rd place – $100 & trophy; 2nd place – $300 & trophy; and 1st place titled "King of Burgers" – $600 & trophy.
The 21 grill masters are:
Odom's German Schnitzel's & Brats
11th and Bay southern Table
Off Kilter BBQ
Triggers
Lora & Mike Miller
Beerded Bros
JB Polish Sausage
Outdoor Events
The Grove
The Social
B&B Beverage Company (Budweiser)
Carson Lloyd
Goldens' Cast Iron Cookers #1
Goldens' Cast Iron Cookers #2
Mark Jones Kitchens
Heavenly Funnel Cakes
Captain Fort
Bassett & Becker, Naartjie Multimedia
Ovations, Trade Center
Sheri Jones
Bitter Brick
The Hitkickers will keep the party going with a multi-decade setlist of rock, soul, pop, country and R&B hits, sure to have all the burger lovers groovin'!