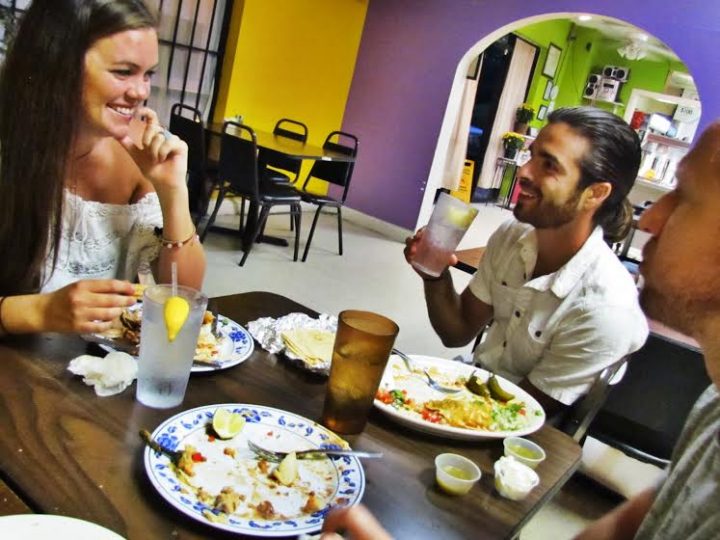 Walking into the convenience store tucked away in a small shopping center on 17th Avenue, our noses are immediately met with fragrant aromas of Mexico. Pork al pastor, tortillas de maíz frescas, and carne asada are only a few authentic dishes filling this amazing, hole-in-the-wall's buffet line.
La Historia
Twenty-five years ago, Roberto Buenrostro and his family moved to Columbus from Juarez, Mexico. Upon moving, the family decided to enter into the food industry and opened Sarku Japan in Peachtree Mall. This is where Roberto Buenrostro met Sherry, now part owner of La National. Sherry and Roberto were married in 1996. After being together for four years, they saw a need for an authentic Mexican taqueria in Columbus. A place where friends and family could come and, through food, reminisce of home. This is how La National became Columbus' first Mexican buffet.
The food has a history of its own. It is a fusion of old Mexico and modernized, American, Mexican cuisine. La National's recipes have been handed down from generation to generation in the family. The Buenrostro grandchildren still beg to eat at their Abuela's home, craving the Latin flavor they have grown to love.
Supermercado
At first glance, as we walk through the main door, we assume we've entered a convenience store with Icee's and sugary drinks for sale. A man speaks in Spanish to the lady behind the desk, while he buys what looks like a tiny, baked good. We begin to notice that all of the products are labeled in Spanish. The selections of imported, Mexican goodies lining the shelves evoked a sense of home.
This small, Mexican supermarket attached to the restaurant breathes of Mexican culture. The aisles are lined with ingredients not found in our local groceries. Fresh coconuts, tomatillos, authentic brands of corn tortillas, yucca, sauces imported from Mexico, Mexican cheeses and more. We notice a container of what looks like the fresh, baked bread we saw the man buying. There aren't many left for us to grab. We are told if we travel just a mile down the road we will find their second location, La National #2.  La National #2 is their bakery, specializing in authentic Mexican baked goods.
Comida
Walking into the arched doorway to the restaurant, all five senses were heightened. The smell of freshly made enchiladas brought our eyes to the steaming buffet, and before we knew it, we were all fighting over first-grabs of the buffet plates.
Okay, let me break here.  We know the word buffet has never truly turned on any foodie. However, let's get one thing straight about La National: this food is fresh! Nothing is ever poured out of a can, or heated and put onto a plate. Nothing is ever frozen. Everything is made day of, by the same cooks who've made it for eight years.
After circling the buffet line like vultures, placing as much as we could onto one single plate, we were met at our table by a small, Mexican lady. Her mannerisms and broken English made us feel like we were sitting at her kitchen table. In her hand she held a piping hot plate of freshly made enchiladas. All of the colors of the Mexican flag were represented; fresh tomatoes, jalapenos and cilantro, sour cream and of course the deep-red enchilada sauce topped with melted cheese. Dead silence, as we ravenously tore into the Mexican masterpiece.
For the next 10-or-so minutes, only the sounds of "mmm" and "try this," came from our table. Every couple of minutes someone would leave the others behind to grab a clean plate, and flock the buffet line again. After we each had seconds, thirds and some of us fourths, we waddled back to buffet for the finale. Cinnamon treats. We were lucky enough to get the last few Churros they had left. Bellies full, we needed a stretcher to carry our bodies the long, tortuous 100-yards back to our vehicles. La National, we thank you.
Notes
Some favorite dishes on the buffet:
Tamales. Tamales are a traditional Mexican dish made of starchy, corn-like dough that wraps around marinated meat, usually chicken or beef in America. The dough is wrapped in a cornhusk and steamed. These are mouth-watering good. There is one lady who makes all of the tamales for La National. It takes her one full day to make enough for a couple of days at the restaurant. Amazing.
Al Pastor.  Al Pastor is a dish from central Mexico. The meat is marinated with dried chilies, spices and pineapple. It looks like stewed meat. I would recommend pulling some of this meat off the bone and adding it to a taco with lime, a little pico de gallo, cheese and sour cream.
Flautas. La National will usually have both beef and chicken flautas. These little gems are fried tortillas stuffed with marinated meat and cheese. A crunchy, cheesy, meaty treat.
Something else to note is each day La National offers water flavored with different fruits, such as watermelon or tamarind. Be sure to ask what is the water of the day!
If buffets aren't your thing, you can always order from their menu which offers a wide variety of authentic dishes. If you are adventurous, and want something truly authentic to Mexico, order the Taco Lengua. Taco Lengua is made with beef tongue. Finish your meal with a Horchata, a Latin American drink, made with milk, cinnamon, sugar and vanilla. This is a nice, little treat to have at the end of your meal. It will be sure to send you over the edge into a full, food-induced coma.
La National is open Monday thru Saturday, from 10:30 a.m. to 9:00 p.m. On Sunday's they close at 8:00 p.m. It is also important for foodies to note, La National's dinner buffet has different options than their lunch. Buen Provecho!
Written by Katie Bishop
Photography by Joseph Berger