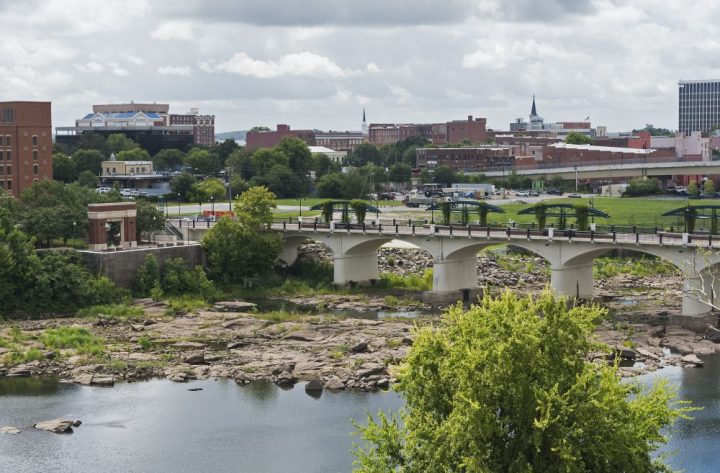 Swinging open the doors from the fourth-floor conference room at Troy University-Phenix City Campus onto its expansive adjacent balcony, Vice Chancellor Dr. David White presents what is perhaps the best view of the Columbus riverfront.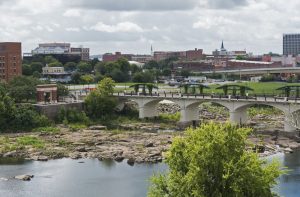 Instead of the bird's-eye perspective on gleaming whitewater and impressive edifices for both home and office, however, White points toward an undeveloped lot that will soon shine as ArtPark: a community-minded, public-art project set to open Friday, August 17th 12-2PM.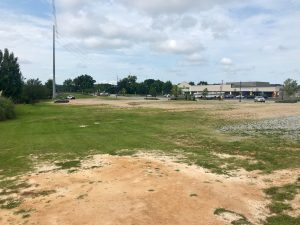 "It's a match made in heaven," White says of the partnerships that helped create ArtPark, one of several initiatives that together aim to transform the Phenix City riverfront.
Derived from initial plans a few years ago by the City of Phenix City to establish a permanent food-truck park on the Alabama side of the 14th Street bridge, the ArtPark is the result of collaboration between the city, Troy, W.C. Bradley Company and SPARK Art, the local nonprofit "igniting a passion for art" best known for its mega-popular "Columbus GA Rocks" campaign in 2017 that inspired a painted-rock craze in the community.
 "W.C. Bradley agreed to let us use the property for the concept, which the whole time was created in conjunction with the city," White explains. "The idea was for a place to eat, linger, listen to music, and engage in art. So we then looked to partner with a great arts organization. SPARK Art is a community-based arts group known for great activities for kids—folks are leaving those painted rocks all over the country now—and was looking for a place to call their own. So we loved the idea of partnering with them and assisting in their mission."
Founded in 2015 by local artists "Smiley" Rachel White (on the right, below) and Stevie Hodge (on the left), SPARK Art states as its mission, "to revitalize, inspire and encourage community bonding and kindness through the means of a variety of art and public works and projects."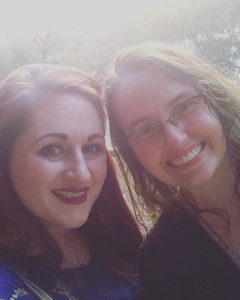 Its signature event, Free Art Fridays, will be part of ArtPark's opening festivities on Friday, August 17th.
"We hope to encourage and inspire a greater appreciation of art within our community by exposing citizens to a variety of art and arts projects," White says when asked what SPARK Art hopes to accomplish with the ArtPark. "We plan to offer an outdoor park art gallery with interactive and interesting art installations. Created by the community for the community. We plan to have events where people can come and create art that will become part of the ArtPark. We will be working in phases over the next five years so it will be ever changing as we gather funds for new art installations."
White emphasizes that the ArtPark is "a pop-up art concept" and not permanent, noting that usage of the W.C. Bradley's property was granted on a limited-term basis and knowing the lot could be re-purposed at any time. With the company's decision likely coming a few years down the line (timed with its potential redevelopment of the shopping center across Whitewater Way- formerly Third Avenue), White says ideally a new ArtPark will at that time be established by a new community partner impressed by SPARK Art's initiative.
Describing an initial concept for "a smaller variation on this side of the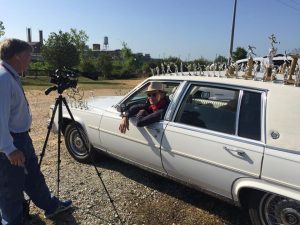 river of Woodruff Park," White says the ArtPark idea is rooted in the dedication of a mural by acclaimed Alabama folk artist Butch Anthony, commissioned as part of the Together Columbus 2017 public-art project. Mounted on the side of a city-owned parking garage designed to be shrouded in art, Anthony mural serves as a gateway to the ArtPark.
However, it's but one of many pieces to the puzzle that will shape ArtPark.
Drawing from Together Columbus 2016's donation of colored roofs decorating the 14th Street pedestrian bridge, triangular "shade sails" will provide relief from the sun for ArtPark visitors lounging in one of the six hammocks to be hung from poles (like those now in Woodruff Park) donated by Uptown Columbus, Inc. Financial support from Alabama Power and WestRock (formerly MeadWestvaco) will pay for installing sod and an irrigation system to create the park's lawn-like surface. Architectural renderings courtesy of partnering firm 2WR Architecture show how the ArtPark can be best designed. Students from Columbus Technical College's welding program will provide labor and skill to erect metal shipping containers as an ArtPark installation.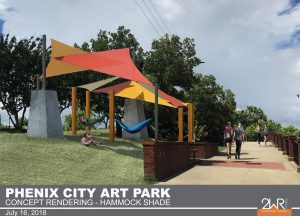 Adding to the overall impact of ArtPark on the Phenix City riverfront's revitalization, Troy has plans to double the square-footage of its Phenix City campus building.
The city's Development Authority over the next four years will change the look of its 16-acre Riverview Apartments public-housing into a lower-density area (309 units down to 250, with leases priced at one-third low-income, one-third affordable and one-third market rate) benefitting from improved inner-roads, green space and park overlooking the river.
"Over the next two years, you're going to see Riverview change from the look of a 1940s-era housing project into a neighborhood," White says.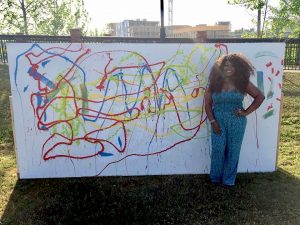 "This all fits into Troy's mission of community engagement," White answers when asked why his campus is such a central component of the larger redevelopment plans for Phenix City. "All our programs, all our facilities, are designed with the benefit of the local community in mind.

"What the creation of the ArtPark shows," he continues, "is the arts are going to have a much stronger place in the revitalization of Phenix City's riverfront. It will be a place for people to bring their kids, a place to bring their pets. It'll be a place to get food, listen to music, enjoy arts activities. It'll be a nice spot along the riverwalk to just relax and enjoy all the things that make this area so incredible."