"We're the best kept secret in Columbus, Georgia," Columbus Botanical Garden Development and Marketing Director Danita Gibson Lloyd says, standing on the brick courtyard behind the simple elegance of the 19th century farmhouse housing the nonprofit's offices and special-event space on a sunny summer afternoon. "And we no longer want to be a secret."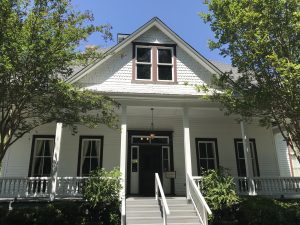 With more than 10,000 visitors annually to the bucolic 36-acres tucked away—welcoming with a distinct pristine charm—off Weems Road between Moon Road and Whittlesey Boulevard, the Columbus Botanical Garden (CBG) is hardly a secret.
Perhaps Lloyd refers to general lack of awareness about all the benefits and opportunities—environmental, educational and social—the city's first dedicated (2004) free-admission public botanical facility and attraction.
"We're here to serve Columbus and the surrounding communities by fulfilling our mission to  preserve nature, stimulate an interest in nature and connect children and adults to nature with the woodland beauty we have here," Lloyd says.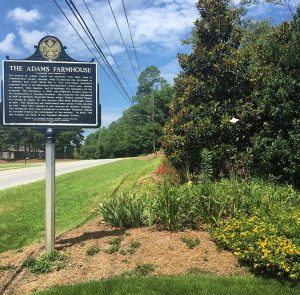 Inspired by a thesis project completed by Philip M. Adams in 1998, the city's first botanical facility and attraction came to be with the donation of the land (at first 23 acres, with 13 acres donated in late 2017) from the Adams family and subsequent move of their aforementioned farmhouse to its current site from its historic home where the Lowe's nearby on Veterans Parkway lives today.  
Even with a $10 million capital campaign in the works that would transform the 36-acre space and its amenities, the CBG has steadily increased its programs and offerings since its inception. 
This commitment toward growing into a nationally known destination was cemented last week with news of the hire of the senior curator of Duke University's renowned 80-year-old, 55-acre garden, considered among the top botanical gardens in the nation. Assuming the role of executive director on Oct. 1, Stefan Bloodworth tells the Ledger-Enquirer that the community can expect him to "swing for the fences" with all future CBG projects.
By accessing the Joann Holt Walking Trail, visitors can walk into a serene space that seems far removed from the hustle-and-bustle of the city surrounding it, where they'll encounter: the Sam M. Wellborn Camellia Garden (which boasts more than 800 camellias, including varieties original to the garden, such as Royal Velvet and one named for Wellborn's wife, Dusty, the Our Mothers' Rose Garden memorial site, and the Sally H. Adams Vegetable Garden, where volunteers harvest the fresh produce and donate it to Mercy Med, an indigent-care medical facility on Second Avenue in North Highlands as part of its nutritional health community-outreach efforts.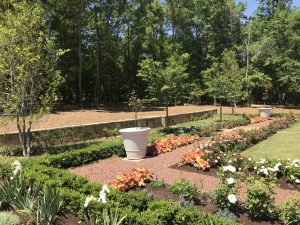 Educational programs for children and adults are also at the heart of CBG's mission. Experienced educators lead students on science-based tours of the Children's Adventure Garden that are customized to fit curriculum requirements; these tours can be self-guided or taken as part of the CBG's developed Plant Connections or Butterflies and Beyond programs.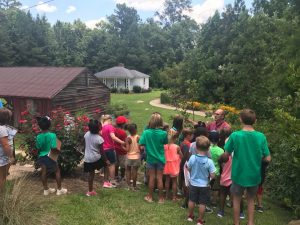 Brides seeking a unique wedding ("not cookie cutter," Lloyd says) experience are drawn to the high ceilings, hardwood floors and Victorian flourishes of the Adams farmhouse book nearly every weekend during peak seasons at CBG, which can accommodate parties up to 350 people.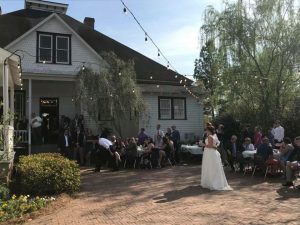 This popularity explains the garden winning Best Wedding Venue in 2018 in the annual Readers' Choice Awards from the Ledger-Enquirer.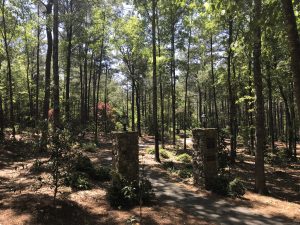 With membership at the heart of its programs, adults can visit the CBG for events that are fun and fascinating.
The first in a concert series to come, Rhapsody in Bloom takes place 5 p.m.-9 p.m. on Sunday, July 22, with local celebrities Dee Armstrong and Wane Hailes hosting top-notch local jazz talent from CSU's jazz ensemble.
Jamysa "Hummingbird" Lytles, the Tony Parkman Revue, and saxophonist Nate Myers IV. August 11, a Butterfly Release  takes place as part of the West Georgia Cancer Coalition's mission to "reduce the burden of cancer" with a release of butterflies in the tradition of using the winged beauties to carry messages heavenward.
"We're here to make sure we're preserving this space," says Lloyd, "while also making sure the people of Columbus and surrounding area know that we're here to serve them and that we're their garden."