Written by Christopher Binns
I went in for lunch around noon on January 20, 2017 (Inauguration Day).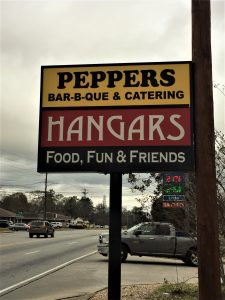 There is never a long line, and this establishment has one of the most unique dining areas of any BBQ restaurant in the area.  A large main room in the front is the only dining area.   It's conveniently located near the intersection of Miller Rd & Warm Springs Rd, for anyone traveling from East Columbus or Midland it's not far.
I ordered the combination pork rib & chopped pork plate with lima beans & Brunswick stew for $9.25.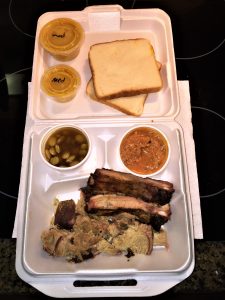 The owners are Kelly and Eddie Hudson.  They are a husband – wife team, and have jointly owned and operated the restaurant since 2003.  They have 7 total employees, and are not currently planning expansion, or opening any more stores.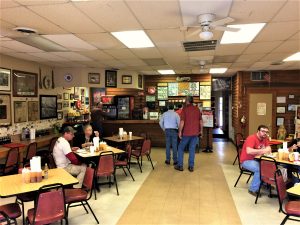 I'm giving it the following grades on 1-10 basis:
Appearance:  9.0
The building and parking lot are easily accessible from Warm Springs Road.  The back parking lot is dirt gravel and there are places to park on the side and front of the building. Outside, the sign is bright and easy to see.  The décor inside looks like a museum of Columbus artifacts and history.  Practically every square inch of wall space has something hanging.  There are no booths, but several tables for four, and on the North & South walls are two long wall-mounted tables that can sit ten people side to side.  I've never seen tables like this in a restaurant, it's a unique touch.

Friendliness of Staff:  9.0
Taylor Eylier, the manager on duty, was very helpful and informative on the history of the restaurant.  Everything is self-serve and there are no waiters/waitresses that come to your table.  You order at the front, and when your name/number is called you pick up your food where you ordered.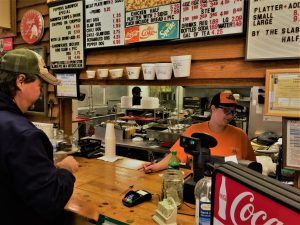 Menu variety, meat choices and taste of meat:  8.0                
The menu is easy to choose from.  They offer chopped & sliced pork, pork ribs, a variety of hot dogs and half chicken- but no beef.  The pork meat & ribs were good, but could be better.
Sauces:  10.0
Five choices:  Red, Mild, Medium (Mustard based), Hot (Mustard based) & Fire.  All are exceptional, and the Fire is tolerable.  The best sauces and variety in the area.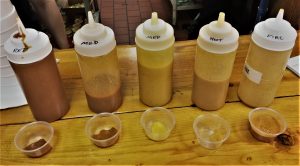 Cleanliness:  9.5
The restaurant was clean enough to me.
Wait Time:  9.5
Minimal waiting times.  There is never any more than 3 people in line when I've been here in the past.
Ease of paying:  9.5
Pay at the counter when you order.  They take cards and cash. 
Score:  9.21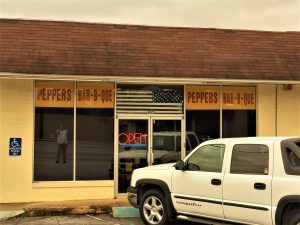 This is the closest BBQ restaurant to Midland and east Columbus.  The meat wasn't as good as some other BBQ joints in town, but the sauces are the best I've had in Columbus so far.
Wait times, the sauces and location stand Pepper's apart from the competition.  I will continue to come here.
According to their menu, their hours of operation are:
Mon, Tues & Saturday: 10:30AM-2:00PM.
Wednesday–Friday:  10:30AM-7:30PM.
They are not open on Sundays.
Written by Christopher Binns