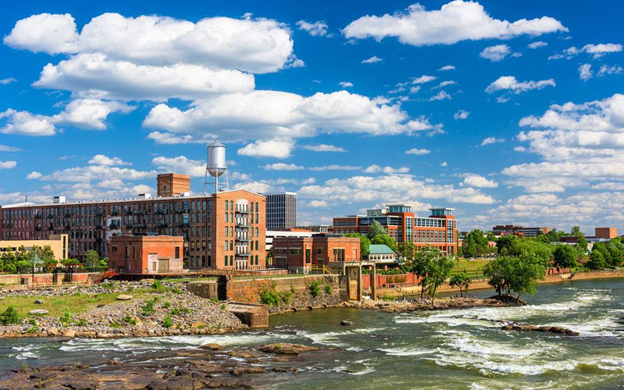 *WRITTEN BY TYSON BEGLY
With its charm, outdoor adventures and new restaurants, the revitalized Uptown Columbus area is the weekend getaway you need.
Columbus, Georgia surprises everyone these days. For people who haven't visited in 5+ years, they are amazed at the transformation. For those who have never been, they are astonished at the amount of adventure, culture and innovation that is packed into this unknown city. The city has made a lot of investments to revitalize the Uptown area and it has paid off as visitors continue to flock here for a fun weekend.
FRIDAY
COOL DOWN 6 P.M.
Cool down at The Cannon Brew Pub. Sit outside and see Friday night come alive before your eyes. Grab a beer flight to test all the local brewed beers and check out the actual cannon! It's a Columbus-centric microbrewery known for its wood-fired pizza & a variety of burgers with a brick-lined pub setting.
GET DOWN 7 P.M.
In the warmer months, which is most of the year in Columbus, there is a free outdoor concert almost every Friday night.  As you leave Nonic, you'll likely hear the music from the South direction, so follow it to Broadway between 11th and 10th Street. It's very family friendly, Uptown Columbus blocks off the street, for locals to relax with a view from a lawn chair while the kids run around. However, the music and vendors are tailored to adults.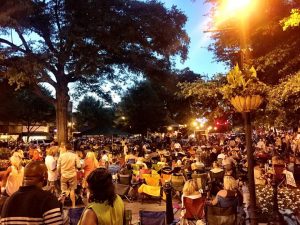 CHOW DOWN 8 P.M.
There are several impressive restaurants within a block of the outdoor concert. If you really dig the music, put your name on the list at The Loft for a table on the upstairs patio, or you can experience live music inside the venue, as well.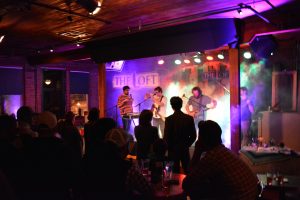 You can watch the concert while you wait, and continue listening from the patio while trying out the herb crusted double cut pork chop, or the unstuffed chicken for a lighter option.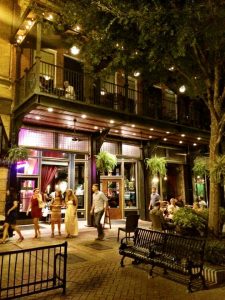 If you want to indulge in modern Southern cooking, you can't miss 11th and Bay Southern Table, which has great twists such as their Southern Caprese and "Ain't No Salmon Like This Salmon", as well as classics of "Fried Chicken…I'm Just Sayin'".
Don't let the folksy names fool you though – 11th and Bay also has a outstanding wine and drink list as well. (photo below from www.11thandbay.com)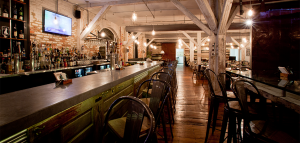 If you are open to a unique, upscale dining experience, Epic is probably your speed. Epic is a AAA four diamond restaurant that is truly a fine dining experience in every way. The entire restaurant and its menu has literary theme, so some of the great drinks include "The Old Fashioned Girl" or "The Devil to Pay".  Proper dress and reservations are required.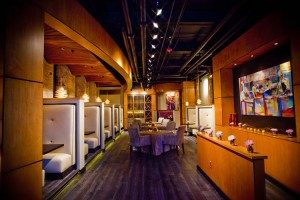 DESSERT 9:30 P.M.
On Broadway between 12th and 13th street, you'll find the gourmet chocolatier shop, Kilwin's. As soon as you walk in, you'll inhale the sweet, delicious smell of the handmade ice cream cones. Try a bite of fudge while you peruse the available chocolate and ice cream treats. Note: Kilwin's closes at 10:00 P.M, so you may have to skedaddle over there from a late dinner.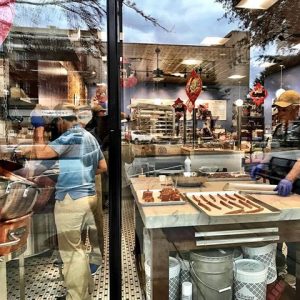 SATURDAY
SATURDAY MORNING MARKET 9:30 A.M.
As you leave your hotel and walk towards downtown, you'll notice all of the street vendors set up for the Saturday morning markets, Market Days on Broadway. You can find local goods from vegetables, tamales, wood crafts and more up and down Broadway.  Feel free to mingle about, look around and strike up a conversation with any of the friendly vendors.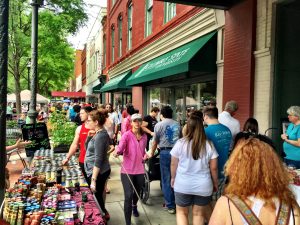 A LITTLE BIT OF PARIS IN COLUMBUS 10:30 A.M.
A couple of blocks from the market on 12th Street you'll find My Boulange.  From the pastries to the pastel lavender wall, to the mini Eiffel Tower, everything about this place is authentic. Order a café latte and croque madam, then grab a table outside for a more European styled experience.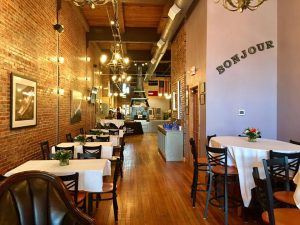 RIVERWALK BIKE RIDE 11:00 A.M.
Uptown has a great bike shop called Ride on Bikes.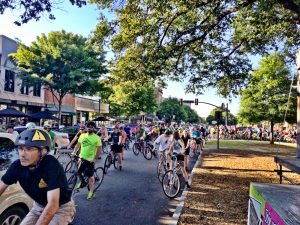 For only $10, you can rent a very comfortable Electra Townie for 24 hours. Pick up your bike and helmet and head West for 2 blocks until you reach the river.  You can head North towards the 14th Street Pedestrian Bridge and cross over into Alabama, or you can bike South toward Fort Benning.  Both directions are paved and have scenic views of the river, but the path goes much further in the South direction. Obviously, you can ride as long as you want but usually a 90 minute session is enough to see a lot of the river without being too beat for the rest of the day. The picture below shows my parents on their river ride. They hadn't ridden in several years but said it was easy, "It was like riding a bike".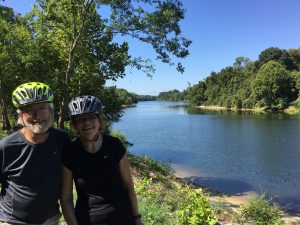 UPTOWN LUNCH AT SMOKE 1:00 P.M.
Across the street from Ride on Bikes is Smoke, a bbq restaurant by one of Columbus' biggest local restaurant owners, Mark Jones. For something different, start off with the Pimento Cheese Wontons which somehow magically pairs a lot of unexpected ingredients. For the meal, you can't go wrong with the "Pig Mac", delicious chopped pork topped with bacon and mac & cheese.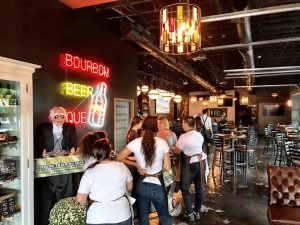 ADVENTURE OR CULTURE 2:30 P.M.
Your next step depends on your group. If you loved the bike ride and want to do something more adventurous, walk over to Whitewater Express which is also downtown.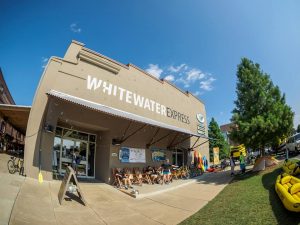 They'll outfit you with gear to whitewater raft (the longest urban whitewater rafting in the world), kayak, zipline, or a rope course, or all of the above.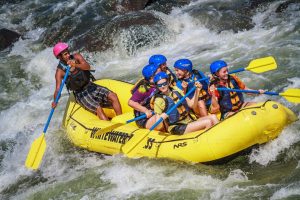 The rapids pick up later in the day with a full class 5 rapid by 4:00 P.M. each day. (Picture below is from a national kayaking competition)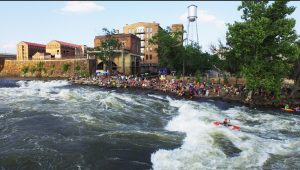 If the bike ride was enough exercise for your group for the day, take a short drive over to the National Infantry Museum & Soldier Center, which was recently named the best free museum in the U.S. by USA Today. Your group can learn more about the 240 year history of U.S. soldiers.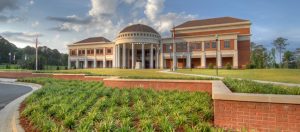 MABELLA'S ITALIAN STEAKHOUSE 6:30 PM
MaBella's has an intimate setting, with big city quality Italian food, at Columbus prices. Some of the favorites include MB's Mussels in an amazing mixture of peppadew peppers, Italian sausage and a white wine broth, as well as the Wild Mushroom Ravioli with a perfect sized 4 oz filet on top. Whether or not you have room for dessert, you won't regret the cheesecake for dessert.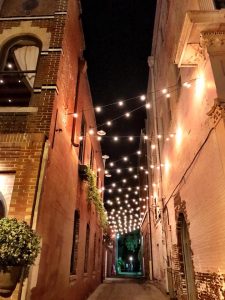 AFTER DINNER 9:00 PM
If you are still rowdy after a day of outdoors and Italian food, there are multiple options after dinner. For the younger crowd, The Tap offers a nice outdoor patio for drinks. Others may be more interested in Scruffy Murphy's, the local Irish bar, or 18th Amendment, the local cigar bar. For those that want to enjoy the weather longer, head to The Social, the patio on the rooftop of Smoke.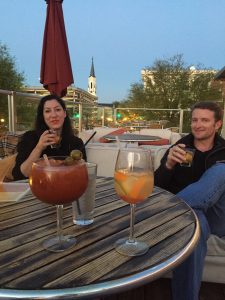 SUNDAY
COFFEE 9 A.M.
Whether you stop at Iron Bank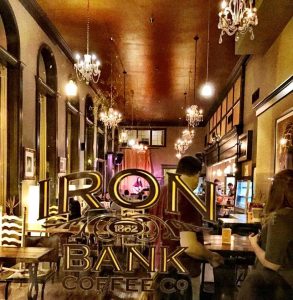 or Fountain City Coffee, you won't be disappointed. Both local coffee shops have good coffee and small foods.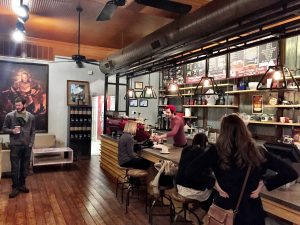 BRUNCH 9:30 A.M.
If you cherish cocktails and unique breakfast foods, you will love River and Rail. One of Columbus' more recent restaurants, it's been called "California small plates" but has unique foods that consistently change, such as lamb tartar and chimichurri pork cheek. A perfect place for those who like to try different foods.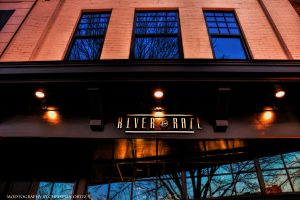 LODGING
The Columbus Marriott is going to be the most centrally located hotel to most restaurants and attractions. However, the new Courtyard Marriott across the pedestrian bridge in Phenix City, Alabama is also walkable and offers rooms with incredible views of the river.