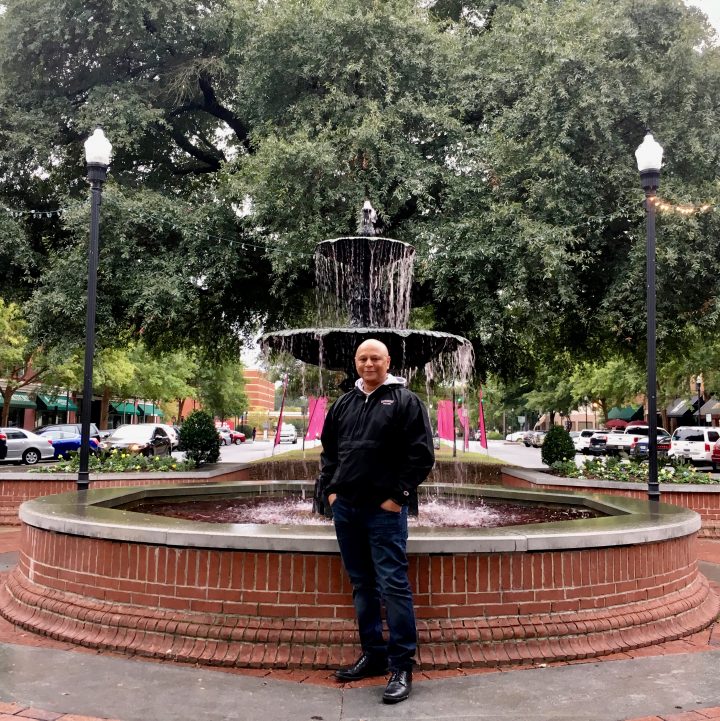 "I'm a preacher's kid," Ty Manns begins in describing a life path that led him to the film world.
"My dad was a Holiness preacher," the writer/director/producer continues during an October interview at Fountain City Coffee. "He preached for a long time in West Virginia before cancer made him move to be with family in North Carolina. All those years growing up, we'd watch and talk about movies. Later, when I'd come home on leave while in the military, we'd talk about films and writing and how to spread the gospel beyond just the walls of the church. How to reach more people. And he told me, 'One day, your movies will do that.'"
Noting that "I always knew I had the creative bug," Manns explains these conversations with his father took place 25-30 years ago ("when there was no internet, and social-media didn't exist"). Technically his step-father, the late Rev. James Manns, who suffered from PTSD, was married to Ty's mom for 42 years. He never referred to the children as step-kids. When introducing a young Ty, Rev. Manns would say, "This is my son."
"I promised my dad when I got started in this business that I'm going to do what I call generational films," Manns recalls. "Meaning, grandparents, parents, and kids can all sit together and watch these films. I told him, 'That'd be more powerful than anything I could think of because, at the end, they may talk about it.' So that's when we're moving conversations outside the walls of the church."
Over the past few years in an ascendant career carved out of faith and passion, Manns certainly has people talking.
And watching. In 2014, his first feature film The Wish was released and later nominated for Best Independent Feature Film at the Georgia Film Entertainment Gala. Manns followed up with A Question of Faith  in 2017, which won Best Screenplay at the Christian Film Festival in Virginia.


From a local standpoint, Manns gained lots of notice earlier this year with My Brother's Keeper, a significant production in terms of budget and use of Columbus' burgeoning film-business resources. In October, he upped the ante with the announcement that his film company, Manns-Mackie Studios (M2S), chose Columbus to shoot another big-dollar flick, the forthcoming Redeemed.

Such success surrounding this later-in-life career choice in a creative field may surprise some. But only those who clearly don't know the friendly, easy-going (yet laser-like focused) Ty Manns.

"I just want to tell a good story."
After leaving his West Virginia home to join the Army in 1980, Manns started off as enlisted and served 24 years before retiring as a major.
"If I stayed in a bit longer I would have been promoted to colonel," he says. "But my wife and I decided 24 years was enough. It was time to go."
Manns met his wife Mia, a California native, while stationed in Germany. The couple has lived in Phenix City since arriving in the area in 1997. "Empty nesters right now," the Manns have two sons. Their first-born will soon graduate from the University of Tampa, where he attends on a U.S. Marine Corps scholarship. Their younger son studies at Montevallo, the Birmingham-area university where he was recruited on a track scholarship and is in the Army ROTC program..
"When I first got out of the military, I went into corporate America for 10 years," explains Manns. "I told my wife, 'We're going to do this for 10 years and it's going to position us where we can both do what we always talked about wanting to do. She was a nurse but always wanted to work in real estate. For me, it was movies. But I was going to be in a place where I could pursue it without putting any stress on the family. So it wasn't a matter of wanting to do this, but of a plan for when I could do this."
He wrote his first screenplay in 1991, while still on active duty. "I didn't have a lot of time to write," Manns recalls, "but I'd crop out a little time here and there when I had some down time."
The path to his present-day success in film kicked into high gear in 2008 when friend/mentor Rick Bieber (former President of HBO Pictures) "took me under his wing," Manns says. Bieber sent Manns several scripts in his production pipeline for his review/input and even flew him out to California to be on set and participate in the making of The 5th Quarter, starring Aidan Quinn, Andie McDowell, and Ryan Merriman, and written/directed/produced by Bieber.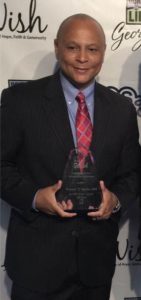 "Being on set and watching these actors work really helped me figure things out," Manns recalls. "I put it into practice and then it was trial and error."
Manns says discipline is the trait of military training that those who served carry over into any career they choose next.
"Where it really benefits me, here," Manns explains of his Army experience, "is everything in film is time, money, and people. In the military, that's what you're dealing with. There's a sense of urgency in the military that feels like it's 24/7. What that does to you over the years is it teaches you how to manage people. Manage time. How to figure out what's important, what's not important, to your objective. How to think quickly and under stressful conditions. When you think about the time crunches in making a film, that's a lifesaver. That's what I bring over into the film world."
Consistently humble in demeanor and measured in tone, Manns then seems to pause for a reflective moment during this hour-long interview at Fountain City Coffee.
"I never thought I'd be where I am today," he says. "I just wanted to write good stories."
So what makes for a good story?
"Characters and conflict—every great story has good conflict," answers Manns. "I just want to tell a good story."
"This town is ready."
Bishop Charles Mackie, an Atlanta-based producer, met Manns a few years back at a film festival in Florida.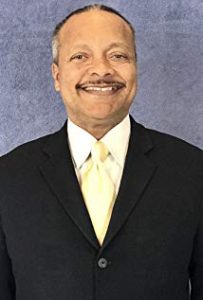 "It's been phenomenal," Mackie says of the working relationship behind M2S. "I've had business partners in the past where I had to constantly look over their shoulder. But working with Ty in fantastic. He's very professional, extremely dedicated, and takes his craft very seriously."
Mackie and Manns first teamed up to create My Brother's Keeper, currently in post-producing with a 2019 release, and now are in pre-production with Redeemed. Building on this initial success and seeing their business grow, Mackie says the plan is keep the M2S partnership in place "from now until eternity."
"Pretty much everything," Mackie answers when asked what Manns brings to the table for their film company. "There's the spiritual aspect. And great teamwork. But, in specific terms, it's his incredible creativity and access to resources."
His own career is a reflection of the development of an indigenous film culture in Columbus, Manns has seen those resources grow in measure to meet the needs for making the movies he now creates.
"If you would have asked me five years ago if Columbus was ready to be a big player in the film world, I would have have said no," says Manns. "Because we simply weren't. That's not a knock on anybody. The town was saying this is what we want to do, but it wasn't ready to do it. Fast forward five years—this town is ready. It shows in the amount of support and the amount of resources available."
The difference in Columbus over the past five years?
"It's the mentality that Mayor Teresa Tomlinson brought," Manns explains. "She's very proactive. She has that 'Let's get this started' determination. The city is now doing a very good job of getting people to buy into the idea."

Manns then points out that idea of making money isn't a hard sell: "This state is making $9.6 billion a year making movies. Atlanta brings in $6 billion of that. And we're just 90 miles away. So that's when I'm putting my sales cap on and telling people, 'We're 90 miles away from $6 billion. Even if we get 10% of that, it's big money."  
Manns served as a judge for the third-annual Way Down Film Festival, started by three local creatives who saw the need to help build a platform to connect an indigenous film industry/culture and recruit talent/films here with a weekend full of activities.
WDFF also established a film society that meets monthly to screen movies at Troy University-Phenix City .
"I've been to a lot of short-film festivals and that was by far the best I've been to," Manns says of the third-annual event. "Very impressive. I loved seeing the work, the quality films young filmmakers are putting together. I hope they ask me back again next year. That was fun."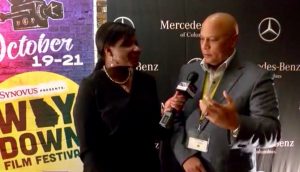 "After a couple of intense meetings the past year at ECL's On the Table and Monthly Meeting of the Minds to discuss the state of the indigenous film industry, we became friends," Jacy Jenkins, co-founder of WDFF and founder/publisher of ECL, says. "We discussed at great length whether Manns (and others) could film here with all the barriers. And details of shooting Bo Bartlett's Things Don't Stay Fixed  here. It was encouraging to see our community rally around Ty at our first meeting a year ago!"
Jenkins adds: "It was incredibly empowering for all of us to see Ty making deals, hustling to make it happen here, when he could have easily gone to Atlanta. Now, a year later, he has shot one film here and has two more coming!"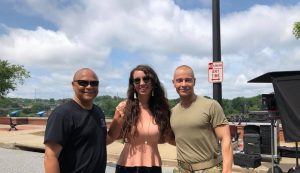 Proof of how the city has stepped up to become a part of the Georgia film boom is plentiful, according to Manns. Improved efforts and increased energy by the Visit Columbus GA employees creating the "Columbus Film Commission", the film-production degree program at CSU in collaboration with the Georgia Film Academy, and Flat Rock Studios, a sound-stage/production facility the W.C. Bradley Co. opened in August in Midland, all show the significant steps taken in the last few years.
"You have to be proactive in this business," Manns says. "Proactive in selling the resources. Proactive in selling the town. Because, as a producer, I'm looking to get the best deal I can get."
There are still gaps in what Columbus can provide producers on the hunt for locations in terms of trained crews and equipment rentals, according to Manns.
However, M2S is making movies here and plans to grow along with the local film industry.
"Our business is getting bigger, our talent pool is getting bigger, and our productions are getting bigger," Manns says. "I like to think of M2S as a slow-moving train. It's not built for speed. But it's not going to stop, either."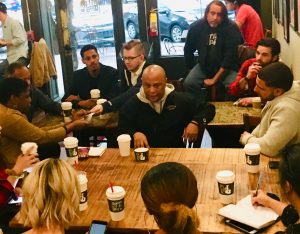 "It's what I do."
On a Wednesday evening in late October at Fountain City Coffee, Manns leads a called meeting for potential crew members interested in working on Redeemed.
With Mackie seated nearby, Manns introduces the business at hand with impressive efficiency.
"Our focus is on making a beautiful film," Manns says soon after buying coffees (and tipping big) for the dozen-plus gathered around him. "A film that's on budget, on time. We're looking to hire a crew of 50-60."

Some in that crew will be hired out of CSU/Georgia Film Academy students, he explains, noting M2S is the only film company in Georgia to offer college course credit in exchange for working on set.
"You're here to learn what it means to be a part of that crew," Manns tells the diverse assembly of 20/30somethings. "You may not get to work on the sexy stuff. So be prepared for the fact that you may end up with jobs that are not glamorous. Be prepared to work on your feet 12 hours, 14 hours, a day. But everybody's needed and together we can accomplish making a beautiful film."
Local photographer/videographer Joseph Berger (pictured in red above) was at the Redeemed meeting.
"It's exciting to see people like Ty Manns and Bishop Mackie coming into this blossoming filmmaking scene we have here in Columbus, Georgia," Berger said via text a few days afterward. "This town needs leaders and visionaries like Ty to continue watering the seed of opportunity that is growing faster now than ever before."
Earlier that day, Columbus made national headlines as the setting for the newly announced Netflix series, "Family Reunion."
"It's just set here, unfortunately," Manns says of the planned series, a comedy about a mom reconnecting with her extended family in Columbus, described by Netflix as "a small town."
"They're already in production in California," he continues. "I hope that what we're doing here over time will change people's minds about setting up shop here."
 Why?
"Movies are great, but you want those TV shows," Manns says of such projects' impact. "Like Walking Dead." Because they're always coming back. They come in for 2-3 months to film a season. That's probably $50-$60 million. They go away for a few months then come back twice a year. So that's as much as $120 million.
"The day Columbus lands a TV series," he adds, "will change this town forever."
Manns does see potential for Columbus carving out a niche as a hub for productions written by and starring African-Americans. Like "Family Reunion" and Redeemed, which features three black women in its starring roles.

"I'm excited about that," says Manns, who avoids in casting calls gender-specific labels such as actress, calling for actors in all roles, male or female. "It's not a challenge for me as a male writer. I always write my female characters strong."
This uncanny ability to write outside of what he knows, of what is expected from him, just might punch Manns' ticket for even more success in the film world.
"Do I want to move beyond just the faith genre? Yes, I do," Manns says. "I've written scripts that are violent. I've written scripts about sex trafficking. I'm a creative. It's what I do. I write stories."