"You can't hide anything—it's all out there," Garry Pound says of the allure for artists to capture the nude human form. "You can't fake it. You either get it, or you don't."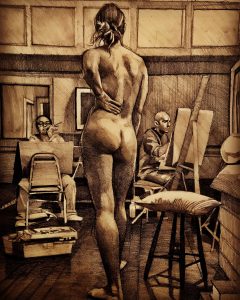 Transferring the naked body into fine-art form has been the focus of live drawing sessions Pound, an acclaimed portraitist, has hosted for decades. Originally held at the Columbus Museum, these Friday morning gatherings began to waver before master realist Bo Bartlett started them up again about five years ago. When Bartlett's schedule required him to frequently travel out of town several years ago, Pound returned as host and moved the live-model sessions to his Historic District studio.
It is there, in the Seventh Street space that was originally a synagogue, that Pound and fellow participating artists will present Go Figure, an exhibition of roughly 300 works by 15 artists produced in those Friday morning sessions.
The show's opening reception takes place 5-8 p.m. Friday evening. The works will be on display through Christmas Eve.
In addition to Bartlett and Pound, the featured artists are Susan Culpepper, Susan Dolan, Sia Etemadi, Parivash Farmer,  Bunny Hinzman, Nick Knowles, Gloria Mani, Suzanne Reed Fine, Kate Scrivner, Karen Stewart, Yuriy Totskiy, Michael V. Sims, and Julianna Wells.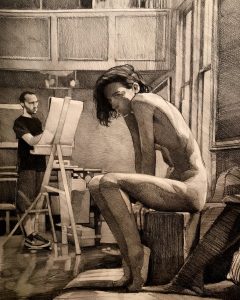 Pound notes that each week brings together 10-12 sketchers for the session. The final results vary in medium, with Pound's works typically done as graphite and charcoal drawings, though some have become paintings.  
"It's also probably the hardest thing," Pound adds on illustrating the unadorned human body. "It's hard to bring that figure to life on a two-dimensional page. It takes a lot of hand-eye coordination just to figure out what's going on. But if you can get the animation, the energy, and the vitality in the figure, then you can do anything."
After Friday's opening reception, Go Figure will be available to view at Garry Pound Studio (100 Seventh St., 706.327.3024, drgarrypound@gmail.com) by appointment only. "Or just knock on the door—I'm usually here," Pound says.