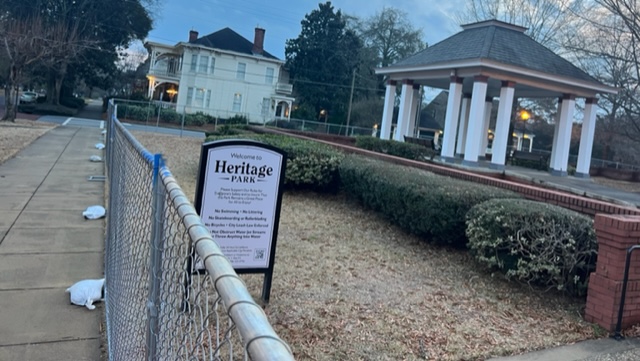 Heritage Park in the Columbus Historic District has been in disrepair for years. The Historic Columbus Foundation built the one acre park in the early 1990s and donated it to the city.
"The park had major water features that did not work and caused repairs to skyrocket," said Justin Krieg, director of Planning and Programs for Historic Columbus Foundation to Chuck Williams at WRBL. 
Now, they plan to move five historic homes on the site to be sold and renovated. Five houses – three from Westville, one from Juniper, and one already in the Historic District – will be moved to the site.
"And the recent success of the City Mills restoration project that turned the riverfront grist mill into a high-end hotel provided the wherewithal to tackle Heritage Park in a different way. Did the success of City Mills allow you to do this?" Chuck Williams asks Kreig. 
"Without question," Krieg said. ""Absolutely. I think it was a financial payoff without question. We are utilizing the funds we received when we sold our ownership interest in City Mills. We're using those funds to help fund a major portion of this project. But in addition, it gave both our staff the confidence, as well as our board of directors' confidence, that we could pull off a project of that scale and this scale. So, we are really ramping up our efforts here."
The Heritage Park project is expected to cost $2.5 million and has been valued at $500,000. Historic Columbus has committed to spending at least that across Front Avenue on the city-owned promenade. That is where many of the fixtures currently inside Heritage Park will be moved.
"Once the property transfer occurs, we are also working through with city staff a maintenance agreement for the promenade," Krieg said. "So, the Heritage Park site will be privately owned, initially by Historic Columbus, then those properties will be individually sold and maintained by private owners. The promenade will remain city property and we are committing to the city we will maintain all of those new installations and exhibits we are installing on the promenade."
Thank you to the excellent coverage from WRBL, via Chuck Williams