This weekend The Columbus Museum celebrates their 5th annual show, sale, and celebration with Let There Be Art! Works on Paper; a new concept that combines the traditional art show with seminars.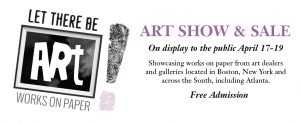 The Museum will display more than 300 works on paper from galleries in New York City, Boston, and Atlanta, during the largest annual art show and celebration in the area.
This fabulous weekend of events begins with the Works on Paper Premiere Party on Friday night, April 17, beginning at 7:00 p.m. Cost for members is $85.
The evening features fine art, live music and catering by Jamie Keating Culinary.

Continue the celebration at 9:00 p.m. with dancing, dessert and drinks during Late Night with the Young Art Patrons. Cost is $35.
The Works on Paper Seminar Series on Saturday, April 18, 9:30 a.m. – 4:30 p.m., will showcase a fun day of informative talks with dealers and gallery representatives, followed by a wine and cheese reception. Cost is $60 for members.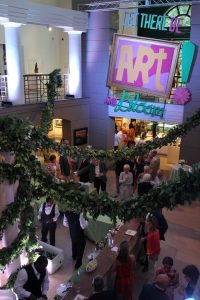 On Sunday, April 19, make it a family affair at the Brunch with Live Music, 12– 3:00 p.m.
Live Jazz music, arts and crafts and entertainment for the kids will be the highlight of the day. Cost is $25 for members, $8 for children age 4-12; free for children age 3 and under.
Do not miss the chance to enter in a raffle drawing to win a trip for two to New York City.
You do not have to be present to be the lucky winner of a roundtrip getaway featuring tickets to a Broadway performance, walking food tours, and three nights at the Intercontinental Times Square Hotel. The raffle drawing will take place during the Brunch with Live Music April 19.
All proceeds from Let There Be Art! Works on Paper, benefit the Columbus Museum's goal to keep admission free, provide educational programming, grow its permanent collection, and host the finest traveling exhibitions in the Chattahoochee Valley.
As the second largest general museum in Georgia, the Columbus Museum strives to uphold its mission to bring American art and history to life for the communities of the Chattahoochee Valley.
For more details, go to http://www.columbusmuseum.com/lettherebeart/.