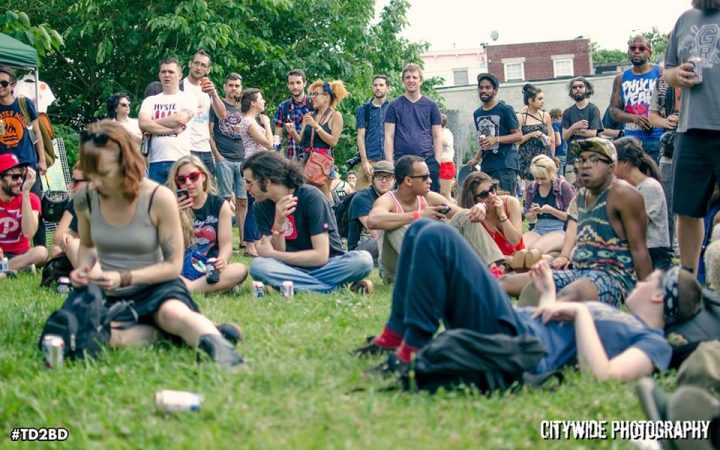 A block party in Uptown Columbus is happening tonight, July 16th, 6-10pm with Your Pie at the epicenter of it all. The street in front of Your Pie, on the 1000 block of Broadway, will be closed to traffic and open container will be allowed.
Dagger One, an indie-rock three piece band, will be playing in the median in front of Your Pie.

(picture by Shamri Sewell)
Your Pie will also be offering commemorative pint glasses and shirts to customers (while supplies last, so get there early)!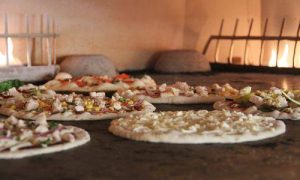 Two quarters ago Your Pie Uptown won the largest pie day (3.14.15) sales competition in the nation. Now, Your Pie Uptown is celebrating their victory of selling the most craft series items (Sweetwater, maple bacon gelato and slider pie) last quarter in the nation!
Tonight, they will be launching their next craft series menu: Grilled Peach & Prosciutto Pizza, Peach Sorbet and Sierra Nevada specialty kegs tonight.
In addition to pouring free beer samples, Your Pie will be offering tastings of peach sorbet as well as the grilled peach & prosciutto pizza.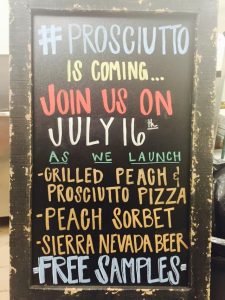 A full-blown tap takeover is happening tonight with Sierra Nevada, with a representative there to answer any questions, so let's talk about beer. What's on tap?
Barrel Aged Bigfoot is coming! This is a first for Columbus, GA. If you're a fan of craft beer. Come try this one out!
Bigfoot is a beast of a beer, brimming with bold flavors of bittersweet malt and heaps of aggressive whole-cone Pacific Northwest hops. First introduced in the winter of 1983, Bigfoot is a cult-classic beer brewed in the barleywine style, meaning a strong, robust, bruiser of a beer with the refined intensity of a wine. Bigfoot is prized by beer collectors for its supreme cellarability. Under the proper conditions, it can age like a fine wine, developing new flavors and character as it matures in the bottle. Each new release or "expedition" is vintage dated.
Pale Ale – What began as a home brewer's dream grew into an icon and inspired countless brewers to follow a passion of their own. Its unique piney and grapefruit aromas from the use of whole-cone American hops have fascinated beer drinkers for decades and made this beer a classic, yet it remains new, complex and surprising to thousands of beer drinkers every day. It is—as it always has been—all natural and refreshingly bold.
Nooner Pilsner – A midday go-to, Nooner is our take on the classic German-style pilsner—one of the original session beers. Nooner is easy drinking yet packed with the big flavor of spicy and floral whole-cone hops. Its brilliant golden color begs you to take a sip and sink your taste buds into an extremely welcoming beer, full of flavor and balanced by a crisp, dry finish.
Hop Hunter IPA – This beer harnesses the complex flavors of just-picked hops through an all-new method of steam distilling wet hops before they even leave the fields. This revolutionary technique captures and intensifies the natural flavors, creating a unique and intensely aromatic beer. Our custom process gathers pure hop oil which, when combined with traditional whole-cone hops in the brew kettle, makes for an incredible IPA experience.
Summerfest – Since their invention in the 1840s, Pilsener-style beers have become the world's most popular style. With a nod toward the original Czech tradition, Summerfest is brewed to feature the best of Bohemian nature. Crisp, golden, dry and incredibly drinkable, Summerfest has a delicate and complex malt flavor and spicy and floral hop character—the perfect warm weather beer.
Scotch Ale – Sierra Nevada's traditionally styled Scotch Ale is deep red in color, possessing a strong malt flavor with a very light hop character. Though medium bodied, this sweet ale is accentuated with a warming alcohol note and a generous portion of European malts.
Ovila Abbey Quad – This beer is heady with aromas of caramel, rich malt, and dark fruit balanced by the spiciness and delicate fruity notes of a traditional Belgian yeast. This complex beer is a collaboration between Sierra Nevada Brewing Co. and the monks of the Abbey of New Clairvaux. It features sugar plums grown on the grounds of the Abbey and harvested by the monks in Vina. We hope you enjoy this collaboration ale.
Hoptimum – This beer is a hurricane of whole-cone hop flavor. Hopped, dry hopped and torpedoed for incredible hop flavor and complexity, Hoptimum is the pinnacle of whole-cone hoppiness and the biggest Imperial IPA we have ever produced. It features resinous hop varieties: Magnum, Chinook, Simcoe and a new experimental hop variety exclusive to Sierra Nevada. With intense hop flavors and aromas of grapefruit rind, pine, herbs and tropical fruit, Hoptimum is an aggressive drinking experience. Originally created as part of our Beer Camp program, Hoptimum throws down the gauntlet to all other IPAs.
Come celebrate with the Your Pie family and make it a fun, Thursday night!