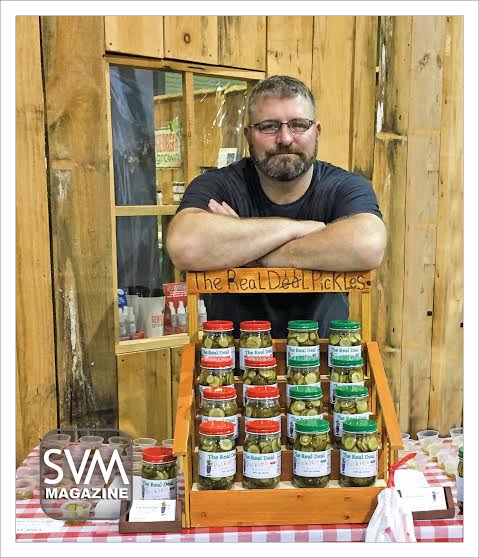 Originally featured in Southern Views Magazine
Written by Stephanie Reeves | Photos by S. Saxon
After being deployed for a year, life changed for James Alexander when he returned home. After being laid off from his job to finding another one, he began to have a headache that would not go away. Later doctors would find that Alexander suffered from a traumatic brain injury while serving over seas. They recommended he retire from the National Guard, and be removed from his civilian job. All of this, combined with thought and prayer, Alexander found his solution in pickles.
James Alexander sat down with SVM to talk about how he got into the pickle business and where he hopes to see his business in the future. He expresses his idea to make his business not only a business, but in part a charity that will help other families in the National Guard service in times of need. Alexander also talks about working with Columbus' own 11th and Bay, and how he is happy to have his pickles a part of their delicious Southern cuisine.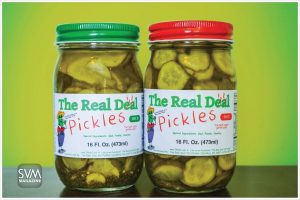 Going from having to retire from the Army National Guard after serving time in Iraq to making pickles, how did the whole concept of "The Real Deal Dill Pickle" come about?
I was in sales for 16 years while serving in the military. I was in a six-figure profession being able to go to work every day and enjoy a comfortable living but that all changed in 2004 when I was activated for deployment. In 2010, I started having a headache that would not go away. I was seen by several neurologists around the southeast and was eventually seen by a doctor in Augusta, at The Medical College of Georgia. I was diagnosed with TBI (Traumatic Brain Injury) that the doctors said that I sustained during a car bomb explosion in 2005. They treated me for a year, trying to get the headache under control, but we had very little success. In 2013, I made and wrote a pickle recipe one night (once and only once), and The Real Deal Dill Pickle journey began.
Pickles are a staple in the world of food in Southern culture, what makes your pickles stand out from other homemade or commercialize pickles?
What makes my pickles, and my other pickled vegetables, stand out against other similar products on the market are three things. I attended Columbus College, now Columbus State University, and I fell back on my degree, Biology. I actually study every vegetable or fruit that I pickle. From its life cycle to its cell structure, there are key techniques that should be followed to get the maximum flavor penetration into the pickled item.
What flavors do you offer and what other items have you pickled? Are you working on any new recipes?
I have developed over 70 recipes and every one of them has been taste tested and put in the file for a future date. Right now the first six recipes have been approved for production but I have only released the hot and the mild dill versions so far. I have developed recipes for all of the basic pickled items that are in most stores like, cucumber pickles, green beans, asparagus, okra, and sweet versions of the pickles.
Your pickles are used in many dishes at 11th and Bay Southern Table in Downtown Columbus. How is your relationship working with them, and how does it feel to have your creation apart of appetizing dishes?
I absolutely love 11th & Bay restaurant here in Columbus. Over the last two years I have had the opportunity to play around in their kitchen letting my mind run free. Phil, the executive chef, gives me ideas as well as great critique when it comes to my off the wall ideas. He has created some masterpiece dishes with some of my creations beyond the typical pickle. Mike, Heather, and Nikki have also been a key in giving me feedback on the things that I create as well.
What goals do you hope to accomplish with The Real Deal Dill Pickle?
My first goal is to build a Christian based reputable, distinguishable, and profitable company in Columbus, Georgia. I have to say profitable because that is the only way that I will be able to hire people in this area. I do not want to make a million dollars off of one person, but one dollar off of a million people. That spreads the pickle love and helps us to grow faster and employ more people. 
SVM