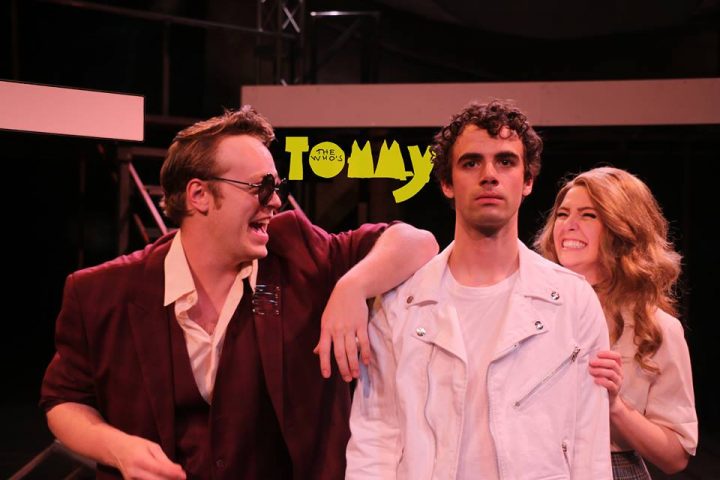 It all began when "Tommy" was released as the fourth studio album by the English rock band, The Who, in May 1969.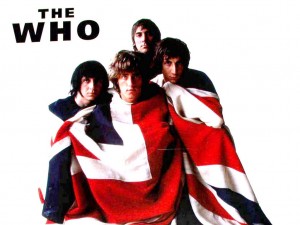 The iconic, rock concept album was mostly composed by their guitarist, Pete Townshend. The trail blazing rock opera tells the story of a deaf, dumb and blind boy, Tommy, who sees his father accidentally kill a man, and is traumatized into catatonia. 
It was translated to the stage by Des McAnuff, into a high-energy, one-of-a-kind, theatrical event! This translation is what we enjoyed at The Springer, last weekend.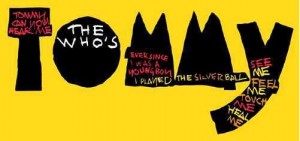 I like musicals, but don't necessarily love them.
However, by intermission I was so enthralled with the rock opera production, that I hadn't looked at my program once (this rarely happens, even if I love a show), and only then did I realize that the whole first act was singing. As a five piece band played the entire soundtrack on stage, they became a part of the back drop.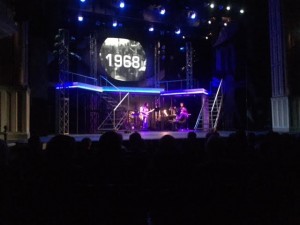 Reeling from the intensity of the first act, it seemed like I had experienced a lifetime of pain, loss, confusion, shame, control, and love in 45 minutes.
A part of me wished I knew the album better, but not knowing all the songs made it fresh for me. I was hooked, and humming all the way to The Saloon, during intermission.
A man, Carlos Guile, who was sitting in front of us and knew all the words, struck up a conversation with me about the show in The Saloon. I immediately realized I had no idea the layers of what I was watching, or the history, but he did.
He gushed, "The story of the pinball-playing, deaf and blind boy who triumphs over his adversities has amazed audiences for more than 40 years! And I've always remembered the creepy scene with Uncle Ernie singing, "Fiddle About", they did a great job with it here, too."
I agreed with him. Carlos had driven from Atlanta for the night to see the show, and explained how he watched it on Broadway when it won five TONY Awards.
He recalled his fascination with the movie, Tommy, growing up as well. He was shocked I hadn't heard of the 1975 British musical fantasy film based on this show, featuring a star-studded cast, including the band members themselves, Eric Clapton, Tina Turner, Elton John, Jack Nicholson, and Ann-Margret. 
Carlos raved about how much he was enjoying the show and how excited he was to see it playing at The Springer's gorgeous theater. He stayed at The Pound House, enjoyed dinner at MaBella's, completely loved the vibe here, and was highly impressed we had a show that Atlanta didn't. Go, Springer!
When we returned to the main room, we were recruited by an usher to be a part of the show. However, we had friends (featured below) a little more eager than us to make their Springer stage debut, and we loved watching their dramatic enthusiasm on stage (seek an usher out if you want to be on stage and get a "T" sticker).
The second act was one climax after another.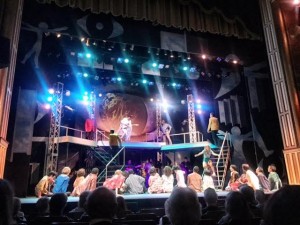 All of Tommy's pain and heartbreak were like shackles being electrocuted off of his body, one at a time. As he discovers his amazing talent for pinball and becomes an international superstar, as the "Pinball Wizard", the sense of hope volts through your veins.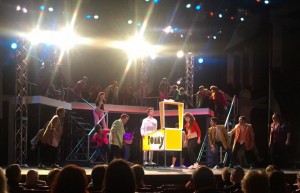 Tommy's journey is heart wrenching, but captivating and inspiring. One of my favorite aspects of Tommy's inner turmoil was the two way mirror.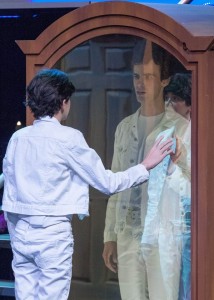 The mirror was completely indicative of how many of us have felt or feel, looking in to the mirror and feeling trapped in our body, in our image, in our head. It had another level of powerful dimension when Tommy, who was blind and deaf, stood in front of the mirror trying to communicate.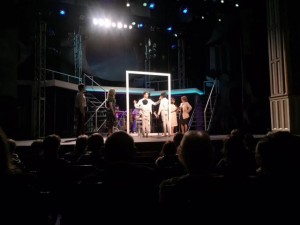 Phenomenal stage presence, movement, and acting rally around Tommy. Being the central character, Tommy's acting was vital to the show and all three actors playing the part of Tommy kept the show centered. Brookstone School student Sophia Boyanchek and Columbus High School student Patrick Chappel play Tommy as a child.
By the second act, it's all Chris Tipp – who makes his Springer debut playing Tommy as an adult. Chris has been touring with the Repertory Theatre of St. Louis for the past seven months and it shows.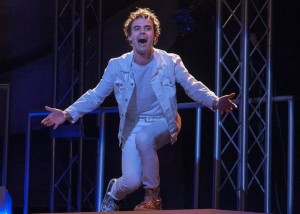 Tommy runs for a total of three weeks, and the final show is a matinee on May 15th, click here for tickets and more details. Check it out and let us know what you think.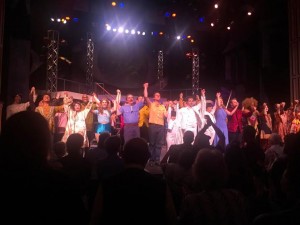 *Higher quality pictures provided by The Springer.