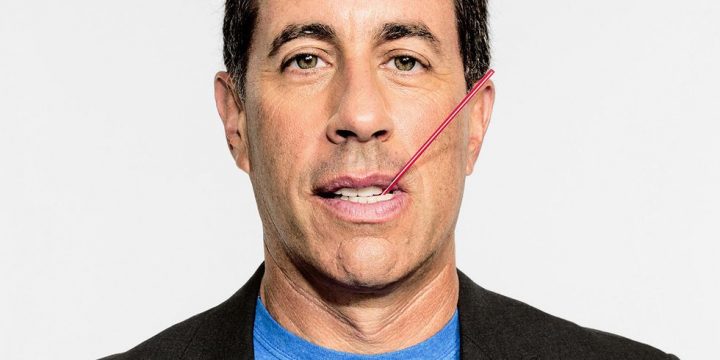 These top five events will help you kick off your summer right in Columbus, GA!
Jerry Seinfeld at RiverCenter
Friday, June 3rd, 7pm
America's premier comedian, Jerry Seinfeld, will be performing his signature stand-up routine. Seinfeld has been hailed for his uncanny ability to joke about the little things in life that relate to audiences everywhere. Seinfeld now sets his sights on performing both nationally and internationally in 2016. Buy tickets here.
Columbus's First Friday Art Walk
Friday, June 3rd, 4:30pm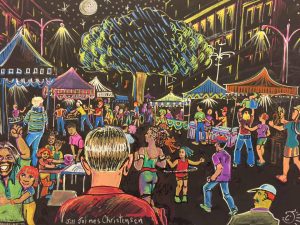 This free, family-friendly event will be on Broadway's 1000 Block in Uptown Columbus. Featured Artists, Marina Dunbar and Andris Jefferson will be creating WORKS OF ART – LIVE! The First Friday Art Walk team of volunteers has constructed a children's play table from wooden pallets, and we welcome you to add your art and words of inspiration! With the guidance from United Way, they will be donating this children's play table to the Crisis Center of Russell County!
Local artists, artisans, and crafters will line both sides of the sidewalk. Several other non-profits will set up among the artists, sharing how they help our community.
Uptown Columbus Concert Series featuring Laughlin
Friday, June 3rd, 7pm on the Broadway Stage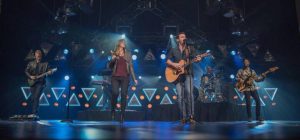 Bring your coolers and your friends on Friday! LAUGHLIN is a country group who formed while attending the University of Georgia. Their sound is influenced by many different genres of music, including pop, rock, and folk; but they find their heart and soul grounded in their classic country roots. They focus primarily on their vocal harmonies. However, LAUGHLIN is not afraid to try new and unconventional approaches in their produced music, which has twice been a top-ten finalist in the Unsigned Only Songwriting Competition. LAUGHLIN prides themselves on putting on an exciting and energetic live show. They have only been together as a full band for a little over a year, but have made significant strides, having already been nominated in Georgia Country Music Awards' "Best Country Group" and "Artist of the Year" categories. 
"The Mystery of Irma Vep" at CSU Riverside Theater
June 2-4 7:30PM (June 16 & June 23, 7:30PM)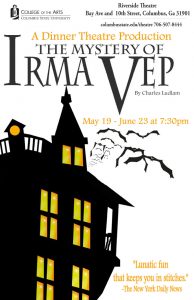 This hilarious spoof of Gothic melodramas is a madcap quick-change marathon in which two actors play all the roles. A sympathetic werewolf, a vampire and an Egyptian princess brought to life when her tomb is opened make this a comedy that has everything. Our annual "Bring Your Own Dinner" dinner theater production!
More Information on Website: https://theatre.columbusstate.edu/
Bud & Burgers Cook-Off at The Park at 11th & Bay
Saturday, June 4th, 4-10pm
Join Budweiser & Uptown Columbus for the 2nd Annual Bud & Burgers Cook-Off on Saturday, June 4th at the Park at 11th & Bay. Attendees are invited to compete in the burger cook-off, enjoy live music, cold beer & the best burgers in town. New to this year's activities is the Piggly Wiggly Burger Mile Run, a one mile run that will have contestants building, eating and running with a burger, then washing it down with an ice-cold Budweiser.
Budweiser's Mobile Bar will be set up pouring Anheuser-Busch's signature brews, including Bud Light, Budweiser, Signature Draught, as well as select craft brews. Live music will fill the air all afternoon with The Breakdowns, a Tom Petty Tribute Band, taking the stage in the evening.
If winning the coveted title of "King of Burgers" is more your style, come out & compete against some of the best grillers in the South. Registration is open to restaurants, chefs & backyard burger artists; any type of grilling & meat is permitted. Competitors are also welcome to vend. Registration forms are available here: http://bit.ly/1XKtL41
1st Place Overall: $600 + Budweiser Grill + Entry into Atlanta's Bud & Burgers Competition in June ($10,000 Purse)
2nd Place Overall: $300 + Bud & Burgers Cooler + Budweiser Prize Pack
3rd Place Overall: $100 + Bud & Burgers Cooler + Budweiser Prize Pack
To enter in Piggly Wiggly's Burger Mile Run, fill out an application here:http://bit.ly/1U8i5aB. Cost is $10 before June 1st, $20 After June 1st. Must be 21+ to participate. Check-in time is at 5pm and the run starts at 6pm at the intersection of 11th & Bay Avenue. All proceeds will be donated to the Folds of Honor.
For additional information, contact Becca by email (Becca@UptownColumbusGA.com) or call 706.596.0111.
*Info and pictures provided by the events.