A surprising-to-some dash of ethnic and cultural diversity has quietly thrived for decades in Columbus thanks in large part to the cross-pollinating predilections of global commerce and globe-trotting Army soldiers. 
Established to cater to international visitors coming to Columbus as host site for the softball competition pf the 1996 Atlanta Olympics, CIRCLE (the Commission for International Relations & Cultural Liaison Encounters has the mission "to promote and coordinate communication, contacts and encounters between Columbus and the people of other nations and to facilitation cross-cultural communications and associations among the various national groups in Columbus."

An annual part of CIRCLE's efforts are on display Sunday afternoon at the Columbus Public Library with the 2018 Kiryu Children Art Exhibit, part of the continued engagement and outreach with Columbus' Japanese sister city of Kiryu. (Aflac, along with Ft. Benning a  long-time advocate of CIRCLE, has substantial business operations in Japan). The evefnt will also kick off the first in a series of #circlechats: a chance for children and adults to chat with native speakers of German, French, Japanese and Spanish and pick up a few select key phrases in that language.
The event's also an opportunity for guests to "expand their understanding of Columbus' diverse international community," says Alia Azhar, a Columbus native of German-Pakistani descent and vice-chair of CIRCLE, which is composed of 12 members who serve four-year terms in appointments by city council (eight seats) and mayor (four seats).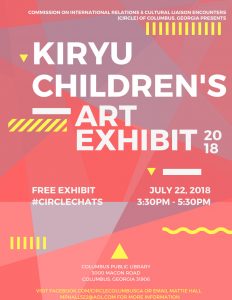 "It's a program that's all about making people feel comfortable and included," Alia explains.
CIRCLE's #circlechats and 2018 Kiryu Children Art Exhibit takes place 3:30-5:30 p.m. Sunday, July 22 at the Columbus Public Library. Free admission. Free coffee and pastries.