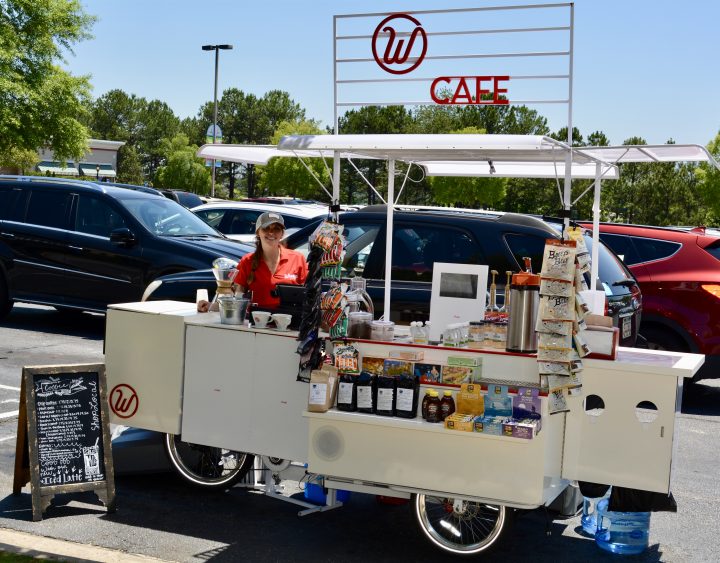 "It all started with the cart."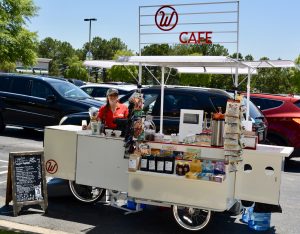 Wheelys Café and General Store is doing things differently, from where they get their products, to how they serve the public, and it all began with a late night Google search. Owner Dustin Cooper was perusing the web, when he stumbled upon a unique business offering their business model and their iconic carts.
The company was started by a woman who was rejected by a big name coffee shop chain because of her blue hair, and not to be discouraged, she opened up her portable coffee cart. Since then, she has sold the carts all around the world, allowing those who purchase one to create their own business around them, and that is exactly what happened when Dustin contacted best friend and now-Operator Daniel about this new venture.
It took over 6 months to get the cart from Sweden, but they hit the ground running – or rolling – when it finally showed up.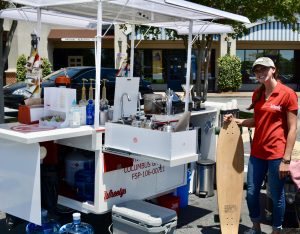 The solar powered, blue tooth-equipped cart sometimes gets mistaken for a snow cone or hot dog stand, but that's not what's happening here.
"The whole idea is that it brings back the human interaction," says Daniel.
Wheelys of Columbus has recently expanded to a store front, promoting their love for local businesses and the desire to feed the people well.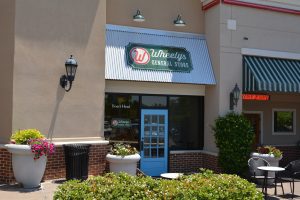 Located in The Landings, tucked beside Outback Steakhouse, they are able to serve more food,
craft more coffee drinks, and sell great products from companies they believe in.
That's why every cup of coffee and plate of food is carefully made just for you.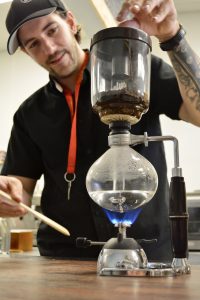 Take their drinks for example: Wheelys only uses locally roasted River Rock Roasters coffee,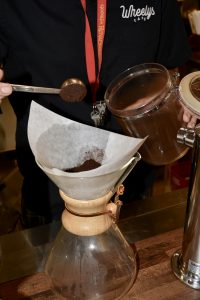 a company owned by Columbus resident and close friend to Dustin and Daniel, Rocky Hutchins.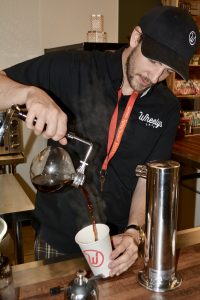 The freshly ground coffee is brewed through a Chemex pot in true hipster fashion,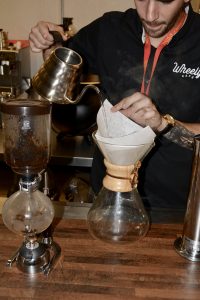 and The Rock espresso is hand-pressed for every beverage ordered.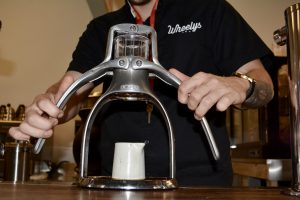 For Wheelys Café and General Store, it's important that they are, according to Daniel, "supporting other local businesses, because that's what this town should be about."
Wheelys uses almost all Georgia,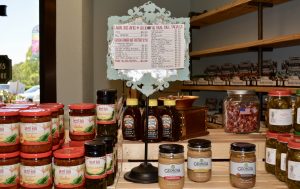 and as often as possible, Columbus-based companies to stock their store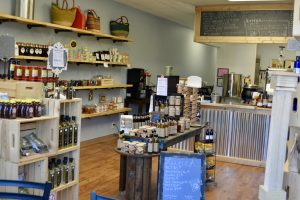 and make up their menu, which boasts breakfast and lunch all day.
The food and drink creations are often employee and customer experiments-turned-successes. For example, The Bonnie, named after The Georgia Soap Company's co-owner who special requested the creation, is an almond butter, muscadine jelly, and bacon sandwich on a croissant. It's a huge hit! Other popular menu items are the Reuben with homemade thousand island dressing and the pimento BLT.
They also make some killer grits that I literally wrote home about immediately (okay, so I just texted my hubs in the parking lot). This Yankee born and raised in New England does NOT eat grits, but I was ready for seconds!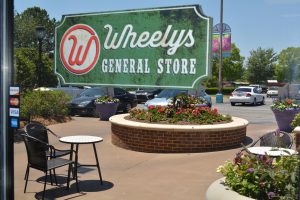 Probably one of the coolest things about Wheelys is their secret drink of the month. You have to follow them on social media to get in on it, and right now when you order it, take a selfie, post it and tag Wheely's, you'll get half off. And let's be honest, if you don't instagram your specialty coffee drink, did it really happen?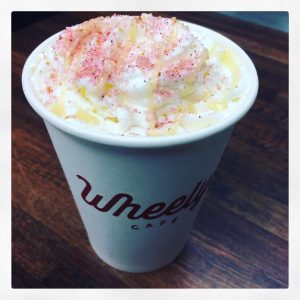 Last month was the Mr. Gigglepants, a raspberry hot chocolate with a pump of white chocolate, their homemade whipped cream, and topped Mr. Gigglepants Hibiscus sugar (pictured above). You'll have to do some Facebook stalking to find out this month's flavor, but I will tell you this: it involves coconut whipped cream, and it tastes like magic.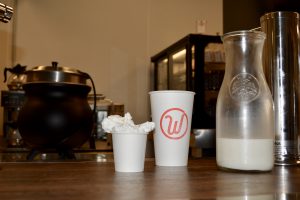 There are some exciting ventures on the horizon for Wheely's. In the next week or so, expect to see cold brew, smooth nitro coffee, and kombucha on tap. Further out, more carts will be popping up around town, and even a couple new store locations.
Wheelys Café and General Store is the kind of place you go to feel like someone actually cares about you.
You're not just a name spelled wrong on the side of a cup. You're a member of this community, someone with something to offer, and Wheelys just wanted to offer you something fresh and delicious made with local ingredients.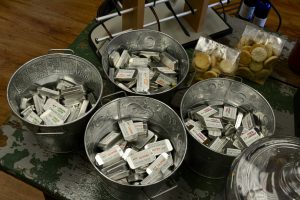 *Grand opening is Saturday, May 13th, and mommas, stop in on Mother's Day for half off your order!
Written by Courtney Hudson
Pictures by Jacy Jenkins