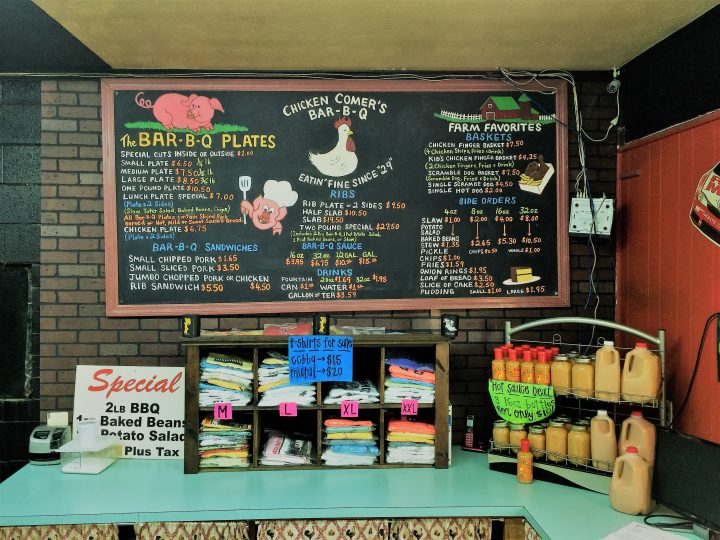 Written by Christopher Binns
I wanted to grab some last minute Saturday night BBQ, so I called Chicken Comers around 5:00PM on April 1, 2017 and the owner (Terry Bussey) answered the phone saying they would be open.
Terry was there, and the past few times I've gone in, I've ordered a special plate of ribs, half chicken and chopped pork with sides that Terry rings up for me. With two sides, the total comes to about $18, but it's enough for almost 4 people! It's one of my favorites for lunch and dinner with family and friends.  The watery mustard 'Soppin' sauce is their claim to fame.  It's unlike any other BBQ sauce in the area!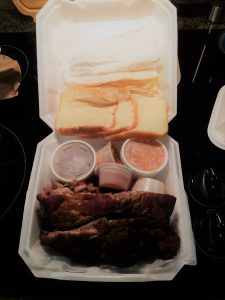 Terry Bussey has been the owner since 2012, and he bought it from David & Carolyn Currington.  On the back of the to-go menu, it gives a little history of the place.  It was started in 1929, during the Great Depression, by Anderson "Uncle Chicken" Comer out of his house, and did business for over 70 years.  When Anderson died, his great-niece took over and ran the tradition until 2002.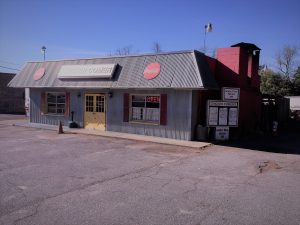 Chicken Comers has been at this location on Desmond Dr. since 2000, and before that, the building housed John and Johnny's Hotdogs and Hickory House.
Terry mentioned that he is expanding back into Phenix City this summer, and the expansion restaurant location will be 1027 14th St., Phenix City. It will serve breakfast and the planned hours are: Monday – Saturday:  6:00AM -7:00PM.
I'm giving the Columbus location the following grades on 1-10 basis:
Appearance:  9.0
There are plenty of places to park, and the restaurant location is easy to access from anywhere in North Columbus.  There isn't much to look at on the outside.  Looks like there might have been a Drive-Through long ago.  There is quite a bit of wood in the back parking lot, which is used for the pits.
Friendliness of Staff:  9.5
Terry or his girlfriend, Kim Dunlap, are usually on duty and they are top-notch customer friendly. The staff work behind the counter and bring food to tables, at the register, and in the kitchen.  You order at the front, pay then, and when your order is ready a waitress will bring to your table.  There is a self-serve fountain drink machine in the dining area to serve yourself with drinks.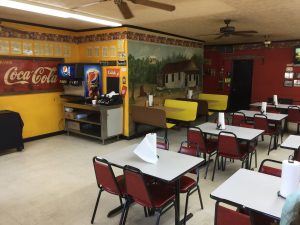 Menu variety, meat choices and taste of meat:  9.5               
The menu is basically two pages, and is also located on a board behind the register.  They offer chopped & sliced pork, pork ribs, a variety of hot dogs, chicken fingers and half chicken (no beef).  All the meat I have ordered from here in the past is excellent!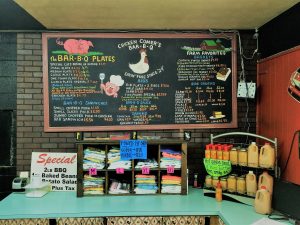 Sauces:  10.0
Three regular choices:  Sweet, Mild & Hot.  Two 'Soppin' sauce choices:  Mild & Hot.  These two are traditionally used to dab your bread in. All are exceptional, and the 'Soppin' sauces are available at local Piggly Wiggly stores, too.  The best mustard based sauces in the area, in my opinion.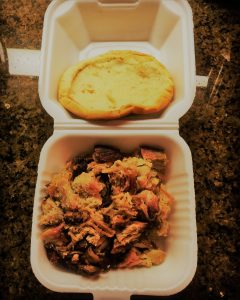 Cleanliness:  9.5
The level of cleanliness was fine with me.
Wait Time:  9.5
Minimal waiting times.  There is never any more than 3 people in line when I've been here in the past.
Ease of paying:  9.5
Pay at the counter when you order.  They take cards and cash.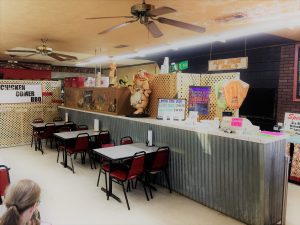 Score:  9.50
Terry, and Kim Dunlap, do an outstanding job here.  Terry says that the one thing that he loves most about the restaurant is working for himself and maintaining a solid product.

This is by far the best BBQ in the area to me.  I bring family here all the time that are visiting from out of town.  I will always continue to come here, and can't wait to try the Phenix City location soon!
Hours of operations:
Mon- Thur: 10:30-3:00PM.
Friday & Saturday: 10:30-6:00PM.
They are not open on Sundays.
Written by Christopher Binns