A MODERN LOVE STORY
Nearly 50 years ago a love story began between two teenagers at Baker High School.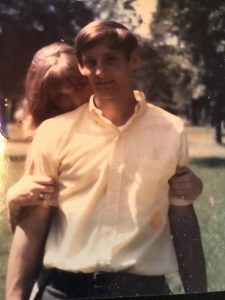 The military took the two Army Brats, Val Webb And Sherry Jackson, around the world and brought them together at Fort Benning, Georgia, where their fathers were stationed as Colonels.
Val was an honor student, Sherry was Student Council Secretary; Val was the captain of the wrestling team, Sherry was voted "most friendly"; Val was lead in all the plays, Sherry was voted "cutest". The day she heard Val impeccably sing, Edelweiss, Sherry knew she wanted to date Val.
While Val was shy and scholastically intelligent, Sherry was extroverted and socially intelligent. It took a more direct approach for Sherry to capture his heart. 
She finally asked Val, "Will you be my Valentine?"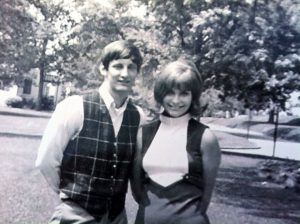 Val and Sherry then became high school sweethearts. Val lead Sherry into a deeper understanding of faithfulness in God, and Sherry lead him into a deeper understanding of enjoying life. Shortly after they began dating, Sherry was able to convince Val to play hooky from school in order to take a trip to Callaway Gardens, a move which surprisingly pleased Val's father, a stern colonel, who loved Sherry's free spirit and the relaxing influence she had on his son. Sherry was Val's first love.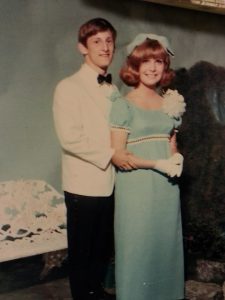 As happens with many high school romances, their relationship ended. Years later, after college, a marriage and a child, the first call Sherry made, when the divorce was final, was to her old sweetheart, Val.
Sherry was looking for the strong, spiritual man she fell in love with in high school, but was surprised to feel no comfort in their conversation. In the time since high school, Val had wound up in a hard place. He had recently lost his father, and was forced to forfeit his wrestling scholarship at UGA in order to take care of his mother and younger sister. With Val in a different place than he had been in high school, Sherry hung up the phone feeling that the love they had was lost.
Eventually, Sherry found new love in a West Point graduate. They married, and lived all over the country–Alaska, New York, Virginia, Tennessee, Kentucky, Alabama–and moved back to Columbus, GA, with four children and what seemed to be a fairytale life.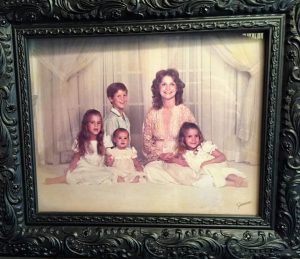 Meanwhile, Val struggled to find his purpose after losing his father and graduating UGA. While working on his Master's Degree in Business at Georgia State, he took on many jobs. Val was a car salesman, a brick mason, a cook, and sold retail men's clothing, but a passion that he had since a boy, collecting coins, began occupying all his spare time. By 1980 his boyhood and weekend hobby became a full time job, ironically on April Fool's Day. Val traveled the country working trade shows, and, as luck would have it, found love in one of the only female coin dealers in the profession for eight years.
Val kept Atlanta as his work base but also lived in Toronto, Canada, and continued growing his network by writing a reference book, Cameo Proofs 1950-1964. This led him to be one of the founding fathers of cameo proof coinage.
After 20 years of marriage, Sherry's fairytale became fractured and her husband moved to an apartment complex on Broadway.
Sherry was devastated. Grappling with the loss of a 20 year marriage she thought would never end, and, consequently, the loss of the father of her children-two of which were still in high school–Sherry only found solace in God. She read Psalms incessantly, became involved in outreaches, like Teen Challenge and Young Life, and was brought to her knees.
Weeping may last for the night, but joy comes in the morning, and dawn was breaking when her epic 30 Year Baker High School Reunion planning begun.
The Baker High School Reunion brought everyone together in 2000, for a huge, weekend long celebration at The Trade Center- including Val Webb.
During the planning stages, Val's younger sister, Vicky– who had always been a huge fan of Sherry–encouraged Val to go to the reunion and reach out to Sherry. After all, he was now single.
Val sent Sherry this email before the reunion:
7/18/2000

Dear Sherry,

My sister, Vicky, and I will be coming in on Saturday for The BHS Reunion. I'm having to fly in from a trade show, so we won't be able to get in early. I'm looking forward to seeing some old friends and catching up on how things have been with you. Life has had its ups and downs, but all in all, life has been kind to me. I hope life has been good to you as well.

Looking forward to seeing you,

Val Webb
After the reunion:
8/1/2000

Dear Val,

Wasn't it wonderful? I couldn't have asked for a better dinner partner, it felt like we were in a time warp!

Anyway, I really didn't get to talk to you enough. I never asked you if you ever did more plays in college or continued singing. You were so good. You look great, so distinguished.

What a wonderful time!

Sherry

8/1/2000

Dear Sherry,

I smiled and laughed so much my face was sore the next day. I couldn't believe all the people who remembered me. I couldn't believe all the people I remembered. What a wonderful time. I must have overheard at least three people saying, "that Sherry Jackson still looks as good as she did in high school".

I didn't get to spend enough time with you, either. Thanks so much for sharing as much time as you did with me. There was just too many old friends to try to get in touch with. There were at least five friends whose fathers were killed in Vietnam. I had forgotten how hard the community was that we grew up in. I also had forgotten how supportive we all were of each other as military families. I miss that.

The next day was bittersweet. Vicky and I had never found the courage to visit Mom and Dad's graves out in Fort Benning. We cried and hugged each other, soon enough the graveside was just a white marble stone, one among so many, in a pretty field where there were birds singing.

Life doesn't get any better than laughing and crying all in the same short span of time. It was healing for us to complete that visit.

I became involved in wrestling and philosophy in college. I excelled in both and it left no time for acting. I never intended not to pursue acting and singing. I just never got around to it. Dad died when I was 20 and I had to work my way through school, working as a hamburger cook in a local bar.

If you can get a picture us that they took at the end… I WANT IT !!!

Thanks again,

Val
After exchanging emails every couple of days for months, Sherry worked up enough nerve to grant Val's request of visiting her in Columbus.
Val arrived, took her to all their old high school hangouts, told her she was the first woman he had ever loved, they held hands and talked all night.
The conversation hasn't ended in 17 years.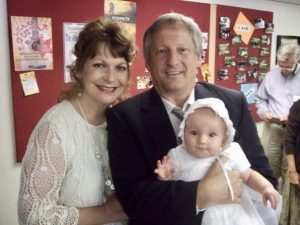 In that time, there have been celebrations and heartaches which Val (with not much family besides his sister) has shared with Sherry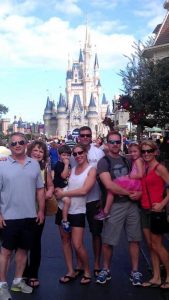 and the tribe they've created together.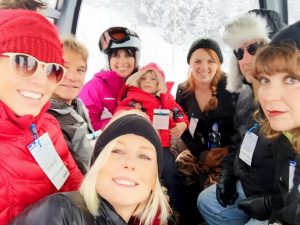 After 14 years of a truly fairytale life, they decided to build their own fairytale house.
Sherry had always dreamed of having a house in Columbus' Historic District. They looked at a vacant plot of land that happened to be the site of an old derelict apartment complex on Broadway.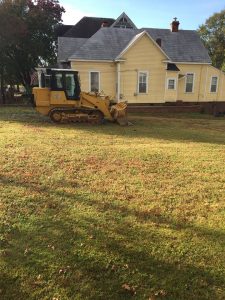 Sherry became emotional when she realized it was the very same plot of land where her ex-husband moved when he left the family. The place where she cried all night and lost all hope of saving her 20 year marriage.
Val told her, "Let's build a pretty house on this land. Let's fill it with the love of our beautiful family."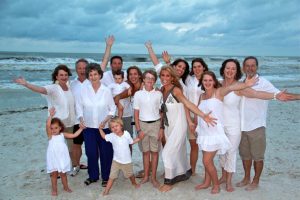 The high school sweethearts decided to build their almost 50 year love story on a two story solid foundation, with a romantic, fairytale themed house,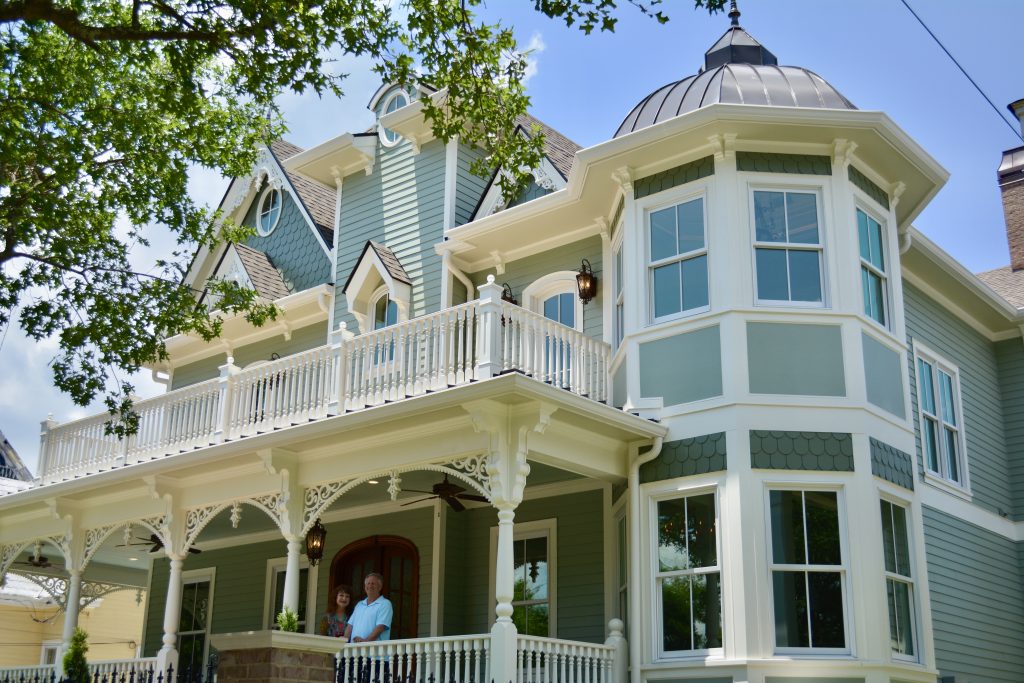 a carriage house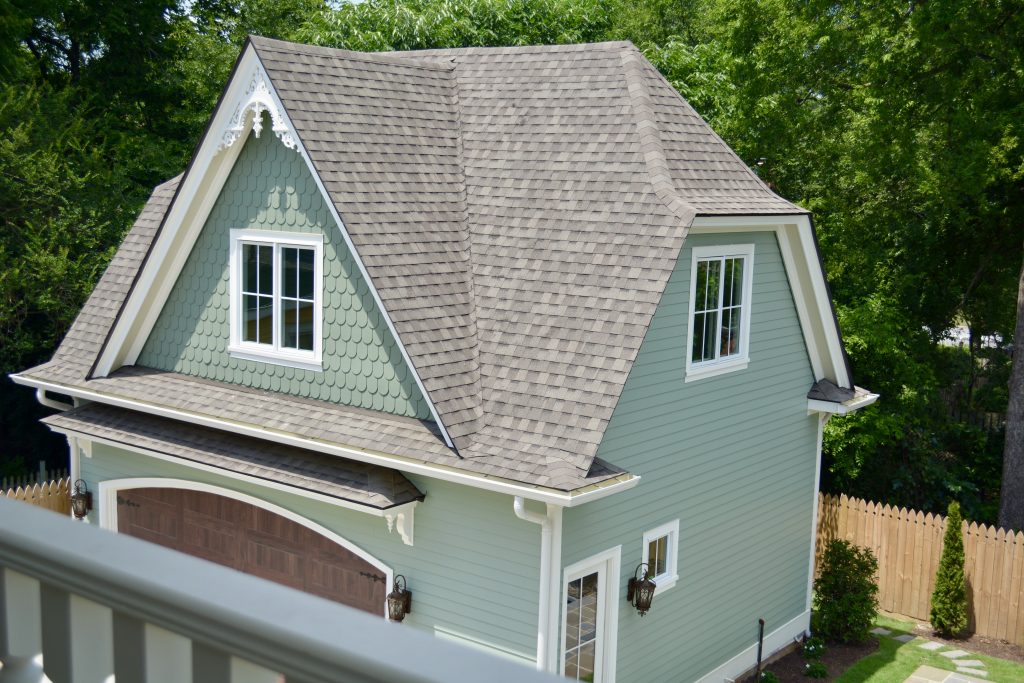 and a pool
for us all to enjoy on Broadway.
The house was built by Tom Acuff, an old friend from Baker High School, who is a builder of beautiful, multi-million dollar homes across the nation.
The new home is one of the first new constructions in the Historic District, in a long time.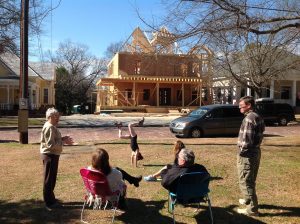 It represents not only a love story, but redemption, and it's indicative of the revitalization continuing to "flood" our downtown area ever since the bursting open of the dam, in 2012, to make the longest urban whitewater rafting course in the world.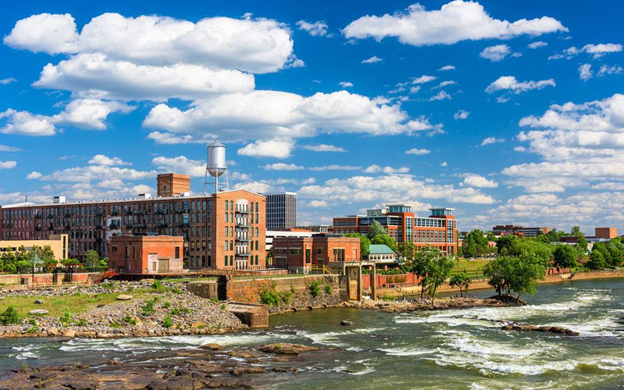 Sherry feels like the house's construction has been an incredible art project, too, and even hired local artist Mark Lucas to draw a mural in the downstairs "Narnia" closet. The art is from Sherry's favorite book series, by one of her favorite authors: The Lion, The Witch, and The Wardrobe by C.S. Lewis. To make it her own, she had Mark draw her four children in the snowy story's scene that encompasses the whole closet.
Val is excited about living in a community where he is within walking distance of his family (and Minnie's).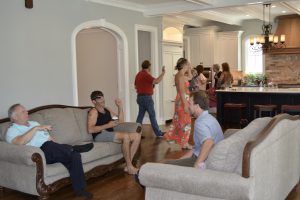 Val and Sherry welcomed visitors 
for a glimpse of their storybook home on Saturday, June 17th, 2017.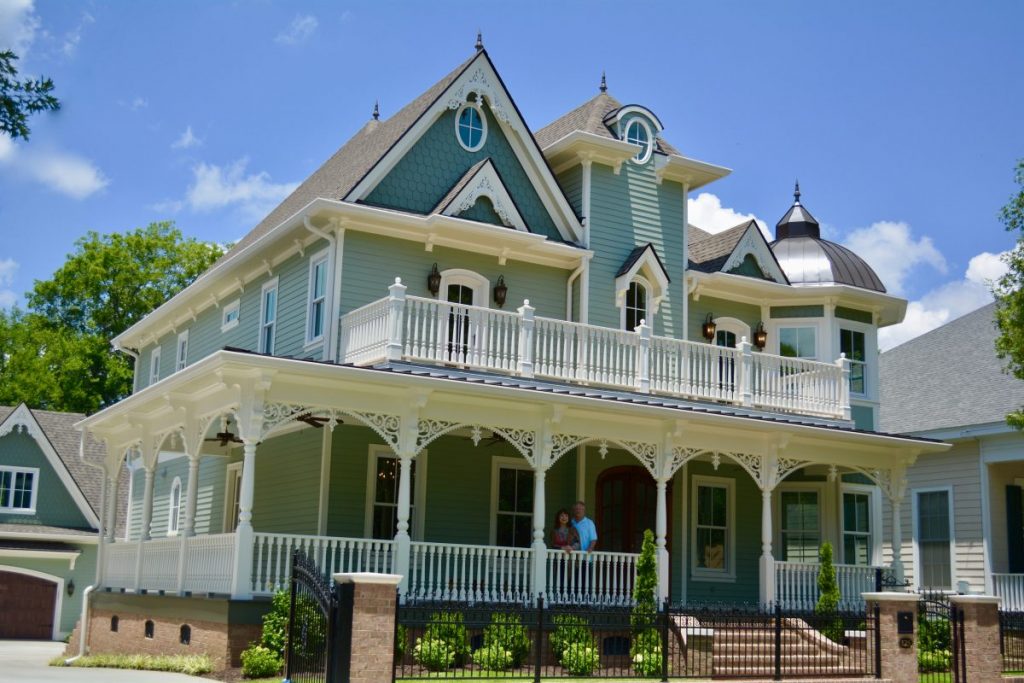 Happy 17 years, Marmee and Papa Val, here's to 17 more!