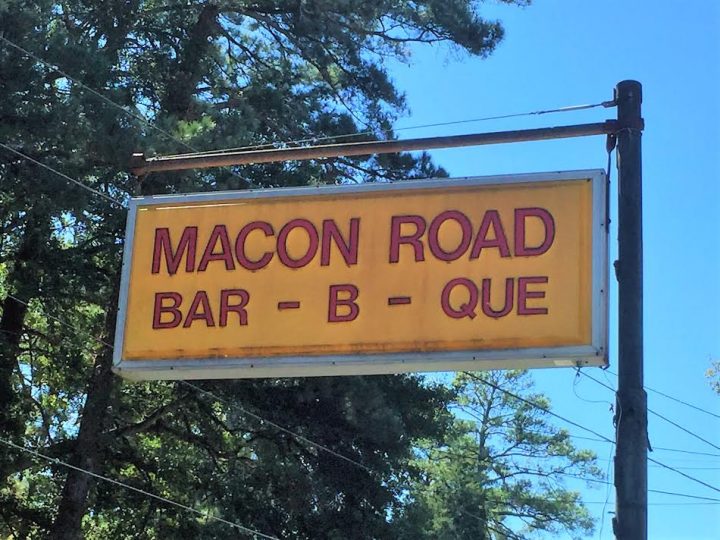 Christopher Binns told me how passionate he was about BBQ, and I was excited when he agreed to write a review on various BBQ places in our area for Electric City Life.
BBQ is entrenched in our southern culture. Even visitors come here wanting to know what the best BBQ place in town is, and Christopher is here to help rate it for us by score.
Written by Christopher Binns
I visited the Macon Road BBQ restaurant on Wednesday, October 5, 2016.  The parking lot was moderately full and there is chopped wood everywhere, vans parked in the back and a very pungent smell of bonfire smoke everywhere, including inside the restaurant.
The combo plate is what I ordered, and comes with 2 pork ribs, chopped and chipped pork meat.  Sides offered are:  Baked beans, Cole slaw, BBQ slaw, fries, Brunswick Stew and potato salad.
The sauces are uniquely named:  Mild, Hickory, Brennan Road Hot, Macon Road Hot and Mustard. Apparently, there was a sister BBQ restaurant on Brennan Road years ago, and they combined their menu items when it closed.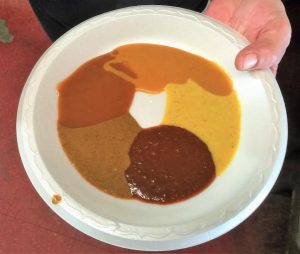 I chose the Mustard, and it was fabulous.
The meat was great. My overall opinion is this place has been here for a very long time, and the folks that go here are very old school about their BBQ, and everything else…
I give it the following grades on 1-10 basis:
Appearance:  7
Very old school & reminds me of a place that my grandad would take me when I was knee high.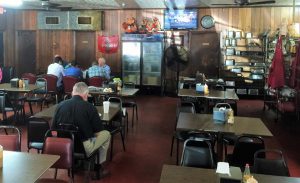 Friendliness of Staff:  8
Very nice folks that went out of the way to please, but there aren't any waiters or waitresses so you need to go the front counter for anything you need.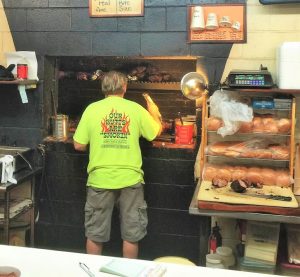 Meat & Meat Choices:  8.5                  
Pork, Polish Hot Dogs, Chicken, Chicken wings and Steak (no beef brisket).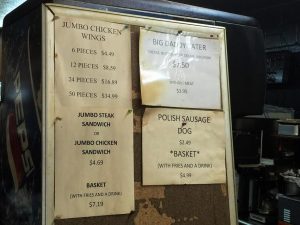 Sauces:  8.5
Love the names of the Hots!!!  Nice variety!!!
Cleanliness:  6.5
Not exactly the cleanest place I've been, but I'll let it slide for the food quality.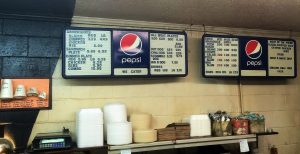 Wait Time:  10
No wait time for ordering, and food was delivered to our table in less than 5 minutes.
Ease of paying:  9
Pay at the front counter after you eat.  They accept credit, debit & cash.
Score:  8.21
Definitely one of the better BBQ places in Columbus.  I recommend! I love the name of the baked potato (Big Daddy Tater) and will try it next time. 
Oh, and remember this…when you leave, your clothes will smell like you've been at a bonfire.