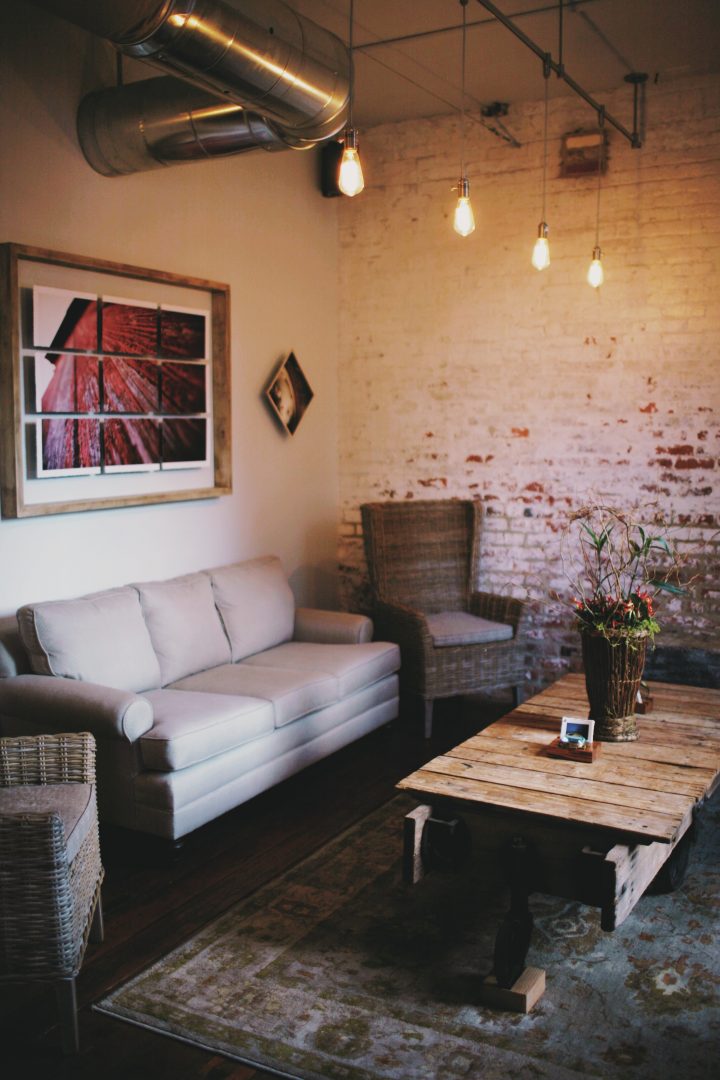 When I studied in Tuscany several years ago, I had the good fortune to seek out the oldest restaurant in Rome, Ristorante la Campana. After ordering my sweetbreads, the tagliolini with fresh anchovies and pecorino, our table had a short conversation with our waiter. We were informed that every ingredient on our plates was sourced from no more than an hour away. I had heard the concept of farm-to-table on No Reservations; but aside from Anthony Bourdain's televised praise, had never experienced it myself. Needless to say, it was one of the most memorable meals of my life; each plated component enlivening its own singular portion of the fork, before meeting as seamlessly as the Tyrrhenian Sea and the shores of Latium.
My expectations upon returning to Columbus and experiencing a meal like the one at La Campana were bleak, to say the least. Columbus has often been maligned as a city of chains, inhabited by diners with blinders on to trying new things. So, when restaurants like "The Olive Branch" or "The Garlic Clove" or "Wild Fish" close down, local gourmands raise our fists in the air and scream the oft-repeated refrain, "This is why we can't have nice things!"
But that's not the case anymore. We have nice things. And lots of them. Epic. Meritage. The Loft. Ben's Chophouse. Whatever amazing place Mark Jones is opening this week! Because we – as a city, as entrepreneurs, as consumers – are taking chances. We seek opportunities. We seek risks. Damn the torpedoes? Too tame. We're "Slim" Pickens, riding the A-Bomb down to inevitability! Our time is coming. It's not if. It's when. Will Columbus ever be a foodie destination? I believe it will. Why? Because we can.
The newest restaurant to convince me of this is Michael and Heather Harrell's 11th and Bay Southern Table. For a restaurant that has only been open a little over a month, like Athena from the head of Zeus, it has sprung forth fully formed; from concept to menu, interior design to staff and service, wine list to spirit selection, there is not one errant note in this heartfelt ode to Columbus. It's "Southern Harmony." In every plate of food is a story. Michael and Heather pulled two four-tops together, kept the plates coming, and shared the story of 11th and Bay.
It was by accident. Michael was studying Construction Engineering in college and working in the family construction business. Sometimes family and business, like oil and vinegar, don't mix. One day, he'd had enough with a sibling and simply walked off the site. On his way home, he passed an Italian restaurant. On a whim, he applied for a job. He was hired then and there. This was, at the time, a pyrrhic victory, as he went from making $700 a week to $120 a week. His father demanded he come back to work at the family business. Michael refused. This made the next Thanksgiving a bit awkward for everyone concerned, as Michael wasn't invited. Nor was he invited to Christmas.
It was while he was living in a studio apartment, his only furniture a mattress, a milk crate, and a 13-inch black-and-white TV, eating Ramen for breakfast, lunch, and dinner, when the university called to tell him his tuition had been revoked. His father would undo this if he returned to work. Again, his answer was no. Then, he received a letter from the family lawyer. He had been expunged from his father's will. He called the bluff. In a last ditch effort to coax his son back into the family business, Michael's father threatened to shut the company's doors for good, claiming that the business had started showing cracks since Michael left. Michael went by the next morning to see if his old man had gone through with the threat, and, sure enough, the fence was chained and on it was a sign, a bit of vindication after five years in exile: "Mike was right. You're an asshole. We're closed."
If that doesn't show dedication to the food industry, you must want to see blood. After ten years in the trenches, working his way up from host, through every position in the restaurant, his true career began November 1990 at Outback. By '93, he was the assistant manager in Macon, where he met his future wife Heather. In '97, he became a partner and opened an Outback in Aruba, before opening another location in Nassau. He then heard that Carrabba's was hiring. That's when the Harrell's came to Columbus.
And for a time, things were good.
But then, Carrabba's lost its way. When once it was a made-from-scratch kitchen, Michael gradually started seeing more and more cans coming in the back, and packets of vegetables thawing in the walk-in. This was not what Michael had signed on for. He could no longer find pride in the job. On the eve of accepting a job in Florida with a mentor, a regular approached him about opening his own place. "'Columbus can't afford to lose you. I know you want to do your own place. Give me three days to get some investors together.' I had no intention of giving him three days. I was calling my buddy in the morning and taking the job. Probably going to lose my marriage, but I was going anyways. But before I could leave, the regular called back, said I've got someone I want you to meet. We met at the water tower, saw the site, walked inside, saw the walls, and that was it. And here we are."
Here we are, indeed.
11th and Bay goes to great lengths to make you feel at home, immediately upon walking in the door. The lengthy bar to the left is often populated with a handful of regulars, enjoying a unique assortment of spirits, or a cup of French press Ethiopian coffee. To the right is a comfy alcove to await a table.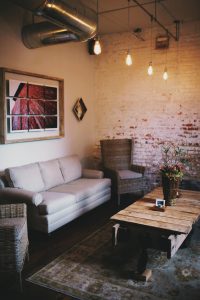 The inside dining area is open and alive with the sound of clinking cutlery and conversation. The outside patio wraps around the building, giving diners a view of the sunset and occasional breezes coming up off the river down below. If Broad is Jimi Hendrix, Bay is Muddy Waters; who, incidentally, is likely to be featured on the bluesy soundtrack, accompanying the southern-inspired culinary creations emerging from Chef de Cuisine Phillip McCoy's kitchen.
In a kitchen that makes its own ketchup, bakes its own bread, cures and smokes its own bacon – among other house-made accouterments, simply because "we can" – you can't go wrong with any menu item. Having spent an evening with Michael and Heather while sharing a number of plates, let me point you towards a few highlights.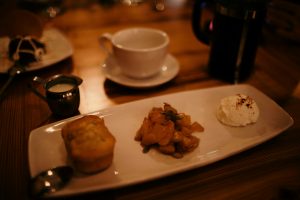 The entire menu is stellar, but a good place to dive in is the Southern Caprese. This appetizer started out as a fried green tomato caprese, stuffed with cold cheese; but when husband-and-wife team took the idea to Chef Phil, he turned the recipe inside out by making it a hot dish all the way through. The final plate finds a lively, grilled green tomato and house-made fried pimento cheese, served with a basil peach jam, crème fraiche, and sriracha.
Another appetizer, that is a must-try, is the Chicken and Waffles. A southern staple, Chef Phil gave this traditional dish his own spin. The chicken is soaked in a buttermilk brine for 48 hours, and the batter is perfectly seasoned and extra crispy. The sweet potato waffles are baked with a witbier, orange juice, orange zest, and a touch of fennel. The dish is then brought together with a whipped sriracha butter and maple syrup.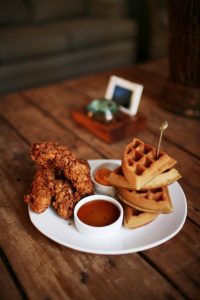 And now for something completely different: the Pan-Seared Loin Cod Cakes. While you will find crab cakes on most menus that trawl the waters for inspiration, Michael and the minds at 11th and Bay fished from a different pond. The cod cake is drizzled with a dill beurre blanc, served with a corn relish and smoked paprika aioli.
A case could be made for ordering all the appetizers, allowing the knowledgeable staff to recommend a bottle of wine, and letting that be that. You would leave several hours later, a very happy, very sated person. That being said, you would want to come back as soon as possible and do a similar play with the entrees. Again, you simply can't go wrong. Take, for instance, the Shrimp n' Grits n' Belly n' Bits.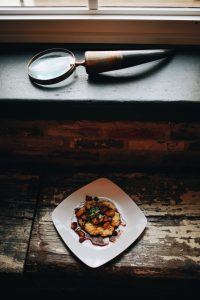 This is a dish (unless you are allergic to shellfish) we've all had. But, I assure you, you have never had it like Chef Phil prepares it. Served on top of stone-ground cream grits with a house-cured pork belly, this variation veers into the unexpected, with a shallot-ponzu reduction and orange-ginger gremolata- an Italian herb condiment made from finely minced parsley, garlic, and lemon zest. This dish is jaw-dropping good.
Another dish showing off the creativity of the culinary staff, yet upholds 11th and Bay's vision of simplicity and authenticity, is the 'Fried Chicken …….I'm Just Sayin'.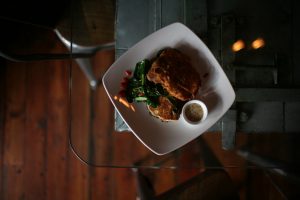 One day, Chef Phil asked Michael to buy the kitchen a sous vide immersion circulator, a machine that allows chefs to cook food slowly in vacuum-sealed bags in a low-temperature water bath. Michael asked, "Why would we want to do that? To which Phil replied, "Because we can." So, because they did, we get a chicken that has been cooked in a bath of water at 167 degrees for two hours, breaking the protein down, so it becomes very tender. It is then briefly chilled, before being battered and flash-fried, resulting in a batter that is always crispy and golden-brown. Chef Phil was proven right, again. And every time he's proven right, he responds with, "I'm just sayin'." So, not only is his buttermilk-brined fried chicken with braised, peach-pepper hoe cake, house-made honey mustard, and sriracha on the menu – he also got to name it.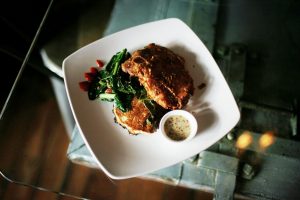 Sometimes, you just want to treat yourself to a nice cut of steak. Well, add 11th and Bay to the list of places that you can make that happen. "We only carry certified angus beef," said Michael. "I want to know where I'm getting my beef from, and the majority of it is from cattlemen in Georgia."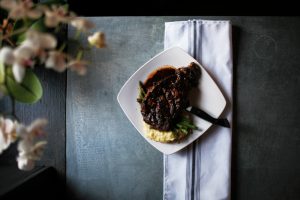 His dedication to sourcing local shines through in the Fountain City Ribeye, a 21-day aged 14oz ribeye, wood-fire grilled and espresso-rubbed with a blend from Columbus' own Fountain City Coffee. The cut is served with the house stout demi-glace, Yukon gold mashed potatoes, and, depending on the time of your visit, fresh seasonal vegetables.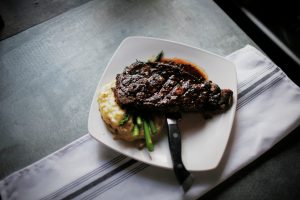 Along the same lines is the 11th and Bay Filet. Also aged for 21 days and wood-fire grilled, this 8oz filet is served with a house-made craft brown ale gastrique, a mountain of white truffle fries, and the fresh vegetable of the day.
One of my favorite things about the menu, aside from the fact that there appears to be no Achilles' Heel to be found, are the reverential nods to Columbus. The attention to detail was important in the planning process. "You want to make your menu relatable to the people around you. We want to be a part of this community. We want this to feel like your place when you come in and hang out. We just want you to enjoy yourself."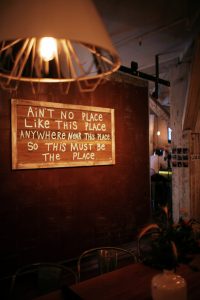 They do represent the community well. The most overt and well played (and well plated) representation is the Pemberton Pork Chop. As any Columbusite knows, Coca-Cola was invented right here in Electric City. 11th and Bay celebrates that fact with natives, while giving servers the opportunity to share with visitors, a little-known piece of our city's history. This can be done with words, or with a 10oz. bone-in pork loin chop in a coke-shallot bordelaise, served with a fennel Vidalia slaw and roasted sweet potato hashbrowns, accompanied with an 8oz. bottle of Coca Cola. Take that, ATL!
And lastly, if you're just looking for a simple, good thing, maybe go for the "Just Real Simple" Pan-Seared Grouper; a grouper filet served with stone-ground cream grits, green tomato chow chow, and, again, depending on when you visit (and, seriously, stop reading this article and, like Liz Lemon said, "go to there" immediately), seasonal vegetables. Here's a little pro-tip I'll throw in for free: your grouper won't come with it, but ask your server for the lemon aioli. Not only is it absolutely delectable on the fish, as well as the asparagus, your server will be hella-impressed, and you'll instantly be a regular. You're welcome.
I would be remiss if I didn't at least mention one dessert. The Chocolate Mousse was somewhat of a revelation. I was born bereft of a sweet tooth, so this take on chocolate mousse, served with black lava sea salt, balancing the dark chocolate's sweetness, hit my palate in all the right places.
So, yeah, great, you ate a lot of food and wrote a rave review (and by the way, journalistic integrity, much?), but what is it like to eat there? Well, Heather summed up the experience of an evening at 11th and Bay by explaining her and Michael's philosophy behind the restaurant (and I can rave all I want, since the food backs it up). "Our personalities and the feel and the vibe we were going, we just wanted to keep the simplicity when it came to the food, the atmosphere, the service, everything. Just going back to basics and doing what we know works. True, genuine southern hospitality. Making people feel welcomed and warm in this inviting space."
As it turns out, feeling welcomed and warm in an inviting space is reciprocal in the uptown community. "We're just thrilled to be downtown," said Michael. "We can't wait to move downtown. We really do have a heart for this area. And it's so great to meet regulars who are so appreciative of what we're doing. Down here, everyone wants to get to know you. It's like, now that I know you, let's be friends. And then, after awhile, we'll be family."
It's been almost a decade since my dinner at La Campana. In that time, I have seen my hopes for a culinary culture in Columbus change from abject hopelessness, to cautious optimism, to what it is today: outright determination. Not only are there more local restaurants to choose from than any other time in my life, more of them are locally sourcing their produce, meats, and dairy. Columbus is not only truly becoming a place where locals care about food, but where people from other places see this asset and want to visit. This became clear to me through watching people buy fresh fruits and vegetables on Broad every Saturday this past summer. How heartening it is to see, what a generation ago would have been unimaginable? This is now an expanding reality.
Columbus has changed. Columbus is changing. Michael agrees. "The turning point was the whitewater rafting. And CSU, if they continue doing what they're doing, between that and what we're doing, Tom's new steakhouse (Ma Bella), Mark's opening up a new place every six months. Someone said the key word to me the other day: 'This is a destination place.' He said the "d" word! He said the "d" word! When someone is willing to get in their car on the northside of town and weather the traffic, Nighthawks, and come down here and enjoy themselves, we've made it!"
And Heather doesn't see the momentum slowing down anytime soon. "I think this is just the beginning. Everything that has come before, that has gotten Columbus to this place, everyone that has worked so hard; I really do think we are at that arriving point, and it's about to take off and explode."
There is a sign in the dining room of 11th and Bay that reads, "Pull up a chair and stay awhile." There was a time in Columbus that it would have been funny in a sad sort of way for a new restaurant to hang such a sentiment in the center of the room. But in light of Columbus' culinary awakening, I believe that 11th and Bay will, indeed, stay awhile. I believe Michael has a few more grand schemes up his sleeve. I believe there will be more restaurateurs like him to take the risk and reap the reward. I believe, as long as we have taste buds, Columbus will be a culinary destination.
Why do I believe these things?
Because of house-made ketchup.
Because of sous vide fried chicken.
Because of black lava sea salt on chocolate mousse.
Simply, because we can.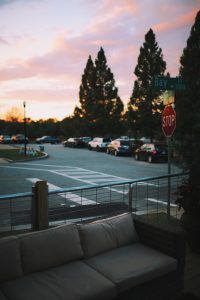 Written by Josh Becker
Photos by Shamri Sewell