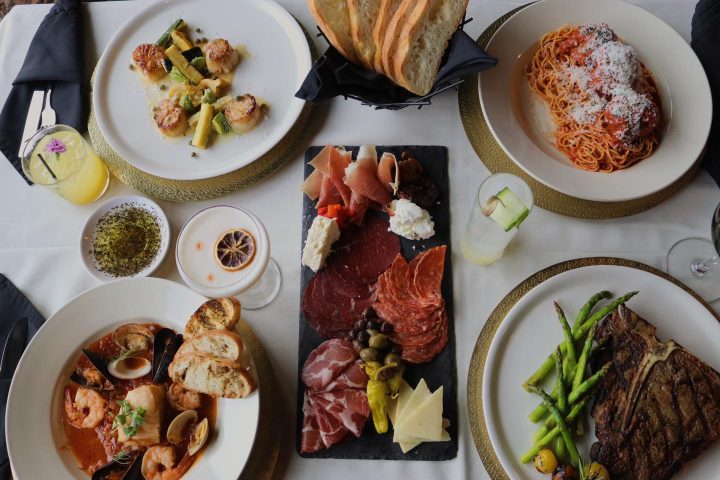 Where would you take a date or friends coming to town for an upscale meal?
EPI©  is the best fine dining Columbus, GA has to offer. Stylishly located in a restored mill, Eagle and Phoenix, their food is art- so dress the part.
Epic is a classy and exquisite dining experience. Their detailed explanations of the dishes alone are worth the visit, and extremely helpful when ordering unknown, fancy dishes.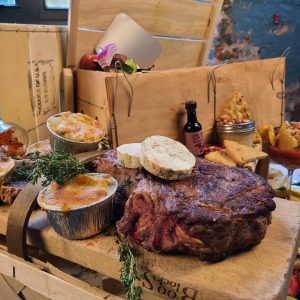 Relish in entrees like Tea Brined Pheasant Candied Carrots/Sorrel/Almost Rum Onions Black Eyed Pea Ragout or Deconstructed Beef Wellington Semolina Souffle/Forrest Mushrooms/Broccolini/Bordelaise!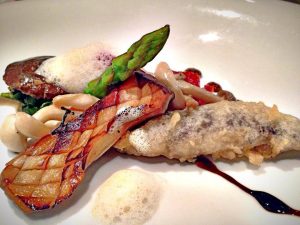 Every detail of Epic is genius but, thankfully, not intimidating. Epic is very accommodating, aiming to please any dietary restrictions and preferences. It is an intimate space, surrounded by beautiful artwork from local artist Teil Duncan.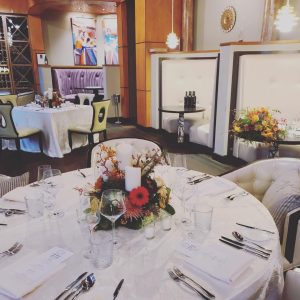 The specialty drinks are divine and wine pairings are superb; with a local creative flair, too, like the cocktail, "Gone with the Wind", or the appetizer, "Georgia on my Plate", that shares a selection of Georgia's Finest Ingredients (Salami/Cheeses/Peanut Hummus/Sweet Potato Crisps/Accoutrements).
Need to romance, or impress, someone? Simply reserve their chef's table for an awe-inspiring, inside perspective!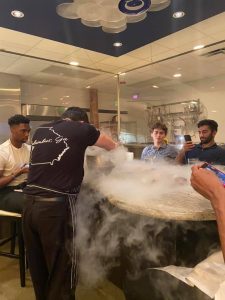 Appreciate anything off the menu, while knowing (most likely) you can't replicate it at home. Not surprisingly, Epic received a AAA Four Diamond Award inn 2021, and was listed as #7 on "17 Georgia Restuaraunts Will Blow The Taste Buds Out Of Your Mouth". Shaquille O'Neal, Meryl Steep, and Tommy Lee Jones have all paid at least one visit while in town. Thank you Jamie Keating for having the vision to bring this to Columbus, when others doubted you!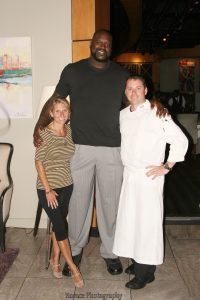 Uptown Life Group's Trifecta of Restaurants share a beautiful courtyard in the heart of downtown, led by Mastermind and Work Horse Chef Tom Jones partnering with visionary, Buddy Nelms (pictured below), comprising of Saltcellar, MaBella's & The Loft.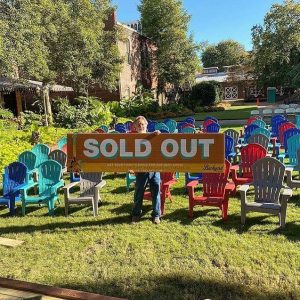 The Loft was orginally founded by Buddy as a bar and music venue, it has been the epicenter of Uptown Columbus for 22 years as a forerunner for downtown businesses and they paved the way for more development in the area! Beyoncé, Willie Nelson, Mel Gibson, Josh Harnett, in addition to A LOT of big named bands, have come here to perform or hang out.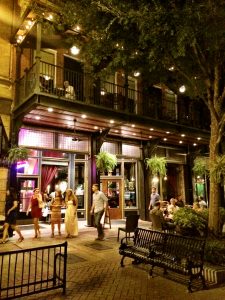 There isn't another venue in town like it; The Loft is now a two-level restaurant, with two entertainment venues upstairs, including two bars and two stages.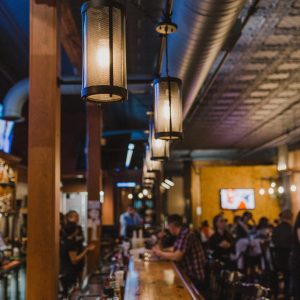 Accommodating outside seating upstairs and downstairs, a New Orleans style balcony, and the perfect spot for people-watching.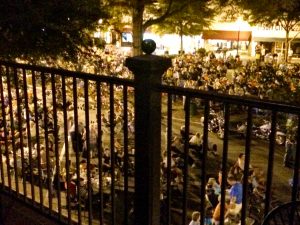 The menu changes often, and is always consistent on quality. It's not overly priced, perfect for a date, after a bike ride, a party, a night out, families; basically any occasion, therefore the massive appeal. One of the most craved dishes is the unstuffed chicken, layered with spinach & goat cheese, smothered with lemon butter sauce and a side of roasted red pepper couscous: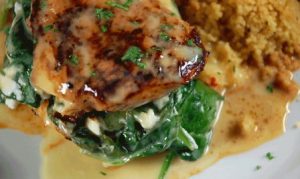 Thai shrimp taco to start off, delicious salads, burgers/sandwiches, filet with high cotton topping, macaroni and cheese, herb crusted double cut pork chop, and salads are some of their most popular menu items. Save room for their array of desserts, too.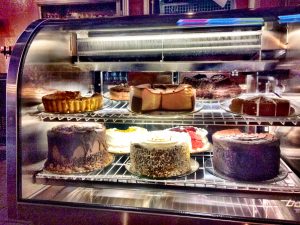 MaBella's Italian Restaurant is in the old two-story building of "Southern Belle", a phone company, which influenced the name and the old phone decor,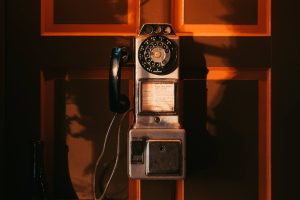 plus the name is an ode to Tom Jones' mother, Martha Kay Jones, who taught him everything she knew as the owner/head chef at Villa Nova Italian Restaurant. On that note we will start with the finishing touches, the quintessential Mabella's dessert: Mama Kay's Cheesecake (it even has it's own mural on the building)
with strawberries and whipped cream. I can swear to you I never liked cheesecake, until I tried this secret family recipe.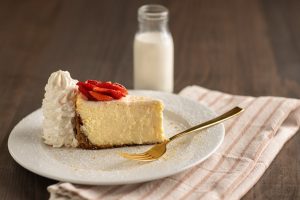 Somehow this place feels like a secret passageway taking you back to Sinatra's New York City, the architecture/facade is one of the most unique in the city,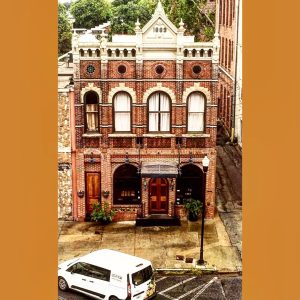 the ambience is extremely intimate, sexy low lighting, and has the most photogenic alley in Columbus. It was even used in a feature film!
For entrees, they are classically known for steaks and pastas.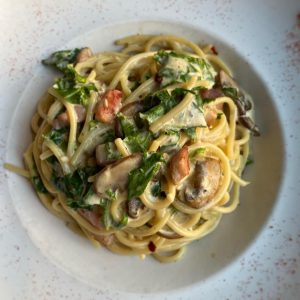 My personal favorite is the wild mushroom ravioli in gorgonzola cheese sauce with a grilled 4oz petite filet, and I'll admit I rarely order anything else. It comes with a classic caesar salad with their chopped romaine hearts, wood grilled croutons, parmesan cheese, cracked pepper, creamy caesar dressing and the some of the best toasted garlic bread in town. Other fan favorites include, grilled chicken marsala served with Coleman organic chicken breast, roasted garlic mashed potatoes, grilled asparagus, marsala and cremini mushroom sauce, herb crusted salmon served with roasted root vegetables, sautéed Swiss chard, orange gastrique or spicy strozzapreti with sliced grilled chicken, hot Italian sausage, Swiss chard, Calabrian pepper, olive oil, garlic, white wine, and parmesan cheese.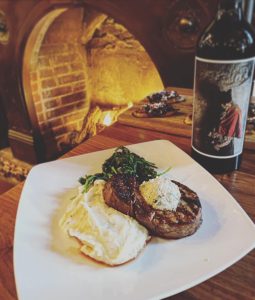 The starters are a huge hit too, PEI mussels seasoned with house made Italian sausage, fresh basil, garlic, peppadew peppers, steamed in roasted tomato white wine broth, fried calamari, artichokes, pepperoni, tomato sauce, or just go for the gold and order the pan fried provolone cheese with fresh garlic, oregano, evoo, grilled Italian bread.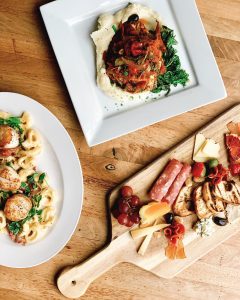 It's number one on TripAdvisor for a reason- but if you want to hide out, go sit upstairs at the small bar.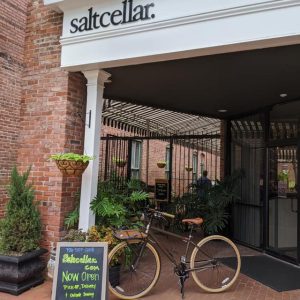 On 1st Ave, across from the Historic Springer Opera House and perfect for pre or post show, Saltcellar brings us a contemporary take on fresh seafood, clean eats, and delectable desserts in a beautiful atmosphere. The desserts are such a hit (especially all the various cheesecakes) they opened Sugarpeddler during the pandemic for dessert delivery (look out for a permanent spot coming soon).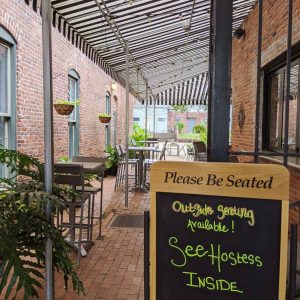 The stripped awnings, the open bar windows and the food give you a beach vibe on the outside alley, or over look the courtyard where stunning plants surround you, both feature a unique view of Columbus with beautiful bricks at your feet.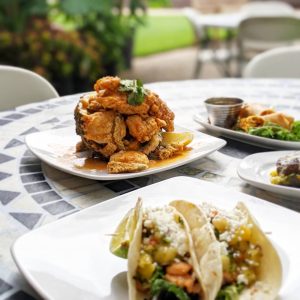 Saltcellar is known for their fresh seafood, with their grouper and brussel sprouts being a fan favorite, and if you like small eats their trio is always great for sharing (or as a meal). The trio varies daily for freshness but my favorite trifecta is the steak tips, scallops and egg rolls or oysters! I've often ordered 3-5 trios in one setting with groups because they are finished indulgently-quickly, and I finally devour the last one when everyone else has their entrees. Lastly, a lot of places make scallops rubber-y and I don't eat it because of the texture alone BUT Saltcellar is one of the places I will eat scallops.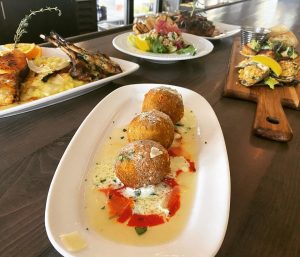 "Amazing food. Grouper with lemon butter and Brussels is my go to. Dessert is a must..The sweet potato cheesecake was amazing just like every other cheesecake I've had here!" Angela Grantham Griffin
The layout of Buckhead is unique, with several separate areas, each exuding a different vibe. Buckhead has a metropolitan atmosphere, yet tucked away in a patch of woods in the middle of our town. Buckhead is a favorite Sunday brunch spot (when We wrote this article indulging in Sunday brunch was a treat since many upscale eateries used to be closed on Sundays or didn't offer brunch).
Their produce, beef, poultry and fish come from farms, ranches and fisheries guided by the principles of sustainability. There are several culinary options, including a specific vegan and gluten-free menu. Try their Mountain River Wapiti Elk Rack (best medium rare) with / lb. red wine veal reduction, or shrimp & gouda grits with heirloom tomatoes, smoked sausage and cajun red grouper. Any steak is delicious, as they pride themselves on being a steakhouse.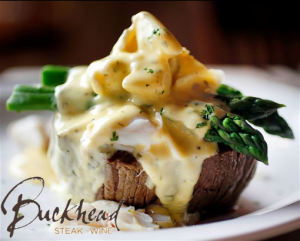 Buckhead is a outstanding place for a romantic dinner, or intimate to mid-sized party. I've taken several big city folks to Buckhead during their stay in Columbus, and they've all been impressed with the distinguished food and ambience.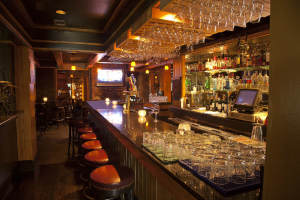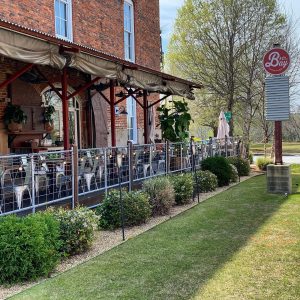 We love this southern table restaurant that is all about location, location, location! Located on 11th and Bay (hence the name) across from the zip-line, playground, and beside Banks Food Hall- right off the revitalized river.
The menu is not large, but they've excelled in making the simplest meal excellent. The salmon is the best I've had in town and it's name, "AIN'T NO SALMON LIKE THIS SALMON", fits perfectly. It includes grilled salmon, horseradish breadcrumb, lemon aioli, house garlic, black rice risotto (sublime), and seasonal vegetable.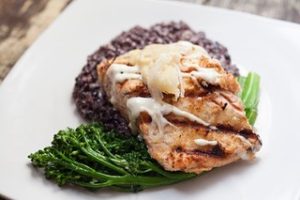 If they don't have their salmon, I make it a smoked night, and enjoy their smoked oysters, smoked wings, and smoked Old Fashion on my favorite patio to watch the sunset!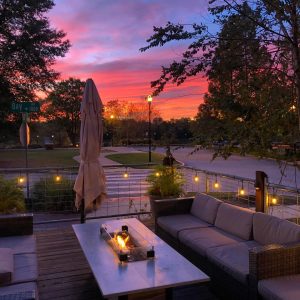 11th and Bay has an incredible, laid back environment, where even the waiters are wearing Chuck Taylors. There is a fresh, new buzz but it feels as though we may be high on it for a while. (
Josh Becker wrote a full review, here
).
If you are looking for the best sushi and/or hibachi in town, doors open at 5pm, 7 days a week. Mikata uses the best grade fish, meat and poultry, making it a step above local competition. From the spicy tuna tartare, to the lobster, filet hibachi and fresh salmon with the best fried rice in town, there is something for everyone. I don't even like rice, but this is the only place I eat it on my sushi rolls or hibachi- who doesn't like an fantastic fried rice?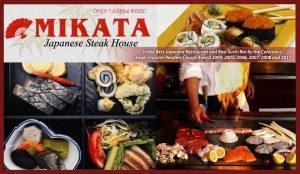 Upon arriving, you will often be greeted by the owner himself, Sun tu Kim (who also opened Poke Sun at Banks Food Hall). He takes pride in the quality and presentation of the dishes, as well as the cleanliness and relaxing ambiance throughout his establishment. Sit at the alluring main bar, sushi bar, the side bar, or enjoy an exciting, culinary experience at the entertaining, hibachi grills. Kids love it! The hibachi grills are also a great way to meet new people and relish your dinner with new found friends.
Ask JK, the sushi chef, about a Jacy Roll- which is a spin off of the Mikata Special Roll- and tell them I sent you.
Conveniently located across from the Doubletree hotel, it's the perfect place to slip in while here on business. One business man from South Carolina states on Yelp, "I have been to a lot of
hibachi
places all over the southeast, and this is by far the best I have ever had."
Native, Chef Bryant Walker had a vision for 15 years to transform the essence of southern cooking with his New South cuisine at the Wicked Hen Restaurant, and he nailed it!
Walker was born and raised here, then worked as a line cook at the Last Resort Grill in Athens, Georgia (one my fav restaurants in the world) and found his passion for food. He enrolled in culinary school at The Art Institute in Denver, Colorado, working at Zengo as a sushi chef and line cook at night for 2 years, while assisting in opening the restaurant Nine75 (all this influenced his unique cooking, like this FILET OF RIBEYE OSCAR WITH SOFTSHELL CRAB they've served).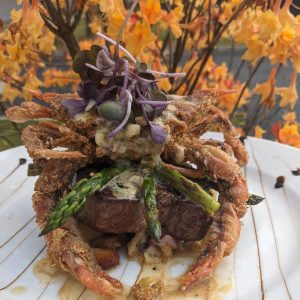 Once he graduated, he decided to move back home and began working at Green Island Country Club for 10 years before creating his dream in 2015: modern technique and fresh, natural regional fare, recreating the bounty of the surrounding area and redefining traditional Southern cooking.
They serve brunch/lunch Tuesday – Sunday 11 AM-2 PM,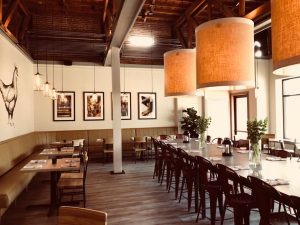 and whenever I go during the day it feels like such a special treat of quality that should be reserved for after 5PM.
Their dinner hours are Tuesday-Thursday 5-9PM, Friday-Saturday 5-10PM and you can enjoy their delicious open face short rib sandwich (pic below) on their beautiful patio, too.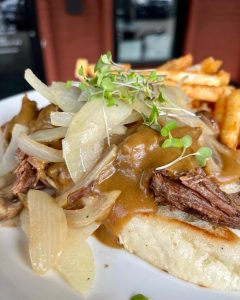 ​The upstairs lounge area opens Tuesday-Saturday at 3 PM, enjoy their beautiful bar inside upstairs with great cocktails, too.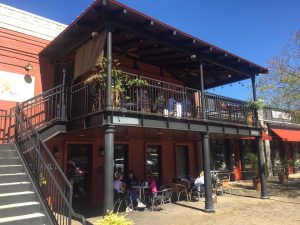 Their specials and fish are absolutely phenomenally fresh, as well.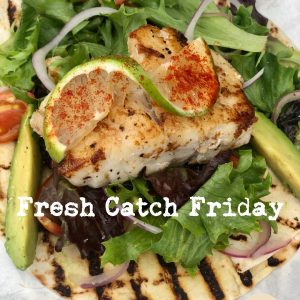 Bryant did so well in Midtown that he expanded to Uptown with a second location in 2019.
A really cool concept, especially since the building used to be an old bank, "Stock" represents the meat from the stock yard while "Market" stands for the fish served located at 1232 Broadway.
It is creative fine dining with a fresh spin on Surf + Turf, offering quality ingredients, and featuring the best of the Stock Yard and Fish Market. Led by Proprietor, Bryant Walker,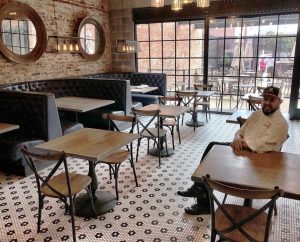 and Executive Chef, Justin Knox, in the most gorgeous restaurant in Columbus (shout out to the impeccable renovations by Chris Woodruff at The Cotton Companies).
Enjoy fine dining like this duck breast with white bean cassoulet + fried kale,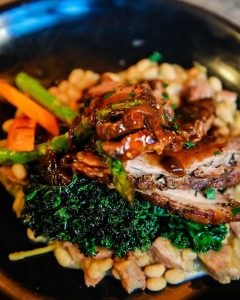 Calamari Linguine,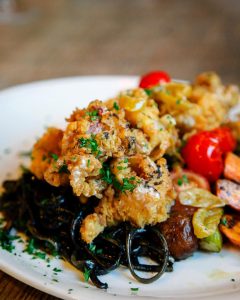 Florida Tilefish with Pesto Risotto, Fried Crawfish, + Peppadew Cream Sauce,
or enjoy the stock and fish perfectly dueling on the same plate!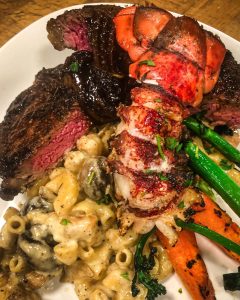 You won't be disappointed by any of their fun craft cocktails, either.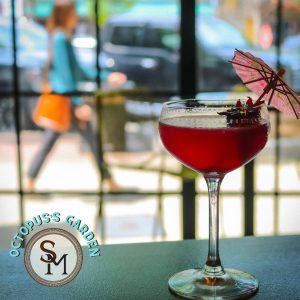 There is something for everyone, while enjoying the gorgeous view.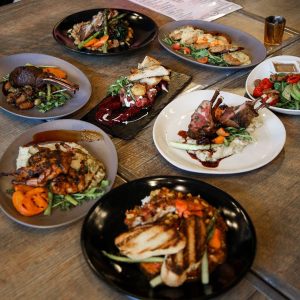 Don't forget about their incredible brunch, too, on Saturday and Sunday 11AM-2PM.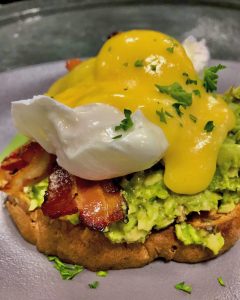 Open Monday-Thursday 4-9PM, Friday 4-10PM, Saturday 11AM-2PM/5-10PM, Sunday 11AM-2PM/5-9PM with a gorgeous outdoor patio.
If you have a hankering for a slice of Italy here in the Deep South, visit what many call Columbus' best kept secret. Caffe Amici is truly hidden in the Harmony Place Plaza, with an authentic atmosphere of dripping candles and quaint, warm tones. It genuinely feels like a spot I popped into in Florence, Italy and had the best meal of my life- this place has survived in this spot and with little marketing because of it's caliber!
Order a bottle of vino, while savoring the fresh bread and herbed olive oil, as you anticipate an entrée like their marinated and grilled magic mahi-mahi, served with spinach and prosciutto frittata.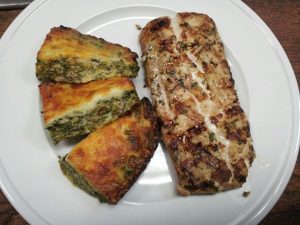 Herbivores will absolutely love the vegetarian section, with dishes like the primavera- a plethora of sautéed vegetables. Carnivores will love pollo saltimbocca as it "jumps in your mouth". Polish it off with the homemade creme brûlée!
Everyone loves a local story of hard working folks who rise to the top: Trevioli Artisan Pasta Company was started in 2013 by Trevor and Brandi Morris, located in a 600 sq ft. warehouse unit in North Columbus (first review here). It was one of the best kept secrets in town (for a while).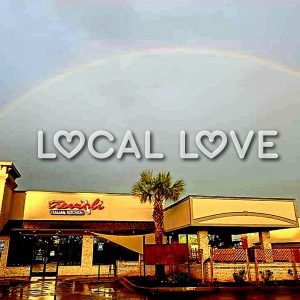 The demand for their product grew, and they needed more space, so they expanded to the next storage unit to finally allow dine-in seating. In 2017, they moved to a bigger location at 7466 Blackmon Rd Suite D, Columbus, GA 31909.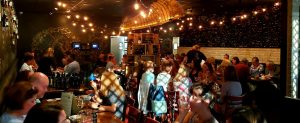 Trevor captivated us all when we tasted his homemade, artisan pasta!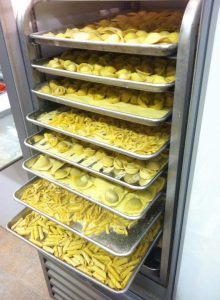 When every review raves about kicking off with the best lobster puffs or bisque, the most incredible pasta entree they've ever eaten (like this lobster mac and cheese),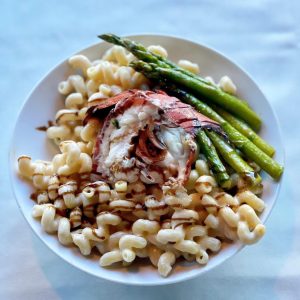 amazing specials (like trout with parmesan risotto), and divine desserts
(like this mini chocolate peanut butter cake)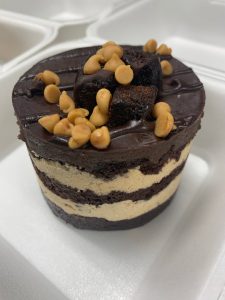 then you receive a 4.8 out of 5 based on the opinion of 509 people even on Facebook!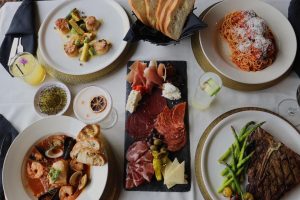 Another eclectic detail, reminiscent of the first warehouse space, is that Trevor himself hand painted the octopuses on the intimate, black walls of this restaurant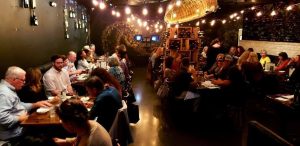 and in the newest addition of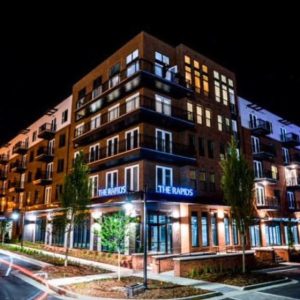 In the middle of a pandemic, the second location was opened in July of 2020; we all couldn't wait and ate outside, or piled in to eat inside the new, gorgeous space steps away from the river. Even the wood panels are thematic waves in the bar area.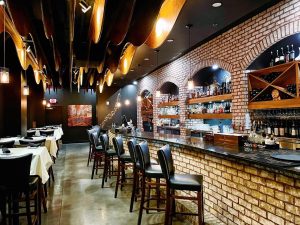 You don't even need to spend a lot to enjoy one of my favorite meals by them: pizza. Homemade dough, fresh mozzarella- it's perfect and only $10 for a pepperoni 10 inch- at the most elegant place to eat pizza in Columbus. They offer variety as well, like buffalo chicken, BBQ chicken & bacon, or pear, along with our classics like the Tuscan white or supreme.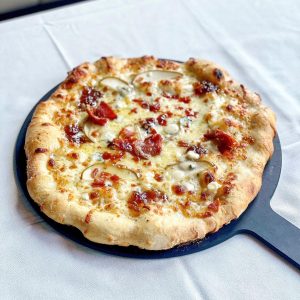 This crew is creative and quirky, too, always coming up with trendy treats like this Halloween sweet: "Chocolate ganache Devil's food cake, blood orange curd, salted caramel gelato, and candied walnuts",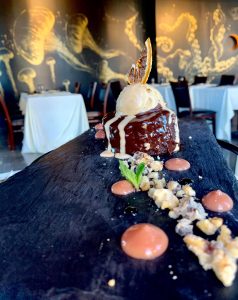 with alternating drink specials like $6 well margaritas, or try their rosehip margarita,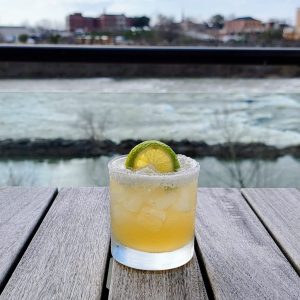 happy hour Tuesday- Friday, 5-7PM, and live music Friday/Saturday,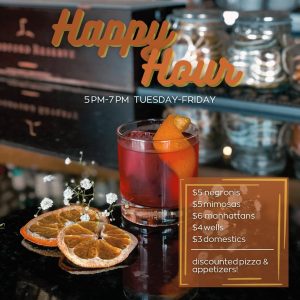 you will not be disappointed by the atmosphere, experience or food.
If you want to order fancy, relish their fresh-made tortellini with ricotta, spinach & mushroom topped with brown butter, pine nuts & sage,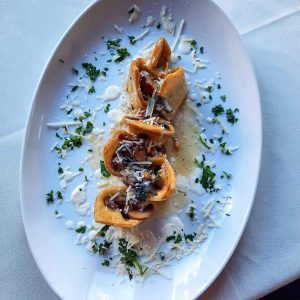 their roasted chicken topped with mozzarella & mushroom gremolata with spinach & bacon on a bed of fontina & shallot risotto,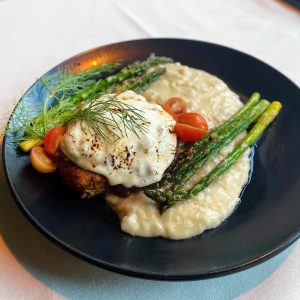 or keep it southern with a creamy bed of fontina polenta topped with sautéed shrimp, mushrooms & bacon in a demi-glace!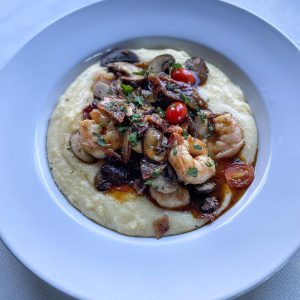 The latest and coolest addition to our local food scene was created in The Fall of 2021, brought to you by Columbus native Hudson Terrell.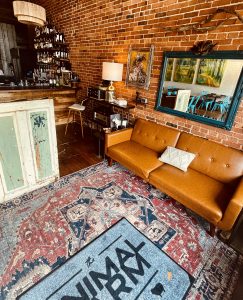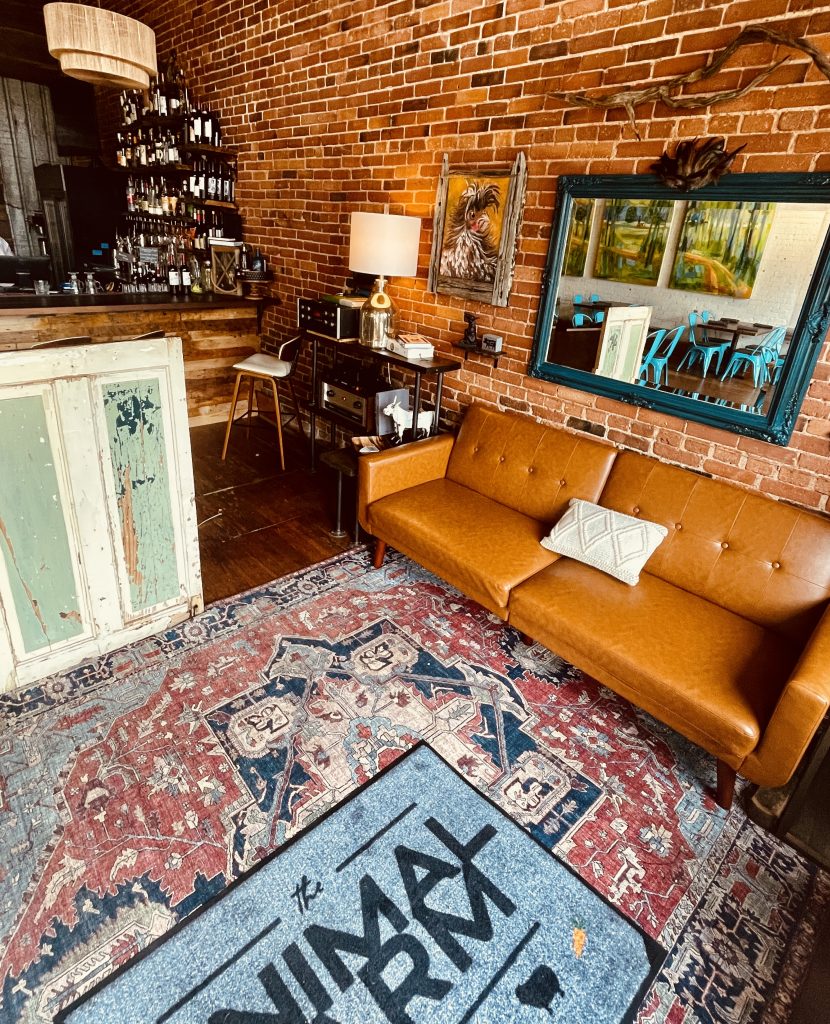 "A neighborhood restaurant in downtown Columbus, GA focusing on house butchered meats and seasonal local produce from our farmer friends. We are also very passionate about our wine and craft cocktail program," Animal Farm
Their witty menu changes often, while serving lunch/dinner everyday but Monday and brunch on the weekends. One of the best dishes I've ever had in my life was from here: duck & mushroom toast with butter toasted sourdough, griddled king trumpet, alba, & hen of the woods mushrooms, creme fraiche and porcini veal glace.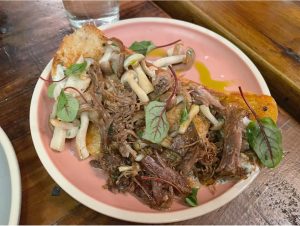 An app favorite is their perfectly baked french puffed pastry, connecuh sausage, maple-mustard aioli, blackberry conserva or their deviled eggs with dijon, chopped pickled vegetables, sweet paprika, everything bagel seasoning, and fried bacon. 
Combined with their excellent drinks, you will need to save room for their phenomenal entrees like this Berkshire pork shank slow braised til' succulent, heirloom speckled grits, fresh thyme, boursin cheese, pickled okra, and pako gremolata!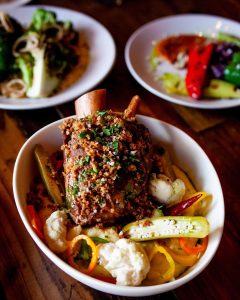 Enjoy their beautiful and private courtyard patio seating, too.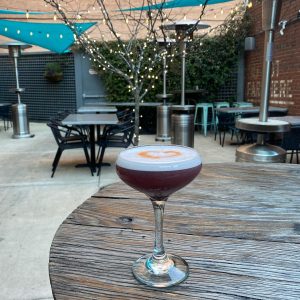 Every dish is artisan culinary work and sometimes combines flavors you may have not even liked before trying their rendition. If you need a lighter meal, try something like their local shrimp & fennel fettuccini with house made pasta, fennel & onion soubise, multiple forms of fennel, house lemon & saffron ricotta.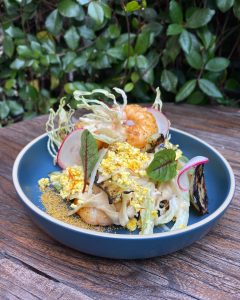 *MORE "Best Local, Upscale Restaurants in Columbus, GA" BEING FEATURED, SOON*
Written by Jacy Jenkins
Photos: Epic photo by
Sara Monty Photography
, Jacy Jenkins, John Pyle, Jessica Jones, Jonathan Giles, and social media/websites linked to each place (please let us know if your picture is included and we will give you photo credit 🙂