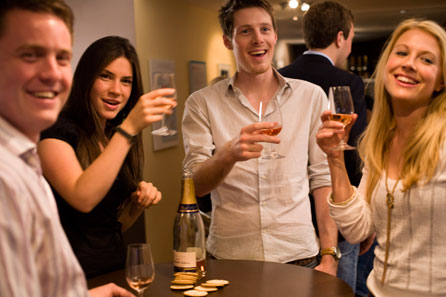 It's Wednesday night, and you're meeting up with friends for drinks. It's just what you do, and what you've been doing since you finally turned 21 (and, let's be honest, probably before that). You go to the same bars, see the same faces, and order the same drink. If you're a big fan of Cheers, this might sound fantastic, but for the rest of us, we might not want to be the next Norm throwing beers back on the same stool for the next 20 years. It is time for something a little different, a little classier, and a little more entertaining.
In Columbus, there is a growing wine-tasting scene, and it's not just for the silver-spooned,  society darlings. So what do you need to know before you head out to one of the wine tasting hotspots? Here is a quick breakdown of the typical wine tasting.
Wine tastings are hosted by a sommelier. This is a fancy term for a wine expert, and they really know their stuff. This will be the person pouring your drinks. Ask this person all the questions swimming in your wine soaked brain, because they have the answers and want to share their knowledge.
Plan to try anywhere between three to six wines depending on the venue. Your sommelier will likely tell you where this wine was made, what makes it have certain flavors, and what you should notice when you taste the wine.
Don't just drink your glass on down. At least for your first couple sips you'll want to tilt, swirl, and sip the wine to really have the whole experience. Plus, it makes you look like an expert. Here is a step-by-step guide for tasting. After you have that first taste expertly swished and swirled, by all means, bottoms up! If you don't want to drink the whole glass, you'll likely notice a second empty glass into which you can pour your unwanted wine (what is unwanted wine?!).
There will usually be foods paired with wines. Don't skip this part. It's not just about the wines, but also about what foods go with them. Take note, so at your next fancy party you'll look extra posh when you serve the right food with the right wines.
Now that you have all this knowledge, you need to know where to go. Here is a list of the best recurring wine tastings in Columbus.
If you haven't been here yet, use the wine tasting as an excuse to indulge in some seriously delicious food. Ben holds wine events every second Wednesday at 7pm (grab your calendar, count it out and there will be one tonight 12/3). For $20 you'll try six wines paired with two appetizers, all while being serenaded with live music.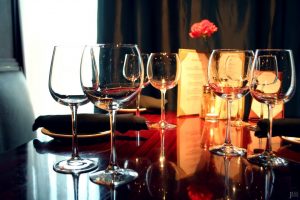 This place is everything I love under one roof. They have artisan chocolates, pastries, unique lattes, tasty food, and wine, of course.
They hold wine tastings every other Wednesday at 7 pm. Call and reserve your spot, because seating is limited. P.S. They have a wine club you can join for discounts. Do that.
Meritage is a wine bar, and it is really quite fabulous.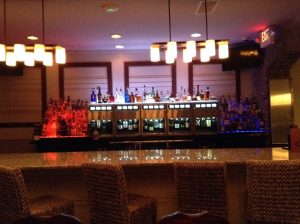 Their wine tastings usually have a theme, and are always different. Follow Meritage on Facebook, as they usually create an event for their tastings well in advance.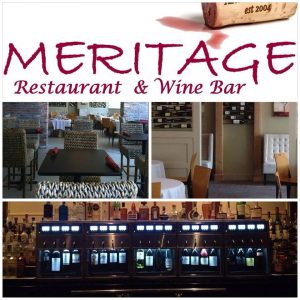 If you haven't made it by Lakeside Village shopping area, off JR Allen Parkway next to LV Apartments, then you are missing out on great food, salons, and this fun, bar and grill. They have karaoke, live music and more, but something really unique they host is "Wine & Align".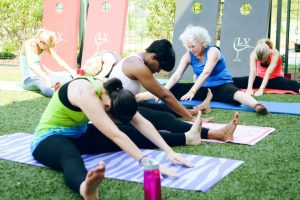 "Wine & Align" is the first Wednesday of every month, 5:30-7pm. Twenty-five dollars includes a 1 hour yoga class followed by a wine tasting!
Quarterly, Ride On Bikes has an event called Wine and Wheels for Women. I have enough trouble riding a bike sober, so I made sure you don't actually have to ride one to attend. This tasting is only 3 bucks, and it's loads of fun with prizes and surprises.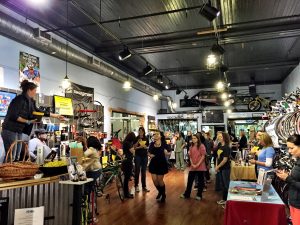 Mediterranean pairings, like hummus, olives, and pita are generally served at this low-key yet elegant restaurant. They've held wine tasting in the past, but it's been a couple of months. It is best to call and ask when it will be, as it is often not publicized.
You know where to go, you know what to do. With so many different places to taste wines, you can tour our beautiful city as a classier, tipsier version of yourself. After all, you're sure to become an expert after a month or two on the wine tasting circuit.
Know of any other great wine tasting events in our area? Let us know! We will see you there!
Written by Courtney Francesca
Pictures by: www.hopewellwinetasting.com, www.southwest-wine-guide.com, Jessica Jones, designyourlifeblog.blogspot.com, Jacy Jenkins, Bitter Brick, Ben's Chophouse, Meritage.