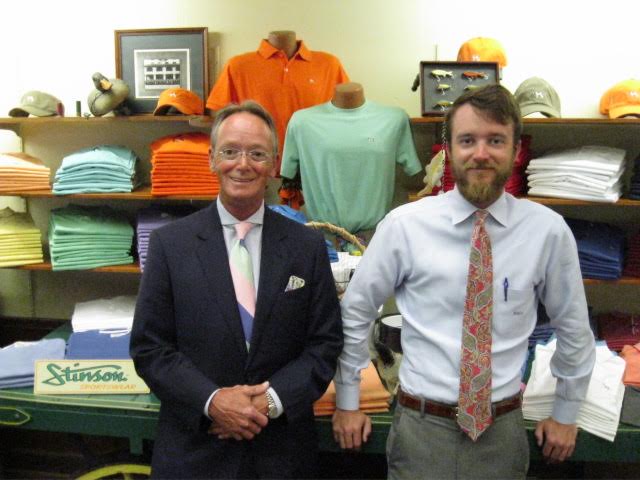 Written by Alia Teetshorn
I'm not sure if all our readers know that Chancellor's Men's Store has been open in the same location since 1873.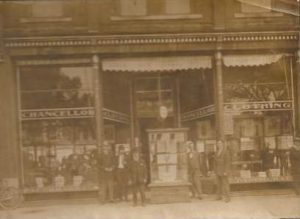 It is truly a Columbus institution, if there ever was one!  
ECL got to talk to Roger Stinson Jr., whose family has owned the store for close to ten years, and discussed what it is like to work in the family business as father and son with his dad, Roger Stinson Sr.
Roger Stinson Jr.: Giving a history of such an old company is no easy task.  I could write a book of all the little stories I've heard about the store over the years, but I'll try to keep this brief. Mr. A.C. Chancellor left his home in Chancellorsville, VA, after one of the Civil War's bloodiest battles left his "town" in shambles. Stonewall Jackson was shot by one of his own men in that very battle.  Mr. Chancellor headed south to avoid the Union army, and he ended up in Columbus, GA.

He started out as the bookkeeper at a clothing store called Thornton and Acee.  In 1873, A.C. Chancellor purchased the company. It has been Chancellor's ever since. The store remained in the Chancellor family until 2005. The Chancellors had connections with another important General: George S. Patton. Edgar Chancellor Sr. (son of A.C. Chancellor, the store's founder) had befriended Patton while he was at Ft. Benning. It is pretty awesome that General Patton once frequented the store. Due to that relationship, Chancellor's obtained the contract to make uniforms for soldiers during World War II. My dad worked in the store for Edgar Chancellor III since 1987, and he was able to purchase the store in 2007.
What can you get for Dad or Grandad at Chancellor's that you can't get anywhere else in Columbus?
R: Our store brand called Stinson, can only be found at Chancellor's. It has been one of our best-selling lines since it started in 2009.  The logo is our German Shorthair Pointer named Sam. He is actually at home in the back yard right now. 

We have short-sleeved and long-sleeved button-ups, knit shirts, tee shirts, pants, shorts, and hats. Also, we have a great selection of unique bowties. Oh, and we're fully stocked in YETI coolers, cups, and bottles in all shapes and sizes.  Chancellor's is the only store in Columbus that carries Peter Millar, Southern Tide, Barbour, Filson, Martin Dingman, and Allen Edmonds, just to name a few. This time of year, we always do well with engraved belt buckles, alligator belts, and several kinds of unique pocket knives. We offer traditional full-cut clothing and sportswear, as well as slimmer modern-fit things.
You must be so proud of your history!  How has carrying on a legacy, like Chancellor's, affected the way you interact as a family? 
R: Chancellor's has had to adapt quite a bit over the years. For example, men do not wear suits like they did 20 years ago. Many companies have gone to casual work clothes. In turn, we've had to carry more casual sportswear and less suits and sportcoats.

We certainly feel honored to be able to carry on the legacy of such a great store and a great piece of our community. Chancellor's has always taken pride in offering superior quality and service. With little touches like the 8oz Coca-Colas in the glass bottles, the shoeshines, the on-site alterations, the hand-written tickets, and the personal service, we try to keep things old school. Dad doesn't believe in shortcuts.

In 2009, my dad wanted to get me involved in the business. Still a teenager, at first I was very timid, afraid to answer phones, easily frazzled, and pretty much useless as an employee. I got to stick around, get some on-the-job training, and gain some confidence. I couldn't help but fall in love with the business, and I've been here ever since. Learning the Chancellor's way of doing things has certainly helped me grow as a person. I consider myself extremely lucky to get the chance to work with my dad at such a great store in such a great community.
What has set Chancellor's apart from any other store that keeps you open and successful (and with such a devoted customer base)?
R. We have a good loyal customer base right here in Uptown, and all over the country. If you build a relationship with your customers (learn their sizes and interests, get to know their families, etc.) they are much more likely to come back. We want to build relationships and earn repeat business.
What are some classic, Southern, summer items that never go out of style?
R: Bright colors always sell in the hot southern spring and summer. Those bright colors really slap you in the face as soon as you walk in our door. Seersucker or linen, often paired with a bright bowtie, are southern summer classics that will never go out of style.
Chancellor's
1108 Broadway
Columbus, GA 31901
706-322-8819