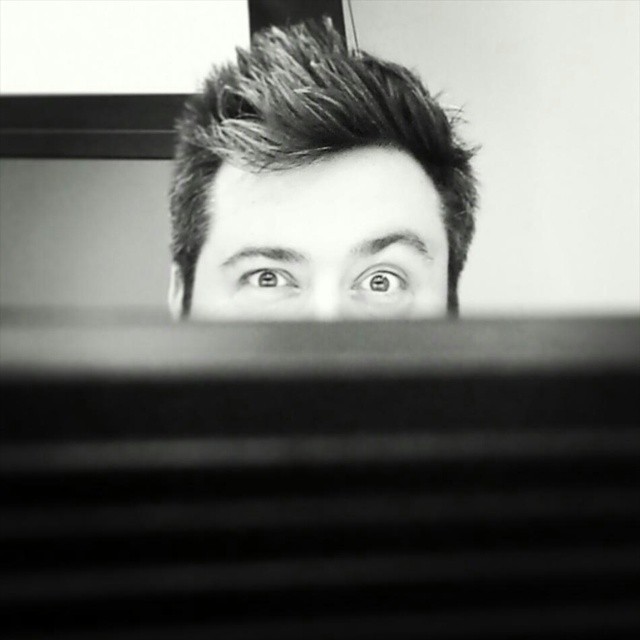 We could write a book on everything under the umbrella of Lucas
Shaffer; even turn it into a series, considering all the businesses
he has started and continues to operate.
What is even more significant than the details of his many endeavors, is the intent and origin of his creations.
"It's the feeling of being an outsider that keeps me here. I've
decided to stay in Columbus, Georgia because our community's potential
energy is going to waste and I can see it happening right in front of
me. Plus, I have an enormous aversion for similar.
I grew up here and spent many years wondering, if a kid who grew up
playing video games and following varying curiosities, would ever
really do anything worth doing at all. I believe many people share
this milestone in life. We are all becoming more aware of it. It's now
turning into a growing responsibility to make something happen that is
unique and strong.
My journey through Georgia over the past year has taught me that our
town, the electric city, is running last in a series of technology
categories across the state, and ultimately the entire US. We're not
submitting to state level STEM programs.
We host a regional robotics competition that has low participation from our area schools. We're too busy focusing on 'big business' economic development, that we're not doing enough to keep young, creative technologists in the area to 'start' small, innovative companies that reflect the brilliant culture we have here.
I knew in 2010 that if I was going to stay here, I would need to
change the way people thought about a lot of 'things', including
technology and entrepreneurship. The effort would be tremendous but
I'd have to follow my gut and proactively educate our community, while
creating an awareness platform to start sending our beacon out.
It's hard to explain, but let me start here.
How many of us have kept up with our friends from college? Where are
they? Did they grow up here? Do they have jobs…somewhere else?
What happens to a community when we raise, educate, and train our
future technologists (a person who implements technology in their
life, work or business) at an amazing Computer Science department at
Columbus State University…and let them leave?
A better question might be, where are our 25-45 year old young
professionals that have a technology based degree? It's easy. They're
in the Bay Area, Seattle, Atlanta, Chattanooga and Austin, doing well
and providing their expertise and knowledge to other cities. At least
that's where all my college friends and colleagues I grew up with have
left and gone to.
Our technology training ground at CSU is pilfered by our stronghold
commerce titans, leaving the city organizations and small businesses
to scrounge for talent among minimal resources.
Imagine programs like ICAPP at TSYS, built in the late 80's, with the intent to introduce non-technical people to technical jobs. Now imagine what they are experiencing over the course of 20 years: the need for a windfall of computer scientists in our area.
They push along the incessant need to fill the ranks, while
supporting our local university with a purported stipend that is meant to
foster creative talent, but controls curriculum and direction of our creative
skills.
For two decades, these overwhelming needs have filled
glass-ceiling tech jobs at a Fortune 500 company. This serves a
predictable supply and demand model, instead of effectively channeling
our talent coming out of CSU.
There was a saying shortly after I graduated, that doing a "3 to 5"
(years) at a local company was enough to go anywhere in the world.
While it's a great blue chip resume item, it's essentially a packing
slip that has been shipping off our local, creative technologists for
the past two decades.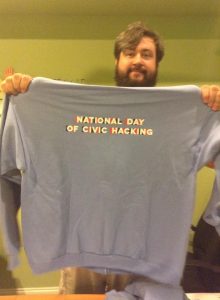 And here we are today.
While I am one of those kids mentioned above, I chose a different
route. In 2010, I started helping Columbus businesses, our city, and
other organizations bridge the chasm that is necessary for any venture
to survive the new Digital Economy.
This journey has only been made possible through supportive friends, teammates and advocates, and we've made it through a very rough climate. Fortunately, we've been
able to help 400 businesses, and start some of our own.
In January 2014, we founded Hack Columbus.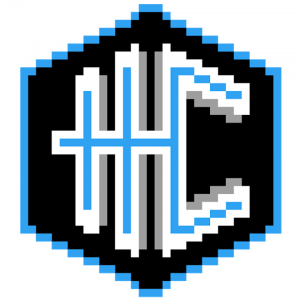 I was able to travel across the state and make some amazing connections in Augusta. I attended a very special hackathon, which changed my path entirely. A few creative technologists, including myself, banded together and started holding
similar events.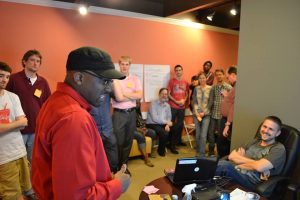 We now have hackers, makers, programmers, graphic
artists, musicians, and anyone who uses technology to express  their
art at a meeting held every first Friday of the month.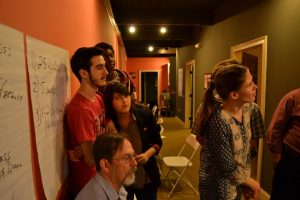 This event is a time to socialize, eat, drink, work on projects, and have a good time.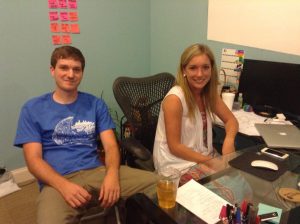 More importantly, Hack Columbus started shining a beacon out to
Columbus, providing resources and opportunity to attract creatives to
express their talents, and are given a moment to recognize that we are
creating a nurturing experience.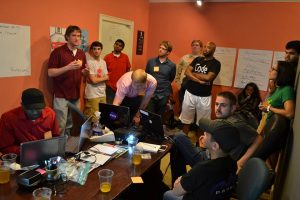 It's even available for those video-game-playing, artistic-software-writing makers who just want to do amazing things.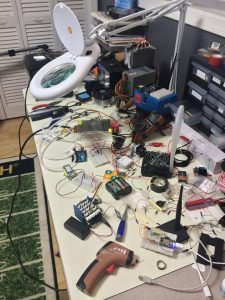 Hack Columbus is working on educational, large multi-city hackathons for kids, like the recent 'Hack The Library' event.
We want to continue to foster more options for our city to keep talented people in our area, including a startup culture and makerspace.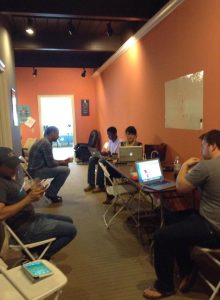 It wasn't too long before Hack Columbus matched the timing with the
Community Foundation of the Chattahoochee Valley to support innovation
around the globe, and helped fund our flagship event.
We are very excited about the future with our local resources, as the CFCV brings
millions of dollars into our community to help alleviate economic
pressure for many things.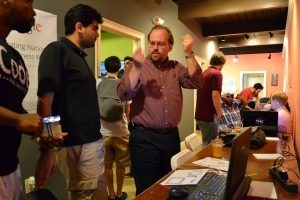 On top of aligning our efforts with the Knight Foundation, I've been
selected to be a TEDx Speaker at TEDxAugusta to speak openly and
fervently about the topics in this message above. Come visit Augusta, buy a lot of tickets, and hear me speak in depth about what it takes to 'hack the middle class'.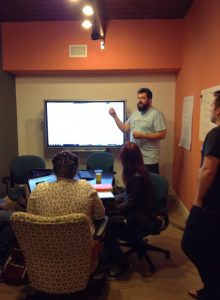 I'm proud to say that I am from Columbus Georgia…and I'm not going anywhere."
Hack Columbus is an amazing place to connect and challenge your
technological interests.  Join the movement every first
Friday, at Stand and Stretch, from 5pm-9pm.
Written by Lucas Shaffer
Forward/Closing by Cora King
Photos provided by #HackColumbus