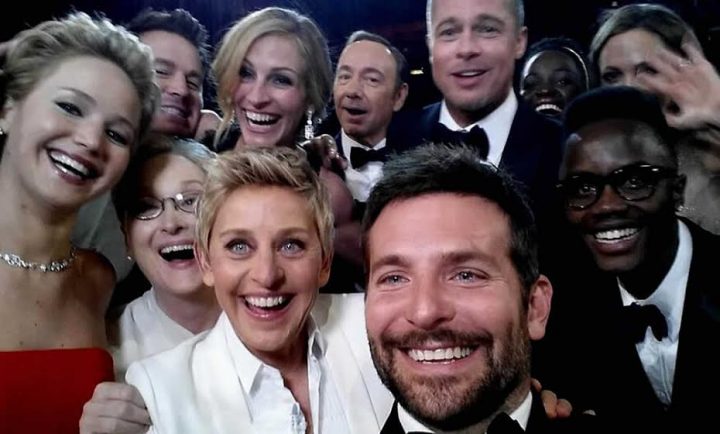 As an entertainment writer and critic, I watch more television than I'd like to admit (after all, I want you to take me seriously as a human); I watch all the movies in the Best Picture category; I spend far too much time with social media; I listen to podcasts, music, interviews, radio shows; and I read a dozen magazines a month. I'm a busy girl, but it's worth it to see what everyone likes (and hates). In order to know folks you have to know what they love, and  2014 taught me a lot about that. Now that 2014 has narrowed to a few remaining moments, it is this critic's instinct to reflect back on the year and celebrate what made it great.
2014 was the year of Social Awareness. It doesn't take much digging to uncover what a wonderful world we really do live in. Look to the ALS Bucket Challenge phenomenon this summer. Everybody got in on it, and it made a real difference to the ALS cause. Shortly after the ugliness in Ferguson, the hashtag #BlackLivesMatter popped up and young people across the country exercised their civic privilege to protest. The feminist movement, as well, got a rebrand as young Hollywood came out newly minted feminists: Lena Dunham, Shailene Woodley, and  Taylor Swift all spoke out in support of gender equality. Hell, Emma Watson was voted top feminist celebrity by the Ms Foundation. This year was a big year for doing something.
TAYLOR SWIFT'S ICE BUCKET CHALLENGE:
This year also saw a lot of big, fat celebrity Weddings. 2014 kicked off with the Grammy's hosting a wedding of 34 straight and same sex couples, officiated by Queen Latifah. That set the wedding tone for the year because 2014 also saw Kim Kardashian and Kanye West get married in what was the most hyped nuptials of all time. Their wedding pic is the most 'liked' Instagram ever, tallying 2.4 million and counting.
Brad Pitt and Angelina Jolie also got married this year, but they did it in a much more low-key way, whisking away to France to do it quietly. Amal Alamuddin finally made an honest man out of George Clooney in a Venice wedding played out like every little girl's wedding fantasy. Everybody loves a fairytale wedding.
Everybody also loves a good Booty, so lucky for us, they were everywhere this year. Megan Trainor's earworm "All About That Bass" was the song of the summer, Iggy Azalea and Jennifer Lopez took a much more direct approach with their single "Booty," and Nicki Minaj's much anticipated "Anaconda" came close to breaking YouTube. Never one to be outdone, Kim Kardashian broke the Internet with her Paper magazine cover that folks are still talking about today. I've never felt so good about my backyard, as I have in 2014.
2014 is the year of sad, heart-breaking Television Series Finales. This year we said farewell to Breaking Bad, Sons of Anarchy,  Boardwalk Empire, How I Met Your Mother, and True Blood. Each time one of these beloved shows went off the air it felt like a tiny time capsule, as we looked back over the years. Like it or hate it, the How I Met Your Mother finale really put into perspective what nine years can look like. Breaking Bad single handedly brought the word "anti-hero" back into the cultural lexicon, and fans mourned the end of that that show like a family pet.
Television also saw a lot of shake-up in Latenight. Jay Leno retires, leaving Jimmy Fallon to take the reigns. Remember how skeptical everyone was? Suck it, haters. He is currently killing it every night and is quite possibly the most perfect human on the planet. (Full disclosure: I'm a fan). Now David Letterman retired to make way for Stephen Colbert, and I've got high hopes for Latenight now that Colbert is on the job.
Even though it was added to the Oxford Dictionary in 2013, Selfies had a much better year in 2014. There is the recently cancelled ABC show, Selfie, that was surprisingly good for a show with an incredibly dumb name. Ellen Degeneres took the selfie heard 'round the world at the Oscars this year, and one of the top-selling products this season is the selfie stick. Seriously, it's a thing.
Last, (and maybe best), 2014 was the year of the McConaissance. Matthew McConnaughey was freaking everywhere this year. He won an Oscar for Dallas Buyers Club and was nominated for an Emmy for True Detective. If you haven't seen True Detective, I need you to do so immediately. It is an amazing piece of entertainment and has landed on pretty much everyone's best of list.  He is also in the space epic Interstellar and he set the standard for broody musings in his Lincoln commercial. I won't insult you by inserting a Dazed and Confused quote here, but he truly does keep getting better and better.
Obviously this list is short list and blaringly incomplete. I didn't mention much sports drama like the NFL's scandals or the World Cup. I also didn't really get into the juggernaut that was YA fiction this year. John Green and Katness Everdeen could rule the universe if they wanted to. I also mentioned Kim Kardashian more than I probably should have, but what is a discussion about pop culture without that lady?
What did I miss? What are the most influential moments in pop culture in 2014?
Written by Sundi Rose-Holt, a freelance writer and critic who blogs about pop culture and how it affects our shared identities. She absolutely loves TV and will watch anything once. She is also an English professor who teaches courses in composition, popular culture and Southern culture. These subjects sometimes intersect, much to her delight. She is a contributor for Entertainment Weekly's Community, Indiewire, and Hello Giggles. Find her on Twitter: @sroseholt!
Photos: Kim/Kanye wedding by E! Network, Paper Mag cover by Paper Magazine (Jean-Paul Goude), Breaking Bad by AMC Network, Selfie by Ellen, McCoughney by ABC news