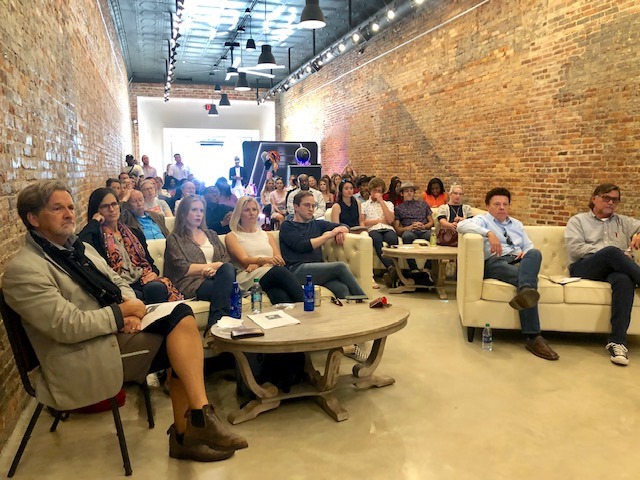 This Wednesday at 5:45-7:30PM, we will host Meeting of the Minds on Diversity & Inclusion at Pop UPtown (1234 Broadway). Join the community in a very important conversation, with a group of incredible panelists: Gail Burgos (Officer of Diversity at TSYS), Norman Hardman (Chair of Mayor's Commission on Unity, Diversity & Prosperity) Carolina Rodriguez (Land Bank Authority), and Austin Sargent (Muddy Water Theatre Project/theater artist and activist), who will help guide the open forum conversation on how we have improved, how we can improve more for our culture, plus how it can make an economic impact and is a talent recruiter/retainer for our businesses. We will also have a timeline on LGBTQIA+ advocacy, rights, and allies around the room. Special thanks to Trip and Teresa Tomlinson for sponsoring this vital conversation! Mr. Ed's on Broadway will be selling beer, wine, & sodas, with powerful networking opportunities before and after.
In partnership with Muddy Water Theatre Project, the timeline and follow-up event on Friday 4-8PM, "A Very HAPPY, Happy Hour" will host an inclusive after work mixer with a cocktail lounge vibe with Nonic serving drinks, special guests WUSSY MAGAZINE will be set up, and The Happy Heart Mirror will have their photo booth set up for both events. Come mix and mingle before the weekend of PRIDE events on Broadway.
LGBTQIA youth contemplate suicide at almost three times the rate of heterosexual youth and are almost five times as likely to have attempted suicide compared to heterosexual youth. I'm trying to be the person I needed at 15 years old. I wanted to die and thought I was going to hell for liking females; it didn't feel like there was a "safe place" to be myself in Columbus, Georgia. We have improved in the last twenty years, but we still do not have a "place" here, deep in the bible belt. This affects our culture, and anyone from the youth struggling with their sexuality, to the new queer AFLAC worker from NYC who doesn't want to stay here because there isn't even a "gay bar". This is why we are doing a follow-up event with a "gay bar" vibe (since there isn't one here) called, " A Very HAPPY, Happy Hour" and a timeline in partnership with Muddy Water Theatre Project to highlight the incredible work done so far from LGBTQIA activism and how we can improve to make our community more inclusive.
"This event is for ALL people. Everyone in our community has an obligation to creating more inclusive spaces. Whether you are a business owner, customer, or advocate, there are things you can do to show all people on LGBTQIA+ spectrum that you are an ally. We should be encouraging all people to make Columbus a place they can stay, rather than a place that forces you out."

Austin Sargent