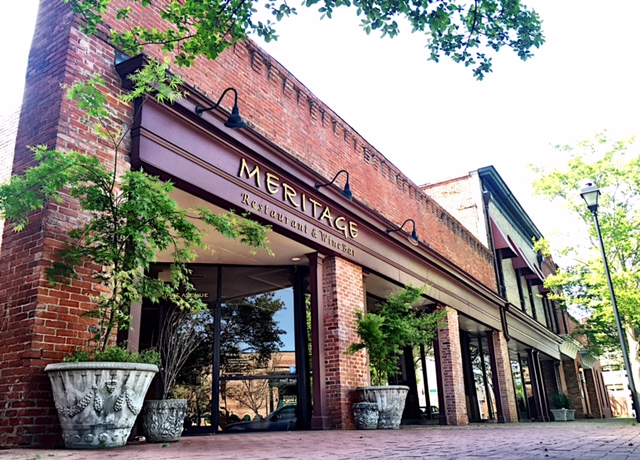 *Written by Alia Teetshorn
The popular Columbus Uptown Restaurant, Meritage, is in its twelfth year of serving quality cuisine with some of the most diverse wine and drink menu offerings in our area. Located just off Broadway, on 1st Avenue across from the new McClure Theater of the Springer Opera House, Meritage has an intimate atmosphere that is simultaneously upscale and casual.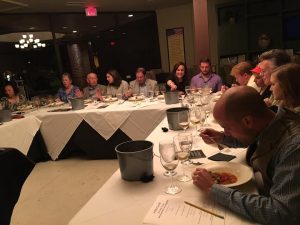 While it is best known as the perfect choice for pre- or post-performance dining, the owner and staff have created a relaxed ambiance, far from stuffy or intimidating.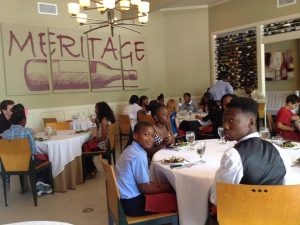 Meritage is several places in one: a gourmet deli at lunch, a traditional special-occasion destination, an expert wine tasting venue, and now boasts a modern, newly redesigned wine lounge.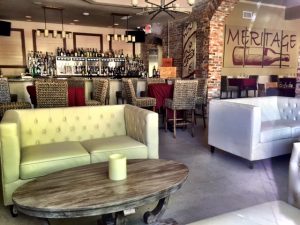 Join friends for a relaxing drink after work, paired with a generously portioned cheese plate or appetizer,
like pimento cheese fritters and crab en-croute, featured here with some more options: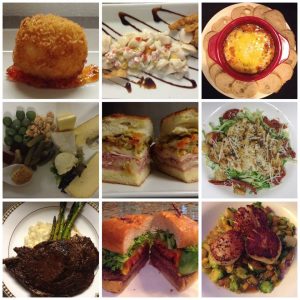 The menu changes with seasonal availability, using local and regional suppliers as much as possible.  This ensures high-quality meals prepared with the freshest ingredients that will keep you coming back for a chance to experience new dishes all the time!  
Their salad was recently featured at the Georgia Organics Conference: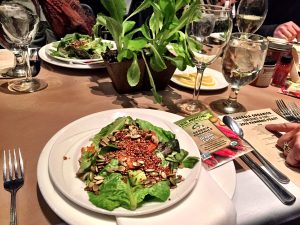 For those that don't know, owner Faye Simmons is a Certified Sommelier; a fine wine and beverage expert. Her revered expertise on tasting, theory, and service offers Columbus a unique, memorable experience. I asked Faye how her interest in wine grew into a passion and a business.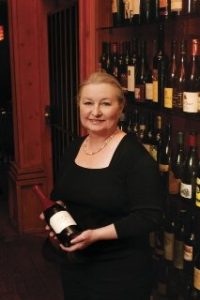 When did you discover your palette was above average and can you tell us a little about your journey to finding this passion?  
"I took a class at Columbus College/CSU continuing education back in the 70's taught by a sales manager with a local distributor.  To my surprise, I was able to discern each wine varietal, white and red. I have always had an elevated sense of smell and that works to my advantage.  My peers tell me that I have a keen nose and palate, but for me it's a never-ending learning experience."  
There are very few female sommeliers in the world.  Can you share how this traditionally male-dominated field of expertise has become more accessible for women and what changes you have seen over the years?  
"I think that more young women are realizing and taking advantage of the opportunity that a career in food and beverage management offers. Since I became involved with the Court of Master Sommeliers in 2009, the number of female Masters in the U.S. has grown slowly, but as more women rise through the levels the numbers will increase."
Can you tell us about some of the special events Meritage offers, in order to share your knowledge and amazing culinary experience with Columbus? 
"We offer tastings that may be driven by a specific topic such as our recent tasting with a local vineyard, Five Points Berries. Other times we offer tastings featuring one of our distributors to share some of their labels. My favorites are the tastings that delve into the subject from an educational but fun approach, such as varietal specific tasting where we break down the typical components that you would expect in a wine—taste and smell those individually and then taste the wine to see if we could then pick up the same components.  A huge success was a food and wine pairing class with published author and winery partner Patricia Rogers. Trish and I met when I had the honor of attending Oregon Pinot Camp in 2014 and her class, "the Zing Thing." I was determined to bring her to Columbus to share her concept, which we did in October 2015. Every day at Meritage can be a tasting as we have pre-determined flights, or you can create your own flight to taste and explore wines of your specific interest."
What are some of your favorite unexpected food and beverage pairings?
"(The) key word here is unexpected…the old school rule of white wine with fish, red wine with meat is out.  All that matters is if it's to your liking. There are pairings that will bring out the best in both the food and wine.  I often pair to the method of preparation and the total dish."  For example:  
Fried Chicken and Champagne
Short Ribs with Monday Night Brewing Drafty Kilt Scottish Ale Clip on Series
Most wines, on the extensive wine list, come in 3 or 6-ounce pours, or you can choose a completely customized wine flight, from the wine bar, to match your taste and interest.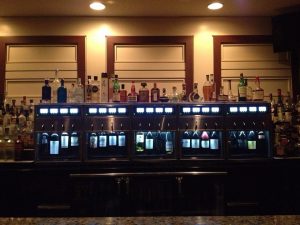 This enables you to find out exactly what you like, especially varietal specific flights–and remember, if you have any unfinished wine in your bottle, the staff at Meritage can cork it and send it home with you to be finished on your sofa!
Meritage houses one of the most impressive bourbon and whiskey menus in the area, and has 22 craft beers available.  Its' seasonal drink menu gets some pretty fab reviews on their Yelp page, with craft cocktails like The Sazerac and Old Fashioned.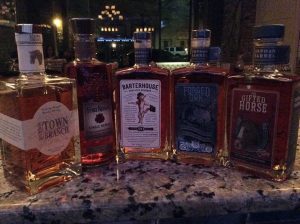 Whether you visit for drinks and appetizers, or a multi-course meal, owner Faye Simmons and her attentive team will make you feel at home, while they share their pristine quality and extensive knowledge!
 
Reservations are currently open for the upcoming tasting events:
April 12: Wine tasting – Gehricke
April 26: Wine tasting- Australian Favorites
May 5: Bourbon and cheese tasting
*Like Meritage, or join the group "Meritage Friends of Food and Wine", on Facebook to stay up-to-date with wine tastings, dinners, special events, and seasonal menu items.
Lunch is served Tuesday – Friday 11:00 a.m. – 2:30 p.m.
Dinner is served Tuesday – Saturday beginning at 5:00 p.m.