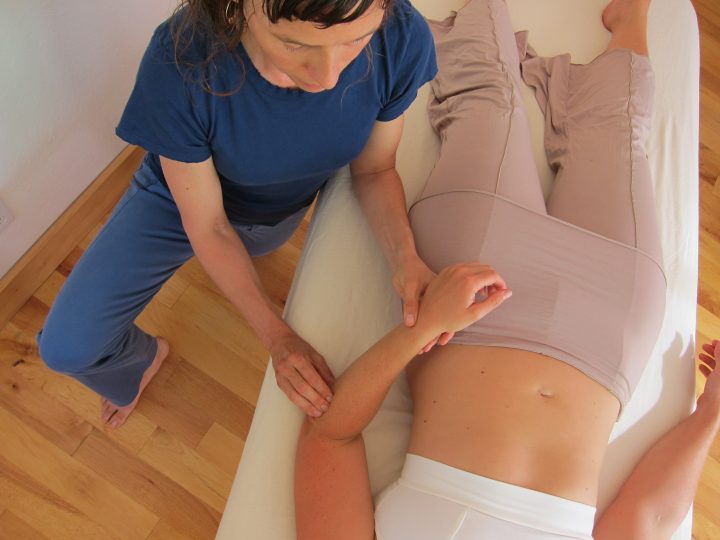 Rolfing® Structural Integration isn't new, but it was to me.
We know massage releases muscle tension through pressure.
We know chiropractic care focuses on spinal manipulation, bone alignment, and joint mobility.
We know acupuncture balances the flow of energy (qi), stimulates nerves, muscles and connective tissue through strategic placement of needles.
But what Rolfing does is completely unique to all of these. Rolfing works on the fascia, or connective tissue. It is a form of manual therapy and movement education that works to free the body of its tensions, and enhances the structural organization by re-aligning it with its gravitational axis.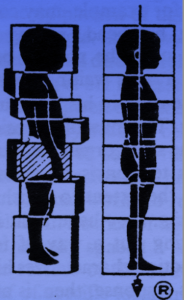 It's named after its' founder, Dr. Ida Pauline Rolf. She created this technique in the 1950's.
Ida was well ahead of her time. Scientific studies have recently begun discovering just how connected fascia really is; how it is connected to our nervous system, like a web of communication between our bones, muscles, and soft tissue.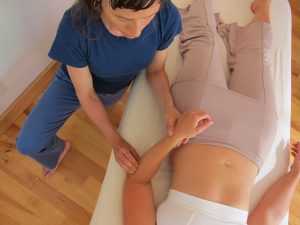 Tucked away in the wellness center within The UP! Factory off of Wynton Rd, Melissa Schneider is a certified Rolfer™ and is an expert in the field of Rolfing® Structural Integration.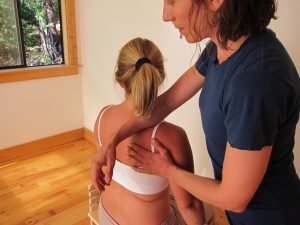 After friends raved about the technique and Melissa's skills, I ended up meeting her at a get-together and scheduled my first session that week.
The day of the session, I arrived in comfortable, loose clothing, and was ushered in by Melissa and, Up! Factory owner, Erika Junco. Melissa and I went over my medical history in a peaceful cove of an office, equipped with a therapy table and ambient meditation sounds. She then assessed my posture walking, standing, and sitting.
Based on how I stand, where I hold my weight, tension, and posture, she worked with what she referred to as the shoulder girdle; the radius around my upper chest including the collar bone, the breast plate, over the shoulders, and across the upper back. She also worked with other areas affecting my sciatica, calves, and feet.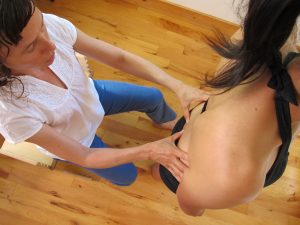 My main issue was jaw tension- grinding my teeth at night, and unconsciously clenching my jaw, further solidifying my RBF.
I find myself digging into my jaw muscles with my knuckles to relieve pain that runs into my ears and neck. Not cute.
As she pulled adjacent cranial tissue up and away from my ears, the compression and slow movement, along with her direction to open and close my mouth slowly, released major tension. I was surprised that I was instantly able to breath better! There is something about the Rolfing technique that warms the tissue so that it isn't a forced manipulation, but a gentle unlocking of tension.
However, to say Rolfing itself is gentle, is not accurate- the movement is slow- but the the effects are intense, and in areas of tenderness that need work, it can be uncomfortable.
I experienced discomfort in several areas, but the benefits, I found, were far reaching. I left feeling more relaxed, lighter, and even felt my shoulders were less elevated and sat in a more relaxed position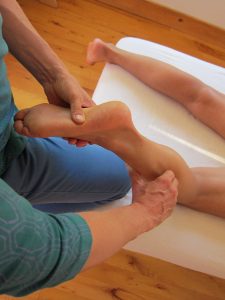 Rolfing isn't work done on the body- the technique works with the body- every session is tailored to how the fascial tissue and joints are in relationship to the muscles and bones. It works to lengthen the bound-up and dehydrated fascia. This allows for greater overall ease in the body, increases movement potential and helps to restore the body's most optimal alignment and might make you taller too.
Do you know anyone who deals with chronic muscular-skeletal pain conditions, such as lower back pain, repetitive strain injury, sciatica and stiff and painful shoulders?
Are you a runner or an athlete?
Do you sit majority of your day?
Are you a human?
Then Rolfing is for you.
We have a record playing in our body- everything we have experienced, and all that we face daily. Rolfing serves as a method to change the record, and help prevent injury and illness.
And Melissa is amazing. She will be here through September, though. So, take advantage of her while she is here, by emailing her at rolfingbymel@gmail.com
Also, be sure to check out the rest of The UP! Factory if you haven't. There is LITERALLY something for everyone, and the place is full of positivity and empowerment.
-Rolphing images by: Kara Allen