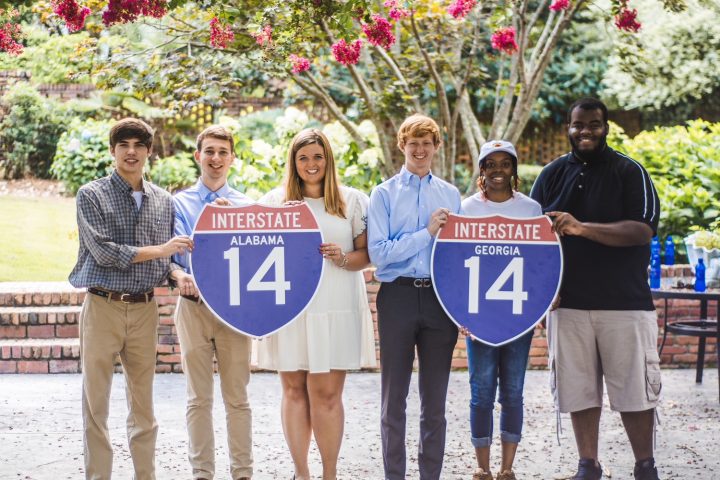 "We don't like to dwell on the past," Frank Lumpkin IV answers when asked why Columbus isn't connected to I-85.
"It was definitely a mistake," the 20-year-old Columbus native, University of Georgia student and president of the Youth Infrastructure Coalition (YIC) continues during a recent interview at Iron Bank Coffee. "Some of our leaders didn't want labor unions coming to Columbus and made sure I-85 didn't come through here. We're suffering the consequences now."
Seeking to reverse those consequences "in a more connected world," Lumpkin and the YIC advocate for Columbus' future by pressing hard for the city's inclusion in burgeoning plans for the creation of Interstate 14.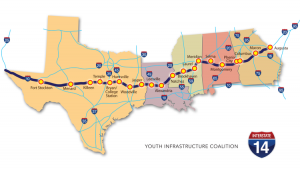 "Because they are on I-85, Auburn has a higher tier rating for shopping and restaurants than Columbus," he explains, "even though Columbus is three times the size of Auburn. Those are the kinds of things we're missing out on."
Interstate 85 was constructed in 1958 as part of plans and funding laid out in the 1956 National Interstate and Defense Highways Act. Signed by President Eisenhower, who was a former general leading the Allied charge against the Nazis and saw the benefits of Germany's modern autobahn for military transport.
Though Columbus is home to Ft. Benning, interstate access didn't arrive until I-185 was completed in 1979. With this 49.3-mile connection to I-85 stopping at the Army base, some locals have longed joked that the city resides at the end of the world's longest cul de sac.   
The potential for Interstate 14 to connect the nation's two largest military installations—Ft. Benning to Ft. Hood in west Texas—is just one of many benefits of building the highway, Lumpkin says. His group has already met with the local Veterans Action Committee, who have sent letters to the Secretary of Transportation and Secretary of Defense to lobby for I-14 to be built and to run through Columbus.
"If a unit wants to go train in a desert-like environment at Ft. Hood," Lumpkin explains, "it would currently take a day to get there. Interstate 14 would cut travel time to 10 hours."
Beyond military usage, economic experts argue that cities connected along the I-14 route would benefit from access to booming international ports from New Orleans to Savannah. Another example of the economic impact of interstate access came earlier this year when Amazon built a 500-jobs fulfillment center along I-75 south of Macon.
"Amazon's continued investment in our state speaks to our dedication to improve, expand and modernize Georgia's logistics and distribution network," Gov. Nathan Deal said when Macon secured the deal.
Considering that Columbus was never even considered for the Amazon center, the Chamber of Commerce launched ChooseColumbusGA.com in response to help future business-recruitment initiatives.  
"The population is not growing in our area," Lumpkin says, "even though Georgia is considered one of the best states to do business. It's because Columbus sits quite isolated from the rest of the state. This is for everyone's benefit, and that's why we've been marketing it as My14."
To date, Lumpkin and the YIC have addressed—and won approval in the form of resolutions adopted in favor of I-14—from Columbus City Council, Phenix City Council, Russell County Commission locally and from newspapers and governing bodies all over Georgia and Alabama through a series of presentations and online marketing.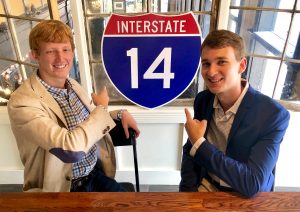 "We're always looking to expand awareness of Interstate 14," adds YIC Vice-President Justus Armstrong, the group's Alabama rep and political science major at Auburn University. "We're always looking for new places to speak, new people to meet."
The primary roadblock to making I-14 a reality is awareness, the two board members agree, noting that Georgia and Alabama representatives in Congress are behind their peers from Texas, Mississippi and Louisiana. Those three states are included in a congressional coalition led by U.S. Rep. Brian Babin, a member of the House Transportation Committee who has paved the way for I-14 in Texas. In June, Babin introduced the Interstate 14 Expansion and Improvement Act, which seeks to extend I-14 through Louisiana (and its Ft. Polk) to Laurel, Mississippi.  
Lumpkin has travelled to Washington D.C. and met with U.S. Rep. Drew Ferguson, Sen. David Perdue and Sen. Johnny Isakson's staff. With the first 24-mile stretch of I-14 starting in Texas in January, it's now time for Alabama and Georgia officials to step up, he says.
"The biggest pushback we hear from politicians is about funding," Armstrong says. "We tell them that it's an investment in the future."
"Politicians need to hear their constituents' voice," Lumpkin says, "and that's why we put up a petition for people to sign to show them it's important to us and to make them accountable."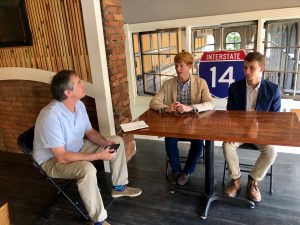 Initial plans for I-14 in Alabama have it routed along Hwy. 80 to connect Selma, Montgomery, and Phenix City. In Georgia, it would take over J.R. Allen Highway in Columbus and extend to Macon and then Augusta. Cost estimates vary widely, Lumpkin says, pointing to estimates from $600 million to $3 billion to build I-14 in Georgia.
Noting that the federal government kicked in more money after the Georgia General Assembly upped the state Dept. of Transportation budget to a record $1.9 billion, Lumpkin says to attract investment on the scale of I-14, you "have to show you have skin in the game."
"We have JR Allen Highway, a 10-mile stretch nearly built to interstate standards," Lumpkin says. "If we make that upgrade, then I bet state and federal support will come in to make that stretch even longer. That's Georgia's advantage—we can take highways already in place and upgrade them to interstate standards," he continues. "So it's not cutting down forests, not ripping through poor communities and destroying their culture."
Lumpkin's passion for I-14 began during a Youth Leadership program at the Chamber, when he responded, "Infrastructure," to Mayor Teresa Tomlinson's question of what issues hold Columbus back. "That's really insightful," Lumpkin recalls the mayor telling him. "Keep at it."
"That inspired me to research the topic and I came across Interstate 14 in that research," Lumpkin says. "I had a gut feeling this would change the future of the Chattahoochee Valley for the better. I'm for anything that helps Columbus and Interstate 14 absolutely would help Columbus."