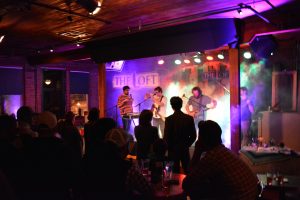 I'm apprehensive to write this exclusive list, since I appreciate how sensitive artists can be, and want to continue encouraging our local musicians. However, every week people are asking me who are the best, local bands and who they should book for their private parties, weddings, etc.
Here is a list of local musicians I've enjoyed this year with solo artists listed last:
American Roommates are a five-piece, energetic, indie, rock band who continue to grow with every show. It might be because they are literally roommates (with the exception of their newest member) who practice, write, and play together most everyday. Will (lead singer) is likened to Modest Mouse's lead singer. The band as a whole have been compared to Arcade Fire and Cold War Kids, with driving beats and energetic shows that possess an interesting dynamic. Their spiritual influence (several of the members play at churches) resonates with your spirit and has caught on with local hipsters. They are mixing their latest album now, and plan on moving to Nashville, so catch them here while you can.
The Neal Lucas Band is a rock, blues, jam trio. These guys are brilliant performers. The trio has several other projects they are pursuing, and often have various musicians sit in with them like Kevin Vannoy and Big Saxy (two of the best saxophonists in town), because of their musical creativity, improvisation and spontaneity. Neal Lucas is one of, if not the best, guitar player in town. He helps teach at CSU and released a solo album this year as well. Evan Collins (bassist and son of a preacher) won an online competition, out of hundreds of contestants all over the world, to play with the most viewed drummer on YouTube, and to record/be a part of his band, Ventura Lights. Steven Thompson (drummer) also has a new band, Uncommon (playing Saturday at The Loft), multiple creative projects, and his own multi media company, High Definition Media, Inc.