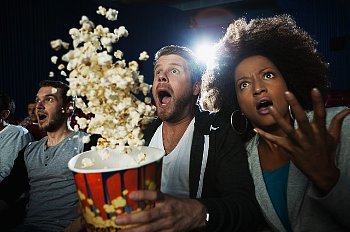 The mission of the Way Down Film Society is to create a community of individuals who appreciate cinema, and gather on a regular basis to watch and discuss the kinds of films that rarely screen in our area.
The WDFS is not a film appreciation class, or based on the idea that the members are an audience who should be lectured to during the meetings.
The goal is to facilitate the friendly exchange of opinions and aide in the analysis of cinema as an art form. Member participation and a diversity of viewpoints are essential to the continued success of the society.
Art is inherently subjective, and everyone has their own personal aesthetic that determines their likes and dislikes. Through the sharing of these perspectives, we expand our understanding and appreciation of the art form we love.
Wednesday, July 18, 2018, we're going to beat the summer heat by screening the 2014 indie crime thriller Cold in July. When a small-town business owner kills an intruder in his home, he unwittingly becomes entangled in a criminal conspiracy. The film features Michael C. Hall (Dexter), Sam Shepard and Don Johnson.
For those of you who have not attended our meetings in the past, we meet at Troy University- Phenix City in Room 201, on the 3rd Wednesday of every month.  A meet-and-greet kicks off at 6 p.m. with the actual meeting convening at 6:30.  
You may bring food and drinks of your choice into the screening room. It's a comfortable classroom-style set-up with tables and chairs, so you can eat dinner as we watch the movie. 
Scott Phillips
Founder, Way Down Film Society
Member, Georgia Film Critics Association
Moderator/Screener, Way Down Film Festival