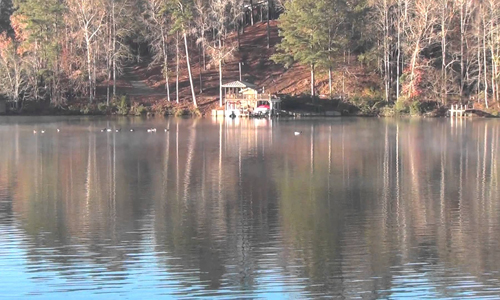 A little over a year ago a group of local folks began exploring the possibility of creating a multi-use trail system at the Standing Boy property owned by State Parks (1,580 acres located east of River Road and south of old River Road). The property is currently managed as a Wildlife Management Area and is not utilized to its fullest extent.
The Department of Natural Resources is exploring options for turning the 1,580 acres into a state park, pending future funding. Those efforts have blossomed into the preparation of a master plan for a full-blown state park. The master plan process is currently underway, and a steering committee including numerous local individuals representing diverse interests has been assembled.
The next step is the public meeting to be held Tuesday, June 7th, 6-8pm at Columbus City Services Center.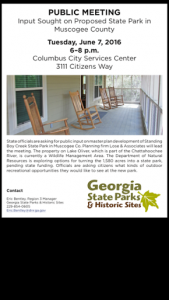 Planning firm Lose & Associates will lead the meeting. Officials are asking citizens what kinds of outdoor recreational opportunities they would like to see at the new park. Comments also may be emailed to gastateparkscustomer.service@dnr.state.ga.us.
The public meeting is an important step in achieving a master plan consistent with the goals, uses, and benefits outlined below. Please attend if at all possible, and encourage other like-minded individuals to do so as well.
"The following provides some background, and by way of disclosure is a combination of the consensus of the local folks who have been involved (especially regarding the goals, uses, and benefits) as well as some detail regarding mountain biking for which I must claim full responsibility.  The reason it focuses heavily on mountain biking is not because mountain biking is more important than any of the other uses discussed.  Rather, mountain biking is the use most likely to be misunderstood or to generate concern. I don't want to interfere with a healthy discussion of how the property can best benefit Columbus, but would very much like to avoid concerns about mountain biking that stem solely from misunderstandings or misconceptions.  The more the public meeting evidences a cohesive community willing to work together towards a common goal, the greater chances the following vision is realized.  Therefore, please don't hesitate to contact me directly if you have questions or concerns, or are aware of a constituency that has questions or concerns.  My email address is blakemelton@synovus.com." Blake Melton, member of the steering committee.
Overarching Goal: Preserve the historical, archaeological, cultural and natural heritage of the property while developing recreational and educational opportunities.  I hope it goes without saying all of the proposed uses below will be thoroughly evaluated for environmental impact, etc.
Benefits to Columbus:
Not only enhance quality of life, but provide economic benefits in the form of attracting and retaining professional workers as well as tourism.
Columbus has incredible public facilities, but no where you can truly get out in nature like you can on this property.
Specific Activities: Emphasis on multi-use trail system (hiking, running, and biking); kayaking/paddle boarding/exploring river and creeks; potential for ropes course/zip line/tree climbs/etc; some sort of camping.  Also, potential for additional activities such as fishing (obviously), some type of hunting (likely bow hunting?), frisbee golf, etc.
Nature of Camping:  Primitive as well as yurt/platform/cabin and potentially RV.   Regarding RVs: State parks needs annual revenues to cover annual expenses.  Their experience is that RV camping is a source of significant revenue.  I don't get the sense they believe RV camping is innately desirable or undesirable.  It seems like it's mainly a financial issue.  To the extent there is a desire to minimize or eliminate RV camping, I believe the most practical and effective strategy will be to demonstrate that sufficient revenue can be obtained through the other activities (i.e.,  trail user/parking fees; revenues from running and bike events, revenues from ropes course, etc.).  Discussions that only involve any negatives that may be associated with RVs will be discussions that largely miss the point.
Nature of Trail System:
     Some hiking-only trail; some downhill mountain-biking trail; majority multi-use.  Even with unlimited funds, likely difficult to build wholly separate hiking and biking trails of sufficient mileage to enhance tourism.  Ideally, would have up to 30 miles of trail if feasible.  You generally need something in the order of 20 miles to get someone to drive two hours or more to ride.
     Trail will be of varying difficulties, and laid out in a stacked-loop design so that users can customize their experience. Trail design and other strategies (e.g., directional trails) will be used to minimize user conflict and ensure an enjoyable experience for all users.