Originally featured in Southern Views Magazine
By Stephanie Reeves | Photos by S. Saxon
Dreaming of the perfect gown for your wedding day is just one of the many thoughts that go through a brides mind, if not the most important one of them all. Daphne's Bridal Boutique is here to help you find the perfect style and dress that fits your vision.
Daphne sat down with SVM to talk about what sets her shop apart in Columbus and what the latest trends are in attire for the bridal party. She also gives simple tips to keep in mind when searching for the right dress that will make you just as comfortable as beautiful for the big day.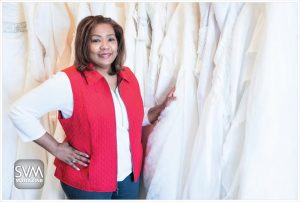 What sets Daphne's apart from other bridal boutiques in town? Do you offer any unique/special services to the wedding party?
Daphne's Bridal Boutique is a full service bridal and formalwear boutique that offers selections for every member of the bridal party and attendees. We provide personalized service with an exceptional selection of styles for the modern bride. Our mission is to create an amazing experience for each of our brides and her family and friends while choosing their attire.
Is there a key piece of advice every bride needs to know or follow when finding the perfect dream gown?
Always consider the advice of family and friends but be sure to stay true to yourself.
How do you help brides that have no idea what they are looking for?
We ask that our brides who are still searching for their perfect gown keep an open mind! Be willing to try different styles, fits, and colors. Many times a bride realizes in the moment that she loves something she previously would not have considered. Be open and allow yourself to be surprised by what you like!
For bridesmaids, it's often hard for bridal parties to decide on a particular dress together. What are some helpful tips that can make this process go smoothly?
A growing trend is varying styles of the same color dress for bridesmaids. Brides will choose the color and allow their wedding party to pick styles of dresses that best fit their body and their personal style. This is inclusive of the bridesmaid while also keeping with the overall theme of the wedding.
Do you have any tips for how the bride can budget for her gown, as well as the whole party, for attire? Be realistic! A good general estimate for the price of the gown should be 10% of the overall wedding budget. Research designers and styles in your price range and get an idea of what is the average cost for the gown of your dreams.
What are the latest trends you are seeing for weddings this season? Is there more of a shift from the completely "traditional" look?
Traditional styles are actually coming back into the main focus stylistically! We are seeing brides more interested in A-line cuts and ball gowns. Lace, sweetheart necklines, slim silhouettes, dramatic backs and backless gowns are also still very popular. Although popular, brides must consider their personal style, comfort, and best fits for their body type.
When the dress arrives, what is the best way to handle and care for it before the big day?
The gown should be placed in a breathable bridal bag that we provide upon purchase. The gown should be stored in an area away from heat, light, and moisture. SVM