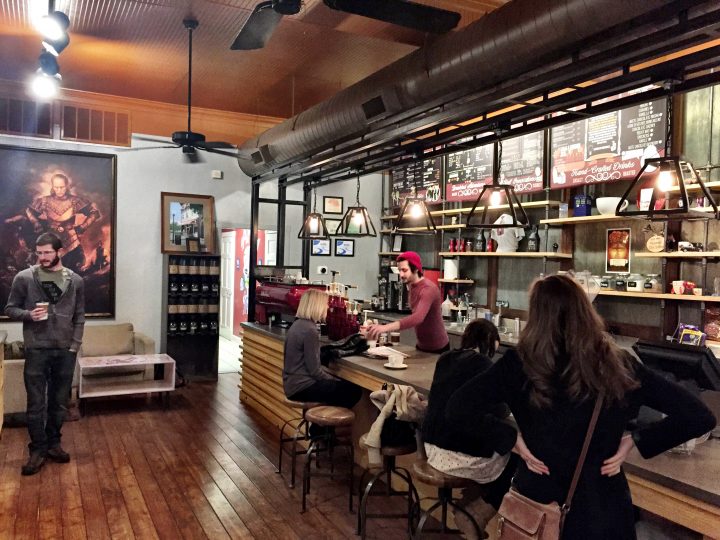 The intensely intellectual interview with the Co-owner of Fountain City Coffee, Jud Richardson, left me with brain bruises from his witty banter and wild stories.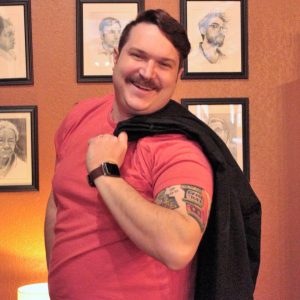 Opened in 2003, Fountain City Coffee has been a staple of Uptown, becoming a revitilzation and renannsase hub by fueling working professionals, CSU students, creatives, adventure-seeking cyclists and rafters in the Riverpark area.
Columbus native, Jud Richardson, was hired in 2005; and when the original owners moved out of state, some years later, they asked him to run the place. He eventually bought the shop, and ran it for 12 years.
In 2017, his sister, Libba, and brother-in-law, Will Dillon, bought in and they began transforming and rebranding Fountain City Coffee.
It's clear while talking to Jud, a Patton Oswaldian humorist and self-proclaimed nerd, that he is passionate about their business and community. He's become somewhat of a coffee expert, since Fountain City not only brews amazing coffee, they actually roast all the flavors in a local roastery.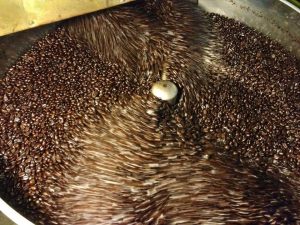 That's right, they are the FIRST self roasting coffee shop in Columbus, Georgia. All the coffee served here is locally roasted to perfection in the actual Fountain City. Talk about true local flavor!
"For the most part, everything we do… is a labor of love," Jud explains. "We put a lot of effort into trying to make the best coffee possible."
And I have to say, there were many a late night in the NPACE center back in my degree-seeking days that would not have been possible without the perfectly crafted beans smashed and strained into a tasty latte from Fountain City Coffee.
This place isn't just amazing coffee flavors like Peach's Blend, Third World Problems, Chocolate Caramel (um yes), and Tanzania Peaberry.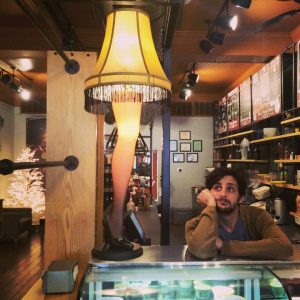 They also have a pop-culture, reference-ridden menu of fabulous treats. Not an intentional trend, Jud's favorite menu items include Liquid Crack (cold brewed coffee, brown sugar, organic 2%, and ice) and the 420 (croissant with cream cheese, chicken salad, feta, jalapeno chips, and sriracha). If that doesn't sound like heaven, then you're probably a boring person who likes ham and cheese with the crusts cut off.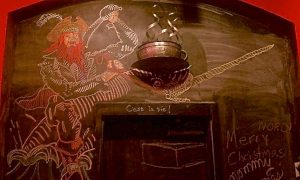 Jud hopes that Fountain City Coffee is seen as a place of acceptance. "I want anybody who walks in these doors to feel accepted… not to feel like they need to be ashamed about who they are which is sort of a silly concept for a coffee shop but… I'm not a big fan of… passing judgment on people because of whatever choices they've made in their life."
Here's the truth: Fountain City has gotten a bit of a reputation for being a hipster-exclusive, pretentious coffee shop for artsy kids. And it might be milling with musicians and writers on any given day, but the vibe in this place is nothing less than inviting.
The baristas met me with giant smiles and helpful suggestions to guide me through the menu. They also welcome your art, so grab a piece of chalk and go crazy on their wall.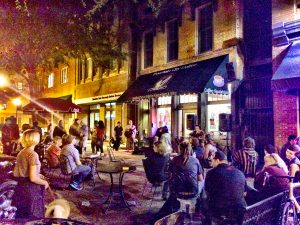 After discussing his plans for world domination, he explained that FCC coffee is being carried in three Fresh Markets, as well as several local restaurants and tourist attractions.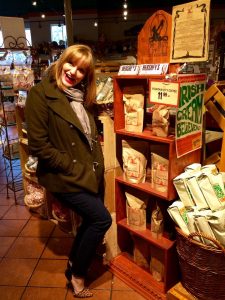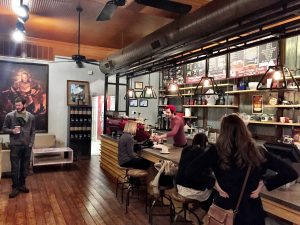 Try one of their new menu items like house-made scones, or an old favorite like the chicken salad.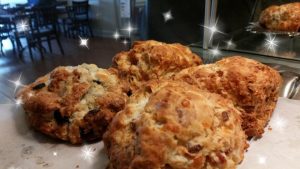 Join them on Wednesdays for Poetry Slam night, or show off your talents on Thursday's open mic night.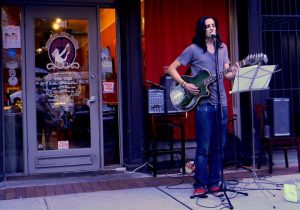 Whether you're a regular, or trying it for the first time, one thing is for sure: you can never go wrong supporting funny, friendly, local entrepreneurs with a genuine love for their community.
Written by Courtney Francesca and updated by Jacy Jenkins
Pictures by FCC and Jacy Jenkins