Originally printed in Southern Views Magazine
By: Stephanie Reeves
Elizabeth White took her love of hair barrettes to the next level by sharing her unique hair accessories with any fashion lover who wants to add some "flair to their hair." Any southern girl knows that hair is just as important as the outfit. Elizabeth spoke with SVM about how she decided to start her business, Elizabeth Heard, and the reasons behind the unique, creative items she uses to craft her barrettes.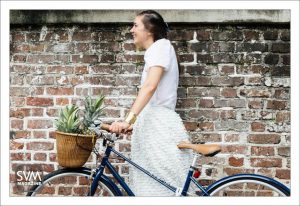 What inspired you to create a line of hair accessories?
I am a forever fan of hair barrettes and have had an unabashed obsession since childhood. Whether swimming or sleeping, you would rarely find me without one. It was my flair and it all began with my hair! I noticed a niche in the market for trendy, yet tasteful hair accessories. While I was living and working in NYC post-college, I took weekend courses at Parsons School of Design where I was able to hone my skills for crafting custom hair-wear. I was also working with what began as a fun personal passion in the spring of 2015, has evolved into a small online and wholesale business.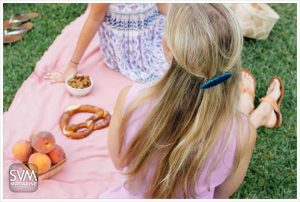 Your designs are unique, using: cork, basket weave, and agate, even oysters. What is your inspiration behind taking something out of the ordinary to make into a fashionable accessory for hair?
Our mission, through a rich and fun product array, is to celebrate a well-lived life full of flair. By taking elements that are a little out of the norm, it plays on the overall idea of celebrating the women with flair who beat to their own drums. We have some new pieces rolling out this Spring made with bamboo, wood, and have lots of really cool horn accessories in the works for Fall 2016.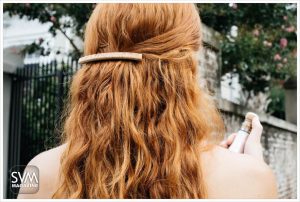 Do you think it's the little accessories that often standout more than say, a handbag?
I don't know if they stand out more than a pretty handbag or great shoes. However, I do believe small extra touches really help pull your look together and make you appear more polished. Our barrettes make you polished with a pop!
What are people saying about your accessories?
I hope people are enjoying them. The accessories are a work in progress, so the ones that were purchased last Spring are very different than the ones you can pick-up today. We are constantly trying to improve the quality, appearance, and selection.
How does it make you feel knowing many women are wearing and loving something that you created from a long-stemmed love of wearing barrettes since childhood everywhere?
It's the best feeling. I get so excited when I see someone wearing one of our hair barrettes. I can't thank everyone enough for all their support and I am so grateful to the Columbus Metro community!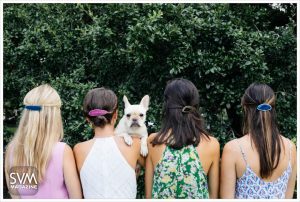 Is there a favorite collection people tend to gravitate toward? Do you have any current plans to add another collection soon?
Our "You're a Gem" collection made with one-of-a-kind slices of high quality agate is our most popular collection at the moment. Followed by our elephant "Party Animal."  The elephant has been a hit with Alabama fans, Republicans (who want to wear their support), and most recently with young preppy women in the Northeast. Another good seller but not as strong as the others is our "Pop The Cork" collection which we are expanding. We are also adding a new collection, "Let's Bamboo," that I am really excited about.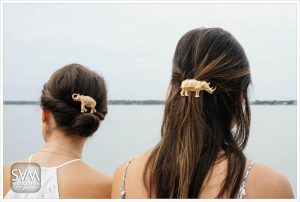 Where can people go to purchase your barrettes locally or order?
They are available in town at By Invitation, Galleria Riverside, and River Road Pharmacy and Gifts. Also, available to order online www.elizabethheard.com. SVM