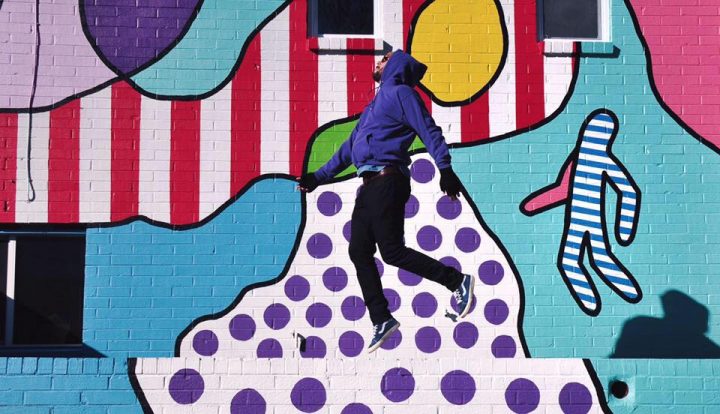 Yoyo Ferro paints mural at Pop UPtown this weekend.
With the growing demand for accessible public art, Uptown Columbus, Inc. and Artbeat of Columbus teamed up to recruit Atlanta-based muralist, Yoyo Ferro, to paint the first facade mural in Uptown Columbus this weekend.
The mural will be painted on the facade of the first pop-up shop and event space in the area, Pop UPtown, located at 1234 Broadway. The project will begin on Friday, March 22nd and continue over the course of the weekend with the goal of finishing prior to Artbeat's kick-off on Monday, April 1st. Artbeat is a two-week celebration that aims to engage, energize and educate the community through the arts.

"Uptown Columbus benefits from these public-private partnerships in so many ways. This Yoyo Ferro mural, in particular, helps create a sense of community in the 1200 Block. Public art continues to drive a large part of our economic resurgence by making our streets more walkable and creating that sense of space for all people,"


Ross Horner, President, Uptown Columbus.
Yoyo was born and raised in the state of São Paulo, Brazil but now makes his home in Atlanta. His whimsical abstract art features bright primary colors bounded by a single continuous looping black line. Yoyo Ferro's public art can be found in murals, and on building facades all over Atlanta, or in one of his 400 commissions. One of the techniques that Yoyo Ferro has embraced, and inspired his work, is blind contour drawing, where the artist draws without looking at the paper and without lifting the pencil from the paper (hence the continuous looping black line).

Yoyo Ferro is a community activist, and does not paint a mural in every city that recruits him but chooses based on the community vibe. As a result of his activism, in a lawsuit that prevented the city of Atlanta from imposing undue regulations on artwork on private property, he was a recipient of the 2018 ArtsATL Luminary Award. Yoyo Ferro has been a featured mural artist in The Washington Post, Creative Loafing, and many street art festivals such as OuterSpace Project, Living Walls Conference, Forward Warrior Project, and the Stacks Squares. Read more on Yoyo here, www.yoyoferro.com/media
More on Pop UPtown:
The first pop-up shop and event space in the area, rent by the day, week or month, and enjoy being located in the epicenter of our revitalized downtown. Let Pop UPtown be the start, at 1234 Broadway, to facilitate your talent through creative events, shows, and innovative businesses. For more information, please go to www.PopUPtownColumbus.com