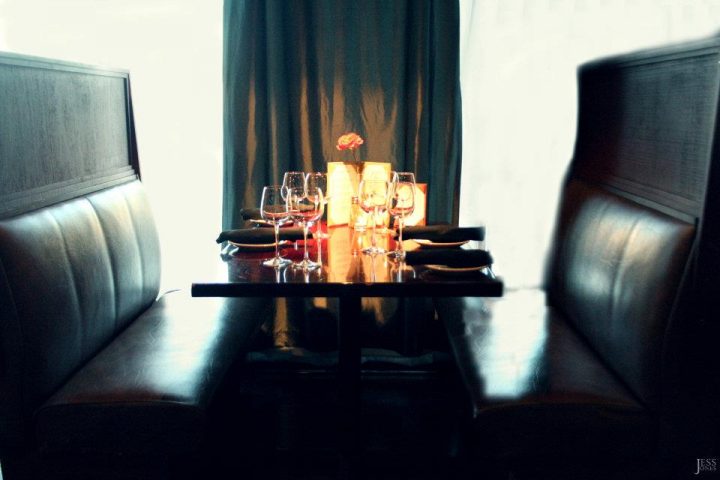 Where would you take friends who were coming into town for an upscale meal?
Let us know what restaurants you'd pick and their rank. We are only highlighting local places:

Epic is the best fine dining Columbus, GA has to offer. Stylishly located in a restored mill, their food is art, so dress the part.
Epic is an intimate, classy and exquisite dining experience. Their detailed explanations of the dishes alone are worth the visit, and extremely helpful when ordering unknown, fancy dishes. Every detail of Epic is genius but, thankfully, not intimidating. Epic is very accommodating, aiming to please any dietary restrictions and preferences.
Need to romance, or impress, someone? Simply reserve their chef's table for an awe-inspiring, inside perspective! Preface with the magnificent tempura gouda, grapes and hibiscus syrup, as an appetizer. Move on to the tender steak tartare & roasted bone marrow with quail egg yolk; it is phenomenal the amount of taste in a small, quail egg! This dish also comes with pickled cucumber and rye toast, to hit every part of your palate.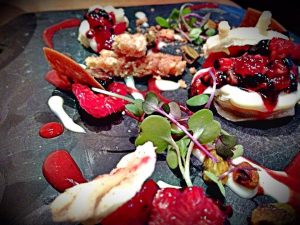 Appreciate anything off the menu, while knowing (most likely) you can't replicate it at home. The specialty drinks, like "Gone with the Wind", and wine pairings are creatively superb. Not surprisingly, Epic was recently listed as #7 on "17 Georgia Restuaraunts Will Blow The Taste Buds Out Of Your Mouth". Shaquille O'Neal, Meryl Steep, and Tommy Lee Jones have all paid at least one visit while in town.
Thank you Jamie Keating for bringing this (and that ostrich egg) to Columbus, GA.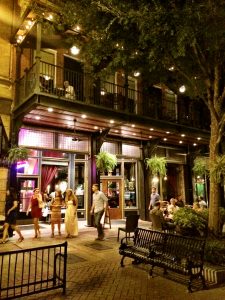 The Loft has been the epicenter of Uptown Columbus for 22 years. As a forerunner for downtown businesses, they paved the way for more development in the area. There isn't another venue in town like it. The Loft is a two-level restaurant, with an entertainment venue upstairs. Accommodations include outside seating upstairs and downstairs, a New Orleans style balcony and the perfect spot for people-watching.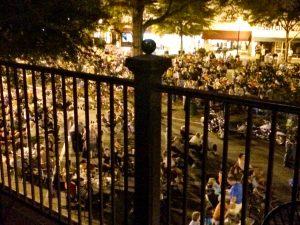 Four years ago Tom Jones took control of the kitchen. He changes the menu often, and is a perfectionist on quality. It's not overly priced, perfect for a date, after a bike ride, a party, a night out, families; basically any occasion, therefore the massive appeal. If you are on a tight budget, go during lunch.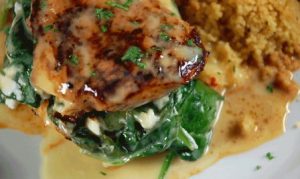 The unstuffed chicken, layered with spinach & goat cheese, smothered with lemon butter sauce and a side of roasted red pepper couscous, the filet with high cotton topping, macaroni and cheese, fish specials and salads are their most popular menu items. Save room for their array of desserts too, especially since they are homemade. Beyoncé, Willie Nelson, Mel Gibson, Josh Harnett, in addition to a lot of big named bands, have come here to hang out and/or perform.
The layout of Buckhead is unique, with several separate areas, each exuding a different vibe. Buckhead has a metropolitan atmosphere, yet tucked away in a patch of woods in the middle of our town.
Buckhead is, personally, my favorite Sunday brunch spot. Indulging in Sunday brunch is a treat around here, since many upscale eateries are closed on Sundays.
Their produce, beef, poultry and fish come from farms, ranches and fisheries guided by the principles of sustainability. There are several culinary options, including a specific vegan and gluten-free menu. Try their Mountain River Wapiti Elk Rack (best medium rare) with / lb. red wine veal reduction, or shrimp & gouda grits with heirloom tomatoes, smoked sausage and cajun red grouper. Any steak is delicious, as they pride themselves on being a steakhouse.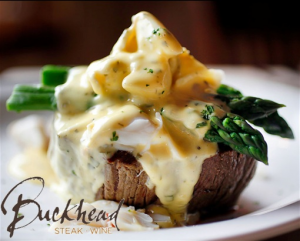 Buckhead is a outstanding place for a romantic dinner, or intimate to mid-sized party. I've taken several big city folks to Buckhead during their stay in Columbus, and they've all been impressed with the distinguished food and ambience.
An impressive ranking, since this southern table restaurant is brand new, but location, location, location! It is located on 11th and Bay (hence the name) beside the new zip-line and the revitalized river. The menu is not large, but they've excelled in making the simplest meal excellent.
The salmon is the best I've had in town and it's name, "AIN'T NO SALMON LIKE THIS SALMON", fits perfectly. It includes grilled salmon, horseradish breadcrumb, lemon aioli, house gari, black rice risotto (sublime), and seasonal vegetable, which is currently asparagus. 11th and Bay has an incredible laid back environment, where even the waiters are wearing Chuck Taylors. There is a fresh, new buzz but it feels as though we may be high on it for a while. Stay tuned; Josh Becker will be writing a full review for us soon.
If you are looking for the best sushi and/or hibachi in town, doors open at 5pm, 7 days a week. Mikata uses the best grade fish, meat and poultry, making it a step above local competition. From the spicy tuna tartare, to the lobster and filet hibachi, there is something for everyone, sushi lover or not.
Upon arriving, you will often be greeted by the owner himself, Sun tu Kim. He takes pride in the quality and presentation of the dishes, as well as the cleanliness and relaxing ambiance throughout his establishment. Sit at the alluring main bar, sushi bar, or enjoy an exciting, culinary experience at the entertaining, hibachi grills. Kids love it! The hibachi grills are also a great way to meet new people and relish your dinner with new found friends.
Order the lamb, it will melt in your mouth.  Every selection is tailored with impeccable skill. They are open for lunch too, with a European style deli menu, offering panini grilled sandwiches, salads & soups.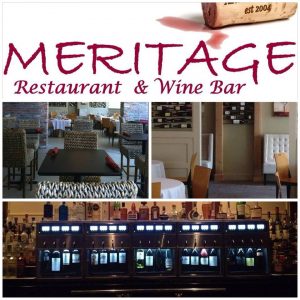 The owner, Faye Simmons, wants you to feel as though you are a guest dining in her home, she succeeds.
"Run by a mother sommelier and daughter chef team, Meritage impresses with its elegant atmosphere, exceptional service, thoughtful wine selections, creative cocktails and menu that bursts with sophisticated flavors. The rich crab bisque has legions of fans, as does the rack of lamb, surf n' turf wellington, caramelized scallops and oven-roasted spaghetti squash with tomato Parmesan sauce. Save room for crème brûlée of the day or steamed lemon pudding cake." Hope S. Philbrick, founder and editor-in-chief of Getaways for Grownups.
Stop by during lunch, or dinner, for various tasty options at this business-casual, steak and seafood house.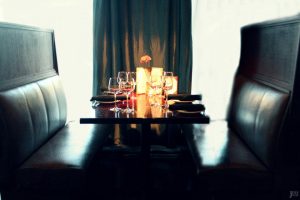 The friendly, knowledgeable staff will help you pair the tender filet, or bone-in ribeye, with the perfect red wine and sides.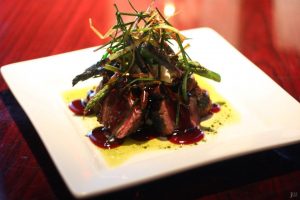 Not too hungry? Have a seat at the bar for jumbo lump crab cakes and a specialty martini, or the herb marinated lollipop lamb chops and a classic bourbon. Your senses will continue to be pleased as you listen to live music on Thursdays, Fridays and every other Wednesday, for the infamous wine tastings. Aesthetically enjoy the beauty of their hardwood floors, floral arrangements, and local art spanning the walls.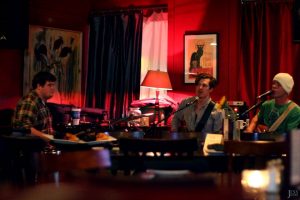 If you have a hankering for a slice of Italy here in the Deep South, visit what many call Columbus' best kept secret. Caffe Amici is truly hidden in the Harmony Place Plaza, with an authentic atmosphere of dripping candles and quaint, warm tones. Order a bottle of vino, while savoring the fresh bread and herbed olive oil, as you anticipate an entrée like their marinated and grilled magic mahi-mahi, served with spinach and prosciutto frittata.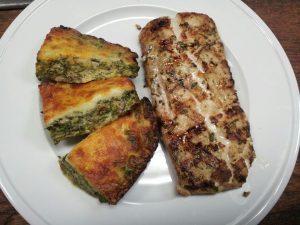 Herbivores will absolutely love the vegetarian section, with dishes like the primavera- a plethora of sautéed vegetables. Carnivores will love pollo saltimbocca as it "jumps in your mouth". Polish it off with the homemade creme brûlée!
Black Cow (Mark's City Grill is also owned by Mark Jones with similar style dishes)
Their lobster tots are addictive, and you should order immediately with your drinks. Black Cow rightfully made the list for "Guide to the South's Best Burgers" by
Garden & Gun Magazine
. Their prime rib melt literally dissolved in my mouth, as one of the best sandwiches in my life. You can't go wrong with any choice, like this seared tuna steak with a red wine tarragon reduction, asparagus fingers, topped with grilled shrimp and paired with rice:
Black Cow is renovating and revising their menu at the moment. It's exciting to see what will be our new favorites!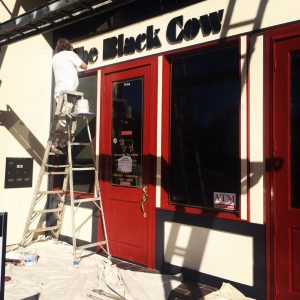 Written by Jacy Jenkins
Edited by Cora King
Photos: Cover photo taken by
Jessica Jones
, Epic photo by
Sara Monty Photography
, Jacy Jenkins and social media websites linked to each place, please let us know if your picture is included and we will give you photo cred 🙂